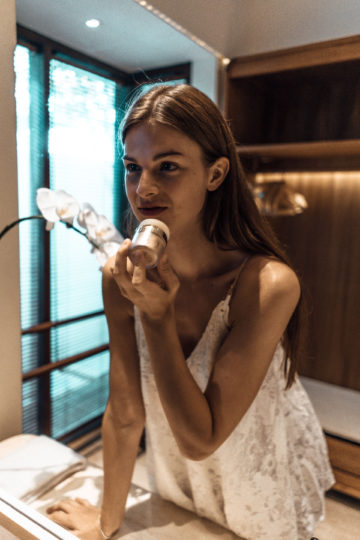 Do you usually apply make-up when you are on vacation? To be honest, I barely wear any makeup when I am on vacation. Well, I should limit it to summer vacations. So when I was in Bali, I was wearing no make-up at all most of the time. During the day I wanted to work on my tan 😉 and due to the warm temperatures, I was sweating. Wearing make-up would not have been the best idea. Additionally, I do not mind walking around without makeup. I actually feel more comfortable with no or only a little bit of make-up. But my skin isn't always the best, so I do need to cover up some spots from time to time – even when I am on vacation. And guess what? I found the perfect solution for me:
Jane Iredale Powder-Me – Sun Screen and Make-Up combined
When I was in Bali, I used the Jane Iredale Powder-Me most of the time. Why? Because it combines sunscreen and make-up and it doesn't feel as if you are wearing any makeup at all.
What I like best about the Powder-Me SPF® Dry Sunscreen is the fact, that it has an SPF of 30 and that it is water-resistant for up to 40 minutes. It also can be used when you are sunburned because the powder allays inflammations. It contains titanium dioxide as well as natural clay, both are free from impurities and environmental toxins.
My make-up routine in Bali
Even though I could have applied the powder more often, I usually used it in the afternoon only when we headed out for dinner or just to walk around the streets close to the beach. During the day I usually spent a lot of time inside the water and applied stronger sunscreen instead.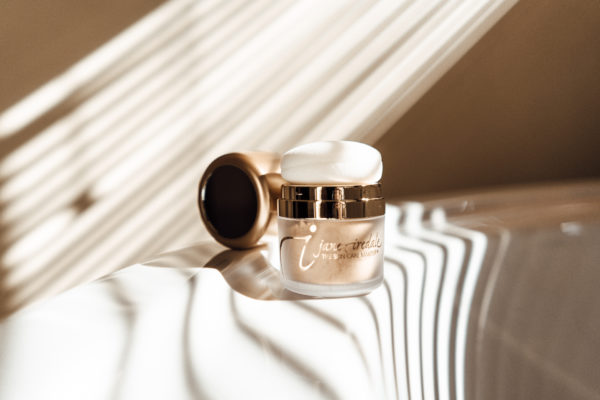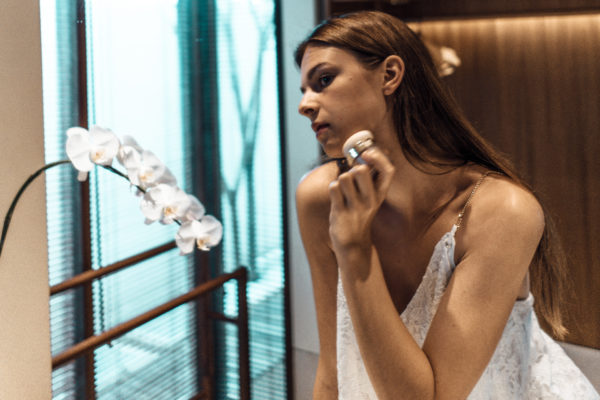 When we were strolling around and having dinner, I wanted to dress up a little bit. And applying make-up to me is a part of dressing up 🙂 I didn't want to put on a lot of make-up, I just wanted to add some highlights and make my face glow a little bit more after being in the sun all day. Additionally, the sun was still shining in the afternoon and not to be underestimated! Putting on sunscreen was necessary, not as much as when I was laying in the sun during the day, but I definitely had to put on something! Since the Jane Iredale powder has SPF 30 didn't have to apply an additional sunscreen, I only used the Powder-Me. Oh, and you can not just use it for your face, but you can also apply it on your whole body. I used it on my face and neck.
How about you? Do you apply makeup when you are on summer vacation or do you enjoy walking around without makeup at all? I would love to hear everything about your makeup and sunscreen routine when you are on vacation. And when you are interested in testing the Powder-Me, you can head over to Zeitwunder and use the code WHAELSE that will give you a 10 percent discount when buying the Jane Iredale Powder-Me SPF Tanned, Golden and/or Translucent. 🙂 This code is valid until the 31st December of 2017.
P.S.: I got the Jane Iredale Powder-Me SPF Golden as well as the Lemongrass Love Hydration Spray to fix everything and make the powder last longer.