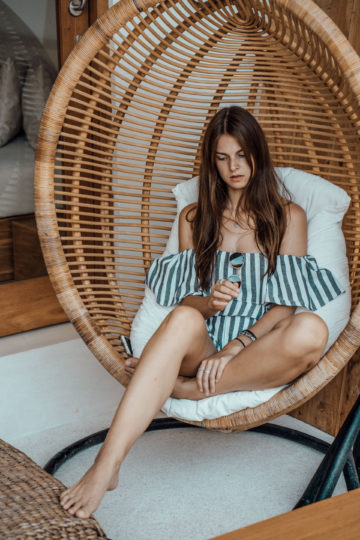 As you might have realized, this time I am not only sharing my travel outfits with you on the blog. We did take some outfit pictures but didn't stress about it. We filmed a little bit more, and I tried to capture as many moments and experiences in my mind as possible. Moments and experiences I could share with you here on the blog. That's why I am not sharing those typical outfit posts from Bali, with every post I am sharing information about our trip, about Bali in general and about how this trip made me feel from time to time.
Today I want to share 10 facts about our Bali trip with you. And these are going to be ten facts I haven't shared before, and I won't share in any other post. 😉 So if you want to know them, keep on reading.
10 Facts about our Bali Trip you didn't know
1. We didn't book every accomodation in advance.
When we planned our Bali trip, we didn't know where to stay. It was our first time going there, and wow, Bali isn't a small island. I have heard about some places from friends, and I have seen plenty of pictures on Instagram. But we all know that the images on Instagram can look more beautiful than the reality sometimes. So I reached out to some hotels and private pool villas in Bali and talked to them about the area the places are located as well as possible collaborations. The day before the flight to Bali we had everything planned and booked expect five nights. The first six nights in Bali were scheduled as well as the three nights in Lombok. But we didn't have a plan for the five days after Lombok. We didn't know whether we wanted to stay on one of the Gili Islands for some nights, stay longer on Lombok, head back to Bali or stay some nights on Nusa Penida.
In the end, we decided to fly back to Bali and spent the last eight nights there. Because we hadn't booked accommodation for these nights, we could go back to the place we enjoyed our time most: Canggu. And it actually wasn't an issue to find accommodation at short notice. We booked the night before, and everything went well! We even had a good choice of nice accommodations at a good price. In short: you don't have to book everything in advance when traveling to Bali.
2. October is the beginning of rainy season in Bali, but we had perfect weather while we were there.
Before we headed to Bali, I read a lot about the rainy season there. Most websites say, that it begins at the end of September, but that it usually is still very nice in October. We were lucky and didn't have one rainy day in Bali. Of course, it was cloudy from time to time, but most of the time we got to enjoy the sunshine. Only on Lombok we had to experience what the rainy season is like 😉 But just because we drove through the mountains… the rain was quite heavy, but looking back it is nothing that destroyed our holidays or made it less enjoyable.
3. It wasn't as touristy as I thought it would be.
Well, in Canggu it wasn't. Seminyak and Kuta were too crowded for my liking. But Canggu was entirely enjoyable. The owner of one of the villas we stayed at told me that it was quieter than usual this October. So maybe we were just fortunate.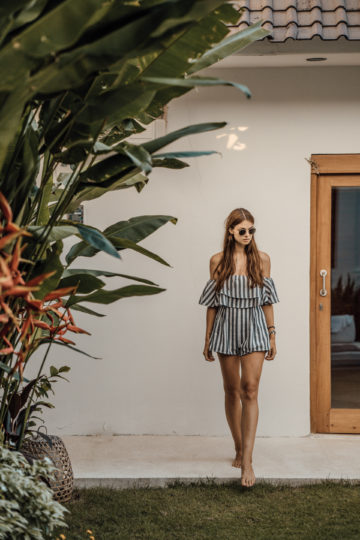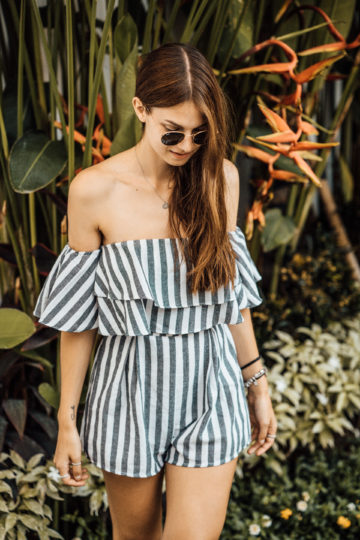 4. I ate a lot! Mostly smoothie bowls.
Food usually is an issue when I am on vacation. I find it hard to find nice restaurants with delicious food in a lot of countries we have been to during the past years. But in Bali, it was super easy to find delicious food for affordable prices. Therefore we ate a lot haha. I ate at least one smoothie bowl a day; sometimes I ate even two – one for breakfast and one for lunch.
Food in Bali is also quite healthy, which is fantastic! It is delicious, healthy, fresh and not expensive at all for the quality you get.
5. The grocery stores in the touristy areas sell mostly imported things.
Since we were staying at private pool villas in Bali, we went to grocery stores to buy some snacks, breakfast as well as dinner sometimes. And I was quite surprised when we entered the grocery stores and found almost only imported things from Europe. Due to that, the grocery stores were quite expensive, and some things were even more expensive than when you would order them at a restaurant. Only the local fruit was super cheap. But bread as well as cheese or yogurt, sweats and coffee were very expensive (we got five small slices of cheese for about 2 Euro, to name an example).
6. I was super disappointed by the waves.
One of the reasons why we wanted to travel to Bali was the fact that it is well-known for it's surfing scene. And, of course, we wanted to go surfing in Bali. We probably just were at the wrong beaches, and maybe we were there at the wrong time, but the waves were disappointing. I didn't have fun surfing in Bali; I couldn't enjoy it. We were at Canggu Beach as well as Kuta beach and the waves at Kuta beach were a little bit better than at Canggu beach… but still, I didn't have a lot of fun during there.
Other than that: surfing in Bali isn't expensive. At Canggu Beach, we paid 50K IDR per board for up to two hours (it's 100K IDR per day) and at Kuta Beach, we paid 50K IDR for one hour.
7. We were driving around with a scooter the whole trip.
Wherever we stayed at in Bali, we always rented a scooter. Some of you might be afraid of driving around with a scooter in Bali, and yes, it isn't always fun. In Canggu there is almost no traffic, so driving around with a scooter as a tourist is no problem at all. But in Seminyak and Kuta, the traffic is bustling. Sometimes it takes an hour to drive 5 km, sometimes even longer. With a scooter, you might be able to wriggle yourself along, but be careful! We were always happy when we had made it through traffic and were on a less busy street again.
8. Uber exists in Bali but isn't allowed everywhere.
When we came back to Lombok, we were told that you could drive with Uber in Bali. But we weren't told, that it isn't allowed everywhere. So when we had to move places, I checked the app and ordered an Uber. Everything went through, and I didn't think that there would be a problem. Well, I was a little bit confused when the driver asked me whether it's safe where we are or not, but I thought to think nothing of it. I said yes and even when he asked whether I could see any locals I didn't come to my mind, that there might be an issue. He continued asking me confusing questions, and we googled. And yep, Uber isn't allowed everywhere in Bali. Well, drop-offs are, but pickups are not!
So we were quite lucky, that the driver wanted to pick us up and he did. All he asked for was to put away my phone when he arrives and to get as fast as possible inside the car.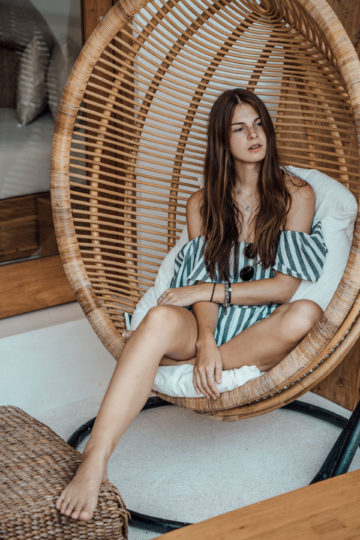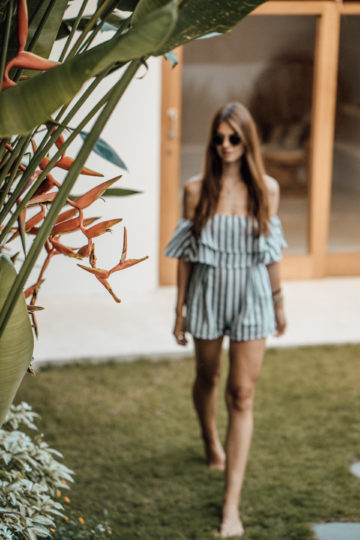 Locals don't like Uber because it is much cheaper than booking a local driver. Here is an example: with Uber, we paid 60K when we drove to the airport and a local driver charges you 300K. Whenever a local sees an Uber, he takes pictures of the car, the car tag, as well as the driver and they share it with others. Then the driver has to stop driving for a couple of days, and that means no money for a couple of days.
9. You have to negotiate! A lot!
Yep, there is a lot of space for negotiation, and we didn't know it. When we booked the speedboat to Lombok, they first wanted 500K per person from us. In the end, we got the ticket for 350K IDR per person and thought that would be a good price. Well, it wasn't. We got into a conversation with others on the boat, and it turned out, that most of the other passenger paid 200K IDR or less. So yep, 350K wasn't a good deal at all!
10. Bali is a beautiful island, but it wasn't easy to find nice shooting locations.
The island is wonderful and has so much to offer. Rice terraces, tropical flowers as well as black and white beaches can be found everywhere. But there also is a lot of trash. Nature and everything are beautiful, but the trash destroyed the picture. And I don't want to take pictures in front of polluted nature, that just feels wrong! So most of the pictures were taken at our accommodations, at restaurants or other touristy places. Because at the touristy places they try to keep everything clean. Even the beaches are only clean where hotels or resorts are close by….