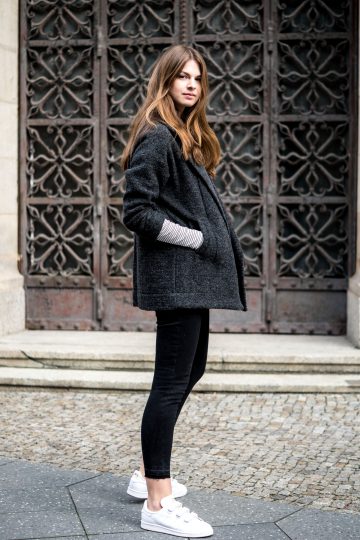 Autumn definitely isn't my favourite season of the year, but there's actually nothing to complain about on a beautiful, sunny autumn day. Unfortunately, these sunny autumn days are way too seldom. I think we had less than five sunny days in October here in Berlin and November probably won't be any better. Since we had only a few sunny autumn days the past month, we tried to take full advantage of the sunshine whenever it came out. We shot at least one outfit these days and spent a lot of time outside. The day we took these outfit pictures was one of those seldom sunny days in October.
In the autumn sun wearing a casual and comfy outfit
Even though we didn't have a lot of sunny days in Berlin this autumn, they all were on the weekend. The day we took these outfit pictures wasn't only a sunny day, it was also a Saturday. It's important to mention that because we wouldn't have been able to enjoy the sunny day during the week. We decided to stroll through the city, visit some stores to look for new sweaters and jeans for my boyfriend and to drink coffee and eat cake in a café. All in all, it was a very relaxed and calm Saturday.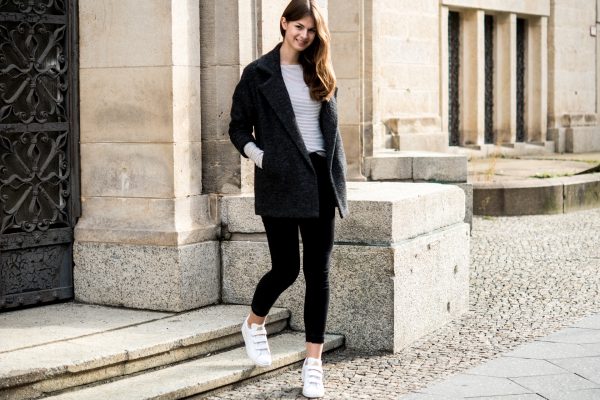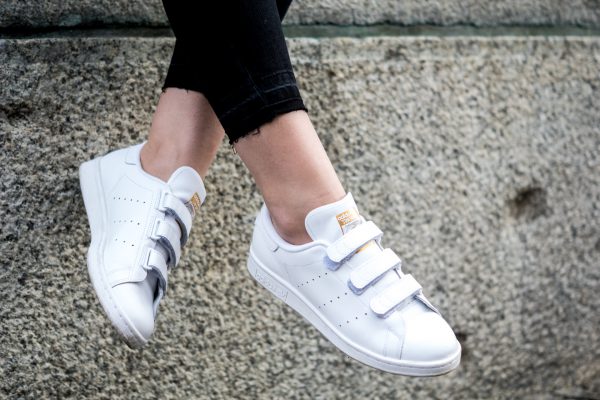 That day we took pictures of two outfits. I can't remember which one was the other outfit, but this was the one I was wearing all day. It's a very simple and comfortable outfit, perfect for a day in the city. Once again I was wearing black jeans and white sneakers. I combined these two pieces with a striped shirt and a dark grey coat. Every piece of this outfit is a basic piece. It's usually pretty boring to combine only basics in one outfit, but I really wanted to keep it simple. And sometimes the simplest outfits are the best, especially when you're comfortable in what you're wearing. I tried to make this outfit look less boring by wearing my Velcro Stan Smith, by adding some jewellery and by pulling up the sleeves of the coat. And wouldn't you agree, that some small changes can make a big difference? 😉
Enjoy your Wednesday – half of the week is already over and the weekend is coming closer – and let me know whether your like this outfit or not. xx