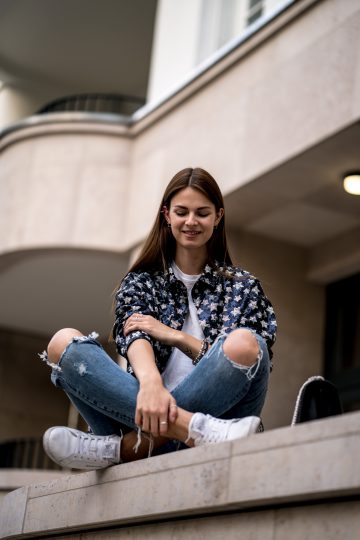 While you are reading this, I am probably still on the plane on my way to Bali. We left yesterday evening around 10 pm and will arrive at 11 pm local time in Bali tonight. Yep, it takes a while to get there, and I hope it will be worth it. And I am quite happy that we arrive that late because I can go to bed as soon as we arrived at the private villa we are staying at for the first three nights.
As I mentioned yesterday, I prepared a couple of posts for the blog, so there won't be a too big lack of posts. I also already told you, that I was wearing my favorite boyfriend jeans quite often lately, so I did not only share an outfit wearing them yesterday, I am also sharing an outfit today. But the outfit I am sharing with you today is different to the one I shared yesterday. It is less chic and more sporty. Something I wouldn't wear at a meeting or whenever I need to wear something chic. The outfit I am sharing with you today is something I would wear on the weekend when running errands or meeting up with friends. Read more about it in the following:
Combining Boyfriend Jeans with an embroidered Blazer
I have only been talking about the boyfriend jeans so far, but I actually wouldn't say that they are the key piece of this outfit. When I put together this outfit, I started with this embroidered blazer aka shirt I bought on sale at Zara a couple of weeks ago. I know, it is everything but what I usually wear and you probably wouldn't expect me wearing a bright and eye-catching piece of clothing. But I somehow just had to buy it, and even my boyfriend said, that I should take it.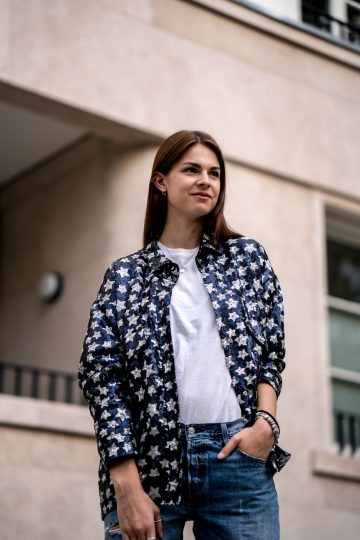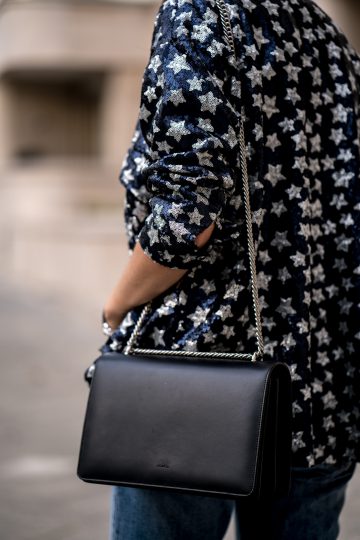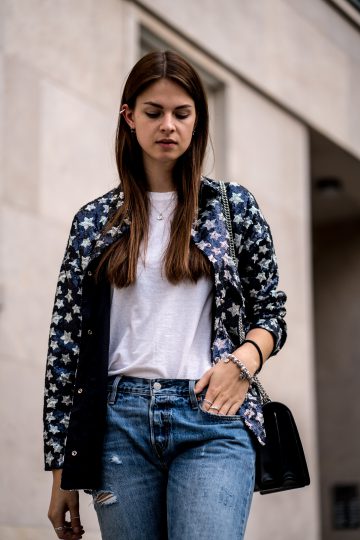 As everytime when I buy something new, I thought about three different outfit combinations with this embroidered blazer and two basics popped up in my mind: an all white and an all-black outfit. Another one I wanted to try is the one you can see me wearing here. The blazer combined with a pair of boyfriend jeans, a white t-shirt, and white sneakers.
I actually like a lot, that you either can dress the blazer down or up. It isn't the kind of clothing I usually wear, but it offers many possible combinations, and that's something I like a lot. And sometimes it's nice to own some pieces of clothing that are different from everything else you have in your closet, isn't it?! I know that I won't wear the blazer on a daily basis, but I already can't wait to try other outfit combination such as the combination with an all-white outfit. Imagine how the blazer would look combined with skinny white jeans and a white t-shirt or a white button-down shirt… could look quite good, don't you think?!
One last thing I would like to add: I haven't been wearing earrings for years, and I actually don't know why. When I was five years old, I got earlobe piercings, and I was always wearing earrings. But I got bored at one point and didn't like it anymore, so I stopped wearing them. The other day I received these pretty star earrings and guess what? I have been wearing them almost every day since then! I really like how they add another nice detail to every outfit, which makes it look more interesting. And know that I rediscovered my love for earrings, I am already looking for other ones. 🙂 What do you think about earrings? Do you like them or not?