At the end of 2017, we began to rearrange our home. We removed the wall, that separated our two hallways to get one bigger hallway with more space. We bought new furniture and started decorating everything. One of the things I wanted to put in that hallway was a gallery wall, and together with Desenio, I could realise it!
I had no idea how to create a gallery wall; I didn't know where to start and how to make sure, that the final result would look as good as I expected it to. I found a solution, and today I want to share it with you and tell you how to create a gallery wall that will actually look as good as in your imagination.
How to create a gallery wall
Step 1: You need to know where you want to put the gallery wall and how much space you have. Choose a place and measure out the size.
Step 2: Make a sketch and start drawing possible arrangements. The space I chose is around 70 cm wide, and they max height was around two meters. I started with drawing vertical lines at an interval of one centimetre. Every centimetre equals ten centimetres in real. 70 cm isn't a lot of space, but it still is enough to work with three different sizes. I played with those sizes, and it didn't take long until I had found the arrangement I wanted to go with.
Step 3: Now that you know how many posters and frames you need and what size they have to have, it is time to go to Desenio and make a selection. I started with bookmarking all of my favourites and believe; I found a lot!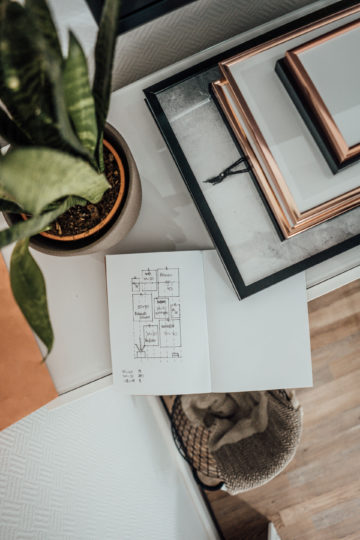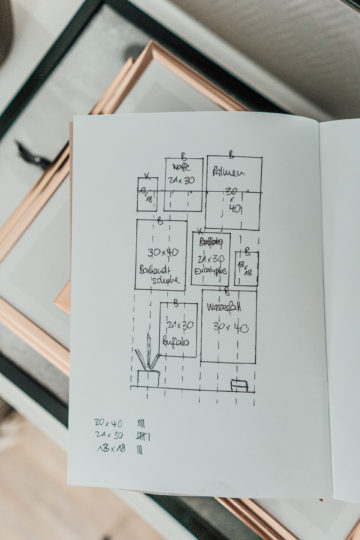 Step 4: Once I had all my favourite posters together I first clustered them (e.g. botanicals, lettering, vacation). And then I tried to imagine what would work best together.
Step 5 (optional): I didn't do it, but to make it easier to see which posters work best together you can create a photoshop file of the size of the wall. Make a screenshot of your favourite posters and start arranging them in photoshop to see what they would look like together
Step 6: Once you made a selection of posters you need to choose the frames in the next step. I didn't want to work with black frames only since we have a copper-coloured light in our hallway. I thought it would look nice if some of the frames are copper-coloured as well.

Step 7: You made a selection and ordered everything? Good, the next step is the moment of truth! Once you received your posters and frames, you have to check, if everything works as good together as you imagined it. Frame all your posters the way you planned it and arrange them on the floor before you start to gouge holes. That way you can what it will look like and still change it.
Step 8: Everything looks perfect, and you are happy with your selection as well as the arrangement? Gouge the holes and put all your framed posters on the wall!
My gallery wall from Desenio
I had so many posters bookmarked; it wasn't the easiest decision I had to make haha. And the final selection is a mix of posters I thought that would look pretty in combination with the ones that are related to something I like a lot.
I had to choose the palm trees because I love summer, the ocean, beaches as well as palm trees. The wanderlust writing reminds me of all the beautiful places I still want to see. I love to travel and to explore new places, and that's what wanderlust stays for. Last but not least the boxing gloves. As you might know, I am a quite active person. I enjoy doing sports, and I recently started with boxing. This poster reminds me of never stopping, being active every day and also to stay strong. The rest is a selection of posters I thought that would look pretty. I absolutely love my selection, how about you? If you want to create your own gallery wall, make sure to check Desenio for a large choice of posters and matching frames. And if you want to buy something, you can use the discount code 25WHAELSE to save 25 percent on all posters (frames, "handpicked/cooperation" posters as well as accessoires are not part of this offer). The code is valid from today until the 28th of January 2018.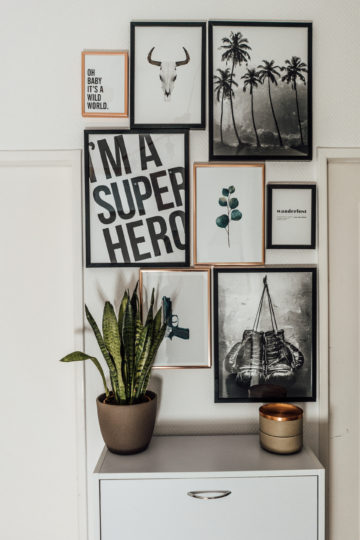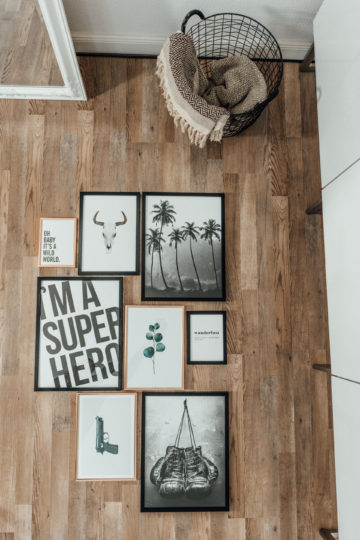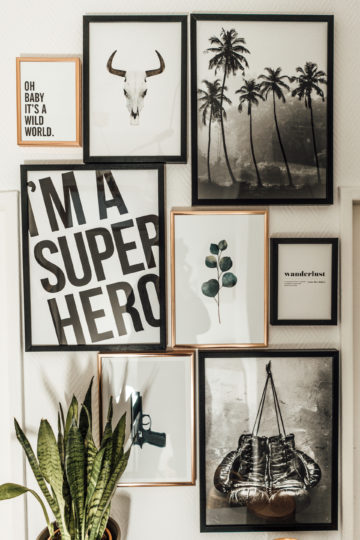 My selection starting from the top left corner, ending with the bottom right corner:
Wild World Poster
Buffalo Horns Poster
Palm Trees Poster
Superhero Poster
Eucalyptus Poster
Wanderlust Poster
Blue Gun Poster
Boxer Poster
How do you like the gallery wall I created for our hallway? Do you already have a gallery wall at home or would you like to create one? I would love to read your comments about this topic. 🙂
And don't forget that you can save 35 percent on Desenio until Sunday. Just use the Code 25WHAELSE once you are placing the order. Have fun making your selection. xx