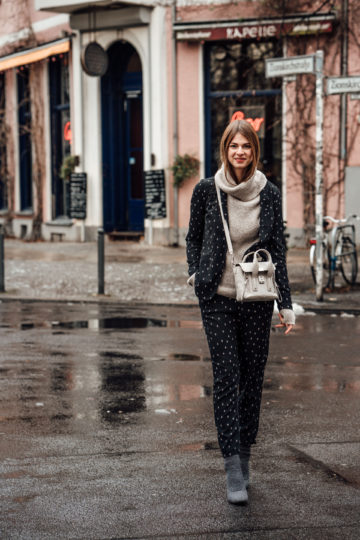 Last week was Fashion Week in Berlin, and as I mentioned before, we had enough time to take pictures of all the outfits I was wearing during these Fashion Week days. But before I start sharing the first pictures today, I have to bring up, that it was all about feeling comfortable as to me. I don't like dressing up and always wear what I feel comfortable in. Of course, I do think about the outfits I could wear before Fashion Week starts, but I usually end up wearing different outfits.
For one of my Fashion Week outfits, I teamed up with Vila. It was a quite spontaneous idea, and I chose the outfit just the day before Fashion Week in Berlin officially began for me. Do you want to know more about the outfit I chose? Read everything about it in the following:
Combining a two-piece with a chunky sweater for Fashion Week
As I mentioned before, to me it is most important to feel comfortable in what I am wearing.
I have this thing for two-pieces or suits – however you want to call them. So it is no surprise that I went for one for my Fashion Week outfit styled in collaboration with Vila.
What I like best about this two-piece is the print. I have a lot of simple black pants and blazers as well as jackets in my wardrobe, but I didn't have anything with a print like this one on. It is a small detail, not too brash, but it still makes the whole outfit look more interesting and less starchy.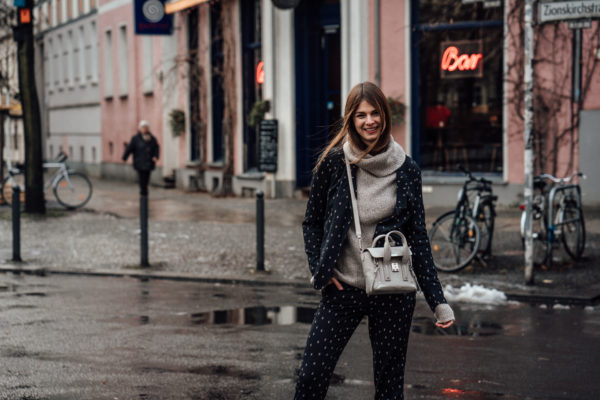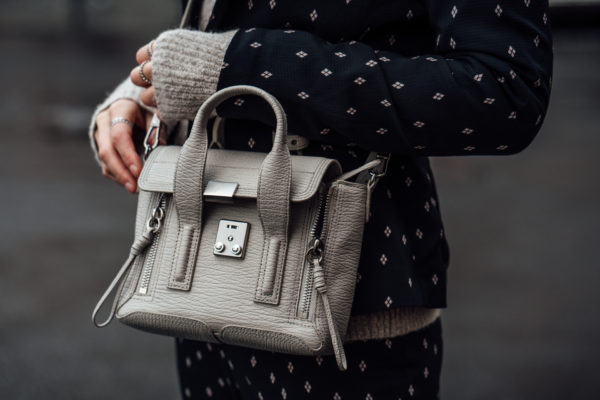 Finding the key piece of this outfit was done super fast. But the next question was how to combine it. Since it is currently winter in Berlin and we were not very lucky with the weather the last week, I focused on staying warm. I had a closer look at the whole collection, but this sweater was my first and final choice. Why? First of all, it is very cosy, and I knew it would keep me warm on that windy and cold day during Berlin Fashion Week. Secondly, it matches the print of the two-piece perfectly.
To finalise this Fashion Week outfit, I put on my glitter shoes as well as a cross-body bag and some pieces of jewellery. Maybe the shoes weren't the best matching choice, but I didn't want to combine this outfit with black boots. It somehow looked a little bit boring. Additionally, I like these boots a lot and really wanted to wear them that day. 🙂 How do you like this Fashion Week outfit?
Berlin Fashion Week Day 1
I won't prepare a separate post about everything I did during Fashion Week in Berlin, but I will share some information with every outfit post I share here on the blog.
On the first official day during MBFWB, we first had a meeting with Gina Tricot. We talked about a possible longterm collaboration and upcoming events, and I am sure some exciting things are coming this year. 🙂 Next up was a meeting with Gant about continuing the partnership this year. In between, we worked a little bit on the blog and went to a Levi's seeding. Later that day we also stopped by the Miss Sophie's Beauty Lounge and our day ended with the Callisti Show presented by Mercedes-Benz and Elle. I don't know if it sounds like a busy day, but it actually was quite calm compared to what I did last season haha.