And like every year, this year on 31.10. it's again time for "trick or treat". Who doesn't know it, when in the evening the children in partly creepy but also somehow cute pirate, ghost or zombie costumes stand in front of the door and demand sweets. But Halloween is no longer just an event for children. So many celebrate this day in elaborately decorated clubs or homes. It can give you a shiver when limbs hang from the ceiling and the walls are splashed with fake blood. Not only the youngest ones dress up, costumes are available for young and old in every price range. How else can you win a costume contest in a club or with friends. The creative costumes range from Lara Croft with inflatable weapons and adhesive tattoos to sexy Catwoman with cat ears and leather body. Halloween could also be described as a mixture of carnival, ghost train and sugar shock. Halloween describes for some people not only this one day, but a whole life experience!
The meaning of Halloween
Originally from America, the trend spilled over to Germany in 1990 and you can find Halloween costumes, make-up, decoration articles and specially created themed sweets in pretty much every store throughout October. Of course, an annually released scary Halloween movie should not be missing for the perfect scary evening. Around the term Halloween a whole industry has emerged.
What many people do not know is that Halloween is actually called "the night before All Saints' Day", which takes place on November 1st. Nowadays, the day is more creepy. People decorate their homes with pumpkins, cobwebs, little ghosts and many other scary decoration items. Halloween parties are held everywhere and you put yourself into elaborate costumes. The most typical decoration article is probably the pumpkin. You only need a pumpkin, which you have hollowed out sufficiently with a spoon or knife. Now you can carve faces into the pumpkin, put a candle into it and the Halloween decoration is ready!
How to make healthy Halloween Snacks
But what is even more important than the whole decoration is of course the Halloween food. Whether alone in front of the TV with scary movies or with friends at a Halloween party, the food is definitely an important part! There are numerous Halloween recipes, from sausages that look like fingers, puff pastry in bone shape or bloody chocolate muffins. Even when it comes to food, the creepy part is at the top of the list. Sometimes the food is too scary to even eat it!
But what is with healthy Halloween snacks? For everyone who wants to escape the food coma and sugar shock at least a little bit, there are of course healthy alternatives to the classic Halloween snacks, like minced meat in brain shape. How about making your own ghostly chickpea hummus, pumpkin spice, dark nacho sauce, black bean noodles or a spooky overnight oats recipe?
Not only does it all sound eerily good, it tastes that way too. See for yourself! In the following you will find four creepy Halloween recipes to recook.
Ghostly pumpkin spice overnight oats with banana
Was ihr benötigt:
(1 Portion)

What you need:
(1 serving)
1 banana
½ cup of oatmeal
2 tablespoons chia seeds
1 teaspoon agave syrup
½ TL pumpkin spice 
2 tablespoons coconut yoghurt
4 tablespoons oat milk 
4 tablespoons of water
½ cup of frozen berries
Cocoa nibs
Mash half of the banana with a fork and mix it with the remaining ingredients, except the other half of the banana and the cocoa nibs. Leave the mixture in the refrigerator overnight. For the ghostly topping, place the banana in your overnight oats with the cutted face down and garnish with two cocoa nibs as eyes. Your overnight oats banana are ready for a spooky Halloween breakfast!
Note: Pumpkin spice is easy to buy online or you can make pumpkin spice yourself! Just mix cinnamon, ginger, cardamom, nutmeg, cloves and pimento.
Scary black pancakes with berry blood and cashew spider web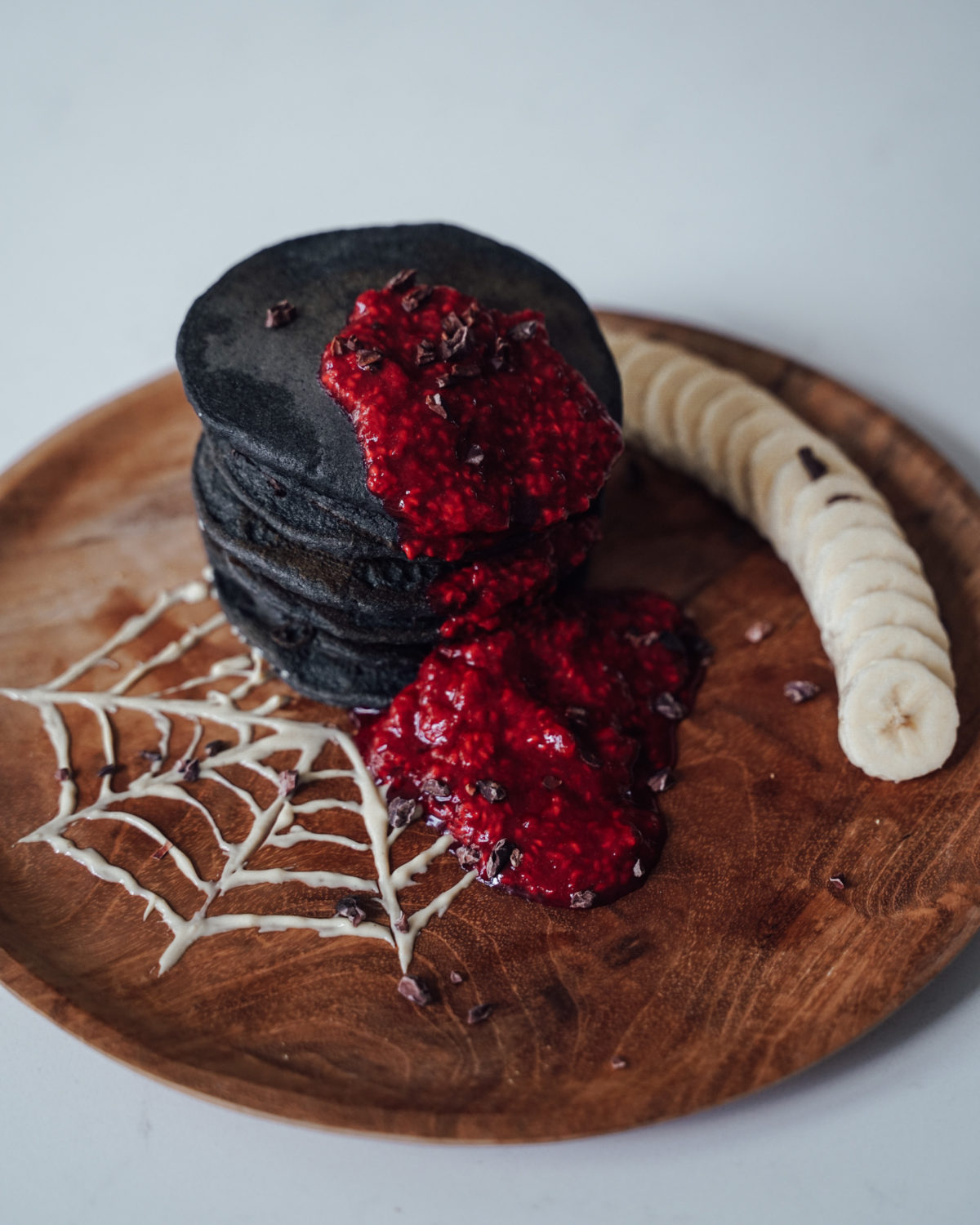 What you need:
(1 serving)
20 g ground almonds
60 g almond flour
1 teaspoon baking powder
½ TL pumpkin spice
½ TL powdered activated charcoal
½ mashed banana
120 ml almond milk
1 teaspoon apple cider vinegar
½ cup of frozen berries
1 teaspoon cashew butter
First mix the dry ingredients in a bowl. Then add the banana, almond milk and apple cider vinegar and mix well. Heat a coated pan and add two tablespoons of batter per pancake. When the dough forms bubbles on the surface, you can flip the pancake. Continue until the dough is used up and stack the finished pancakes on a plate. You can keep them warm in the oven while you prepare the bloody berry sauce. Just put the berries in a pot with some water and let them boil once. Now pour them over the pancakes. For the cashew spider's web, form ever larger rings on the pancakes and then draw lines with a toothpick from the middle to the outside. Your eerily beautiful pancakes are ready!
Black beans hummus recipe vegan
A special eye-catcher for savory Halloween dishes is a black bean recipe. Black beans are great for adding a touch of a dark color to dishes like nacho dips. This is how Halloween nacho dip is easy to make by yourself! There are many of these black bean recipes, so it's easy to make hummus with them! 
(1 jar)
¾ tin of chickpeas
¼ tin of black beans
Juice of a ½ lemon
2 tablespoons tahini
2 sprigs of fresh coriander
1 garlic clove
½ tsp cumin
1 pinch of paprika powder
Fresh chili
Spring onion
Making hummus yourself is not difficult! Just put all ingredients with a little bit of water into a blender and mix well until the mixture is creamy. Top your dark hummus with a few slices of fresh chili and spring onion and your vegan black bean recipe is ready to eat! You can serve it with perfectly salted tortilla chips, so nothing stands in the way of a horror movie marathon!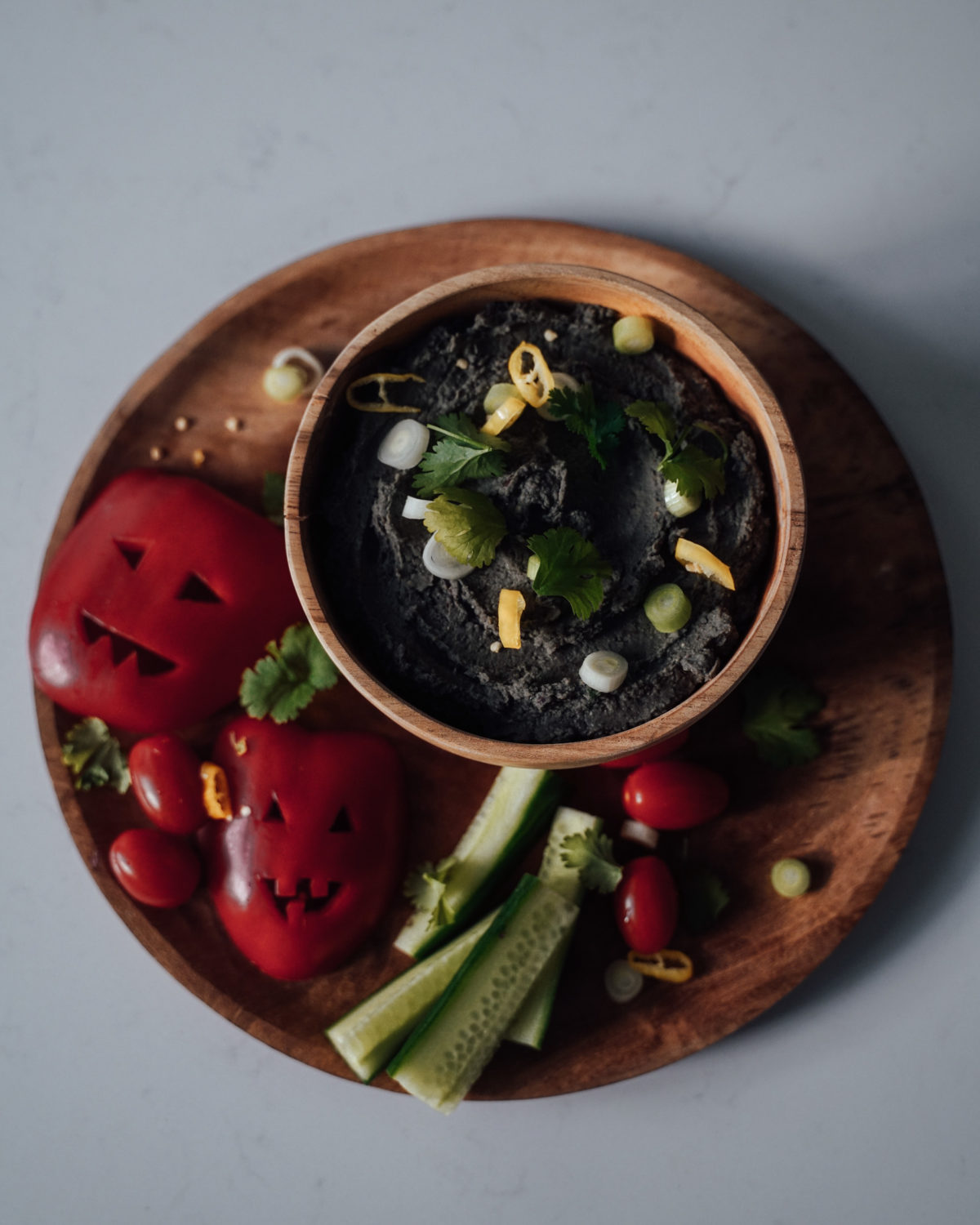 Creepy Halloween pasta all'arrabbiata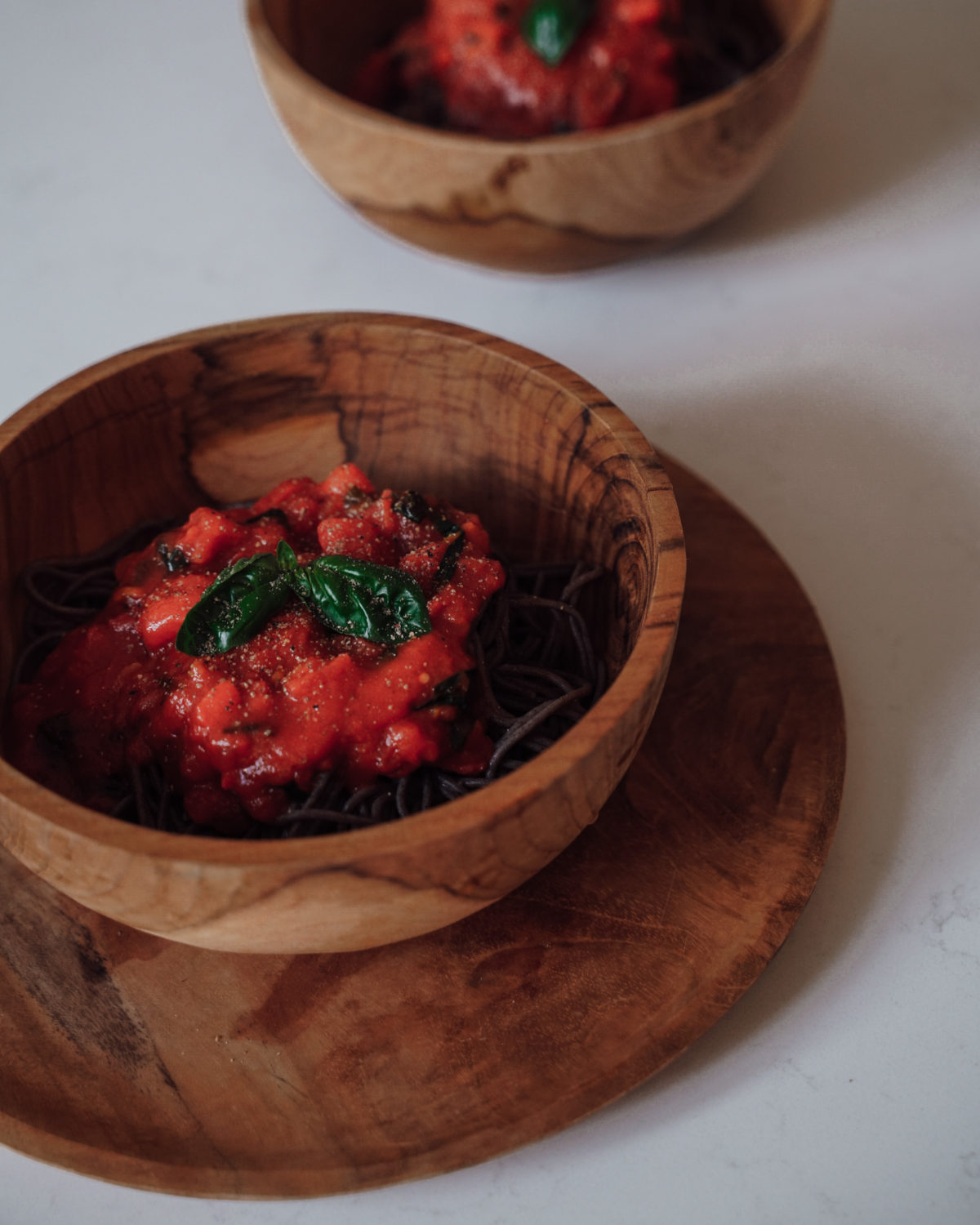 (1 serving)
100 g black beans spaghetti
½ shallot
fresh chili
1 handful of cherry tomatoes 
½ handful of fresh basil 
1 teaspoon agave syrup
1 pinch of pepper
Spring onion
Boil the pasta in salted water. Cut the chili and onion into small pieces and fry them in some olive oil in a pan. Chop the tomatoes and basil and add them to the pan until the tomatoes are soft. Add the agave syrup and a pinch of pepper and let it simmer for a short time. Garnish the pasta with some spring onion and fresh basil. Your Halloween inspired black bean pasta is ready!
Of course there are countless more of these Halloween snacks vegan, like Halloween pumpkin pie or Halloween cookies.
What is your favorite Halloween snack and how do you celebrate Halloween? Maybe some of these recipes will end up on your Halloween buffet this year!