Happy Friday folks! The weather in Berlin is horrible right now; it's raining a lot, and it's super dark all day long. Not only that I'm everything then motivated these days, but it's also extremely difficult to take new outfit pictures. At the moment we're trying to take every single opportunity, means whenever it's not raining and not too dark outside, we try to get outside and take new outfit pictures. Easier said than done, for sure… luckily we shot these pictures last Sunday when it wasn't raining and only a little bit gloomy.
The outfit I'm sharing with you today is one of my autumn uniforms: bomber jacket and black boots. I got a couple of new bomber jackets during the last weeks, and this green bomber jacket is one of them. As you might know, I always buy them at least one size bigger, so a sweater fits underneath without any problems. Additionally, I just really like wearing oversized pieces. They're so much more comfortable and, of course, they are the perfect layering piece.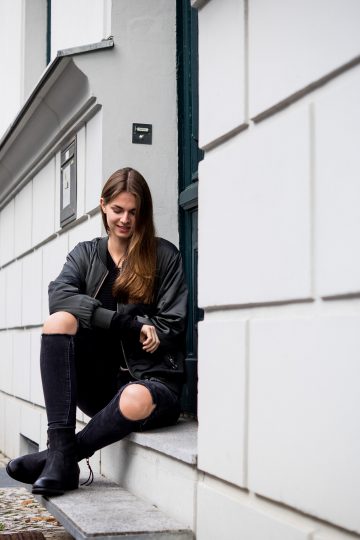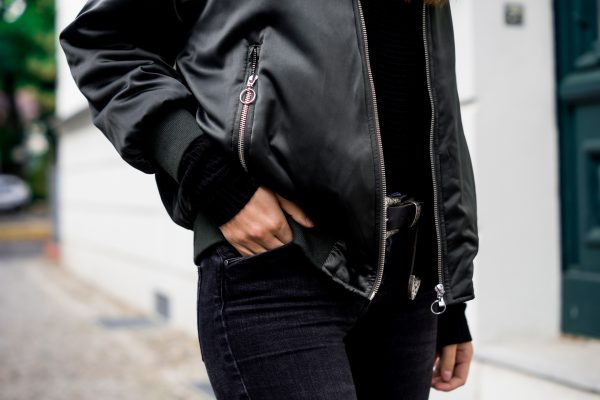 Autumn Uniform: Bomber Jacket and Black Boots
To be honest, I wasn't sure whether I like this colour or not. The green looks pretty dark in these pictures, but it's lighter in the sun. I like it the way it looks in these pictures best, and I actually wanted to have a dark green jacket. But as I already mentioned, the green looks much lighter when the sun is shining. Maybe I just shouldn't wear it on sunny days… Anyways, the dark green looks perfect and the cut and size are perfect as well. Altogether I'm happy with the decision to keep it.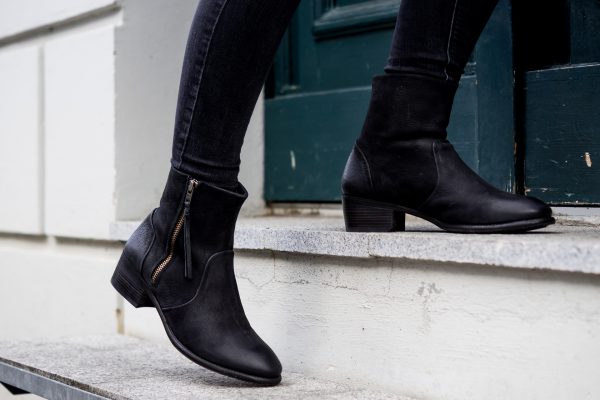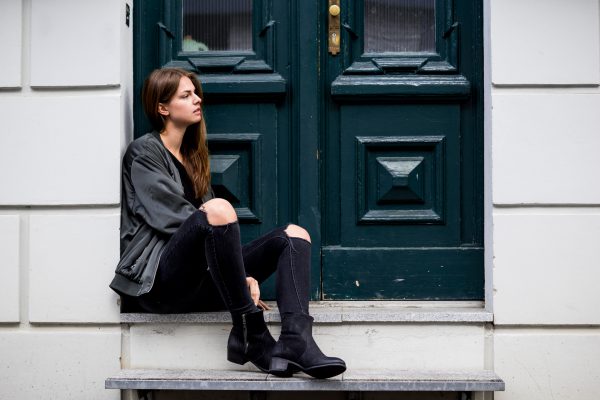 I combined it with an all black outfit the other day because you can never go wrong with an all black outfit. I chose black jeans and a black sweater, added my western belt as an eyecatcher and finalised the outfit with my new Blackstone boots. I mentioned it before: black boots are one of the essentials for autumn and winter. And I even wear them in spring and summer. For me, black boots are a wardrobe essential for every season of the year. The ones I just got from Blackstone are the perfect everyday boots. They're comfortable, have a very basic cut and – that's the cherry on top – they have a fur lining. Thanks to this lining I can wear these boots in winter as well and probably won't have cold feet. I say probably because I ALWAYS have cold feet in winter.
What do you think about today's autumn outfit? Do you like the bomber jacket? And what do you think about my new shoes?