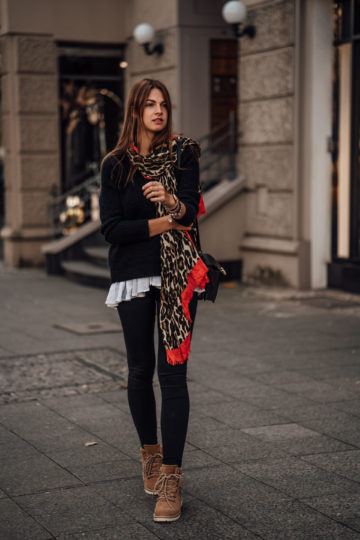 I still have plenty of pictures from Bali left and, of course, we also took a lot of pictures in Portugal I want to share with you as soon as possible. But we also took outfit pictures when we were in Berlin last week, and I want to share these pictures first.
Today is our last day in Portugal and leaving the cold in Berlin for another week was nice, but now it's time to face the cold and get used to it. Fortunately, I got the right clothes to fight the cold and to make sure, that you won't freeze this season, I want to share one of my fall and winter essential with you today.
Amongst warm winter jackets and coats, it is important to have the right footwear. I have a lot of boots in my wardrobe, but most of them are not made for really cold winter days. They are not made for when it's wet or icy outside. To be honest, those boots only look nice. Then I also got a few pairs of boots that are perfect for cold winter days, but most of you would say, that they are not very fashionable. Whenever people say, something isn't fashionable I would always disagree! Why? Because it all depends on how you style them! So yes, I already know, that some of you will say that the boots I want to talk about today are not fashionable but let me convince you of the contrary:
How I am styling my winter boots this season
TOMS recently introduced their new fall/ winter boots and asked me to style them fashionably. I have to admit, that I first wasn't sure and I had to think about it a little longer, but the only reason was that I felt a little bit pressurized by the word "fashionable."
I mean, how would you describe a fashionable outfit? And what is the contrary? I stopped thinking about it and just put together the kind of outfit I enjoyed wearing last autumn and winter season. No matter what season it is, the rules are always the same: wear something you feel comfortable in, less is more, keep it simple and add eye-catching details. With reference to this outfit, it means, that I was wearing a pair of black jeans and a black sweater with a longer white shirt underneath. This combination is the perfect base for whatever winter outfit you want to put together. I wanted to focus on my new TOMS boots, what wasn't difficult since they are not black bot brown. To add a piece that matches the boots and highlights them even more, I decided to throw over my old but beloved leopard print scarf. And that's actually it. The result is a nice fall and winter outfit that does not only work for a long day at the office but also for a meet up with friends or running errands.
TOMS One for One® Campaign
For once I like my new boots because they will keep my feet warm in winter and look nice at the same time. I mean, how nice is the white and red sole? I like this detail a lot! 🙂 Another reason I like those TOMS boots is the One for One® campaign. TOMS is not only a lifestyle brand, but it is also a brand with a purpose. Every purchase at TOMS has a purpose. For every sold pair of shoes, TOMS gives a new pair of shoes for a child in need. That's One for One. And the consumers are the activists, who enable TOMS to help provide those shoes and help the children in need. And isn't it amazing to do good by buying a new pair of boots? They will not only help you through the cold months, but they will also help a child in need! You can learn more about this campaign and find the boots I am wearing online at TOMS.