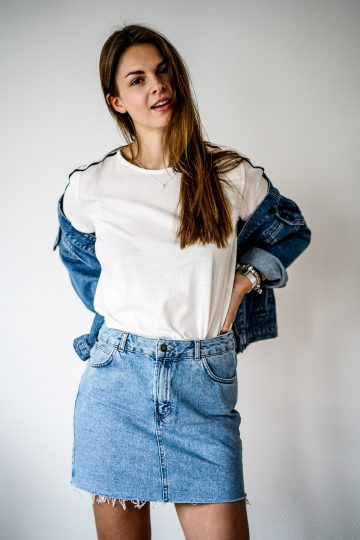 I shared all the pictures we took in Sri Lanka with you, and now there's no more summery content left I could share. BUT the next vacation is coming, I'm flying to Morocco on Thursday next week, and if the clerk of the weather is on our side, we'll have a lot of sunshine and temperatures around 20°C. That's not as warm as it was in Sri Lanka, but it's still so much better than the temperatures in Berlin. Now I just have to survive the next week here in freezing cold Berlin, and since I can't wear all the summer clothes I already bought and got outside right now, I'll simply wear them inside. 😉
Dreaming of Summer in Berlin
And while I'm wearing all these summer clothes inside, I'm dreaming of summer in Berlin. It's been too cold for too long now, and spring could hurry up a little bit! I can't wait for warmer days and all the blooming trees and flowers. Spring is my favourite season of the year, but summer isn't bad either. I enjoy living in Berlin most during spring and summer. I'm so looking forward to sitting outside in cute cafés and beer gardens, going for a run with Jimmy at Schlachtensee or Grunewaldsee, taking long walks outside in general and drinking lots of iced coffee. There are so much more things I can't wait doing when it's finally warmer outside. Additionally, it's so much more fun taking outfit pictures when it's warm and sunny. Right now it's everything, but fun and I actually don't want to do it at all. I should really go outside and take new outfit pictures, but right now I'm just putting it off for as long as

possible. And I already now, that I'll be super stressed out next week because I won't have any content to share with you guys.
Denim Skirt, Denim Jacket and White Tee
The other day I received a package from Subdued with this amazing denim skirt. I wanted a denim skirt for such a long time, but I couldn't find one. And well, I wasn't looking for it intensively. But then I saw this one online, and I just couldn't resist. It's also available in black, and I'm thinking about getting the black denim skirt as well… The skirt wasn't the online piece I received. I also got the white tee and the denim jacket you can see me wearing here. I love this kind of basic and simple outfits. Perfect for summer days and I'll probably wear this outfit again when it's warm enough in Berlin 😉 What do you think about my outfit? Do you like denim skirts or not?