You are in need of some last-minute inspirations for a festive outfit? Then you are exactly where you need to be right now because I am sharing some festive outfits for Christmas here on my blog today. I put together a small selection of outfits that will meet all your needs because I have an outfit for everyone no matter if you need something cosy, casual or chic. Putting together a Christmasoutfit should never be something to despair of; there is actually something exciting and special about planning the perfect festive outfit. So have a look at the following outfits for Christmas, get inspired and start planning your special look for the festivities.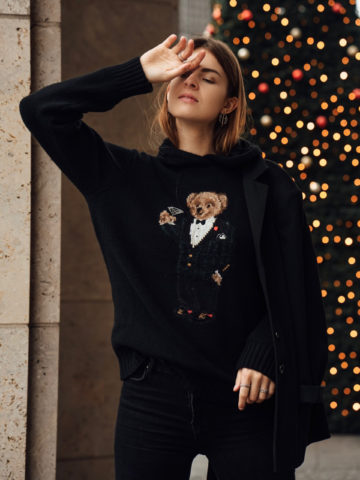 Cosy Christmas Outfit
Dressing up is a lot of fun and something special, but sometimes all we need is a cosy outfit for the holidays. Putting together a cosy, festive outfit doesn't mean that it can't be special or Christmassy. All you need is a Christmas sweater, and no I am not talking about those Ugly Christmas sweaters you might think off. Christmas sweater doesn't have to look ugly; they actually can be cute or even chic. For my cosy Christmas dinner outfit, I was wearing a Polo Ralph Lauren sweater, a pair of black jeans as well as a black blazer. You can combine your Christmas sweater with every kind of pants or jeans, just wear whatever you feel most comfortable in. And if you want to add a chic touch to your cosy holiday look, put on a blazer. And if you are still not satisfied with the final look, try adding a few pieces of jewellery such as a pair of big earrings, because they will make a big difference and your outfit will look even chicer and get a more festive touch.
Casual Chic Christmas Outfit
Something you can never go wrong with when you don't know whether you should wear something chic or something more casual or even cosy is a casual chic outfit. I do like casual chic outfits a lot and would always recommend wearing them when in doubt. Also, this kind of festive outfit will give you enough comfort even after a Christmas dinner and too many Christmas cookies. For a casual chic Christmasoutfit I would always start with a pair of comfortable trousers, and in this case, I opted for a pair of black trousers because you can combine them with almost everything. To make the outfit more special and chic, I put on a metallic-grey turtleneck. In combination with a black blazer, the turtleneck becomes the key piece of your festive outfit. I would always recommend wearing an eye-catching top in combination with black pants and a black blazer. This top doesn't have to be a metallic turtleneck; it also can be something colourful, a sequins top or embroidered top – just to name a few examples.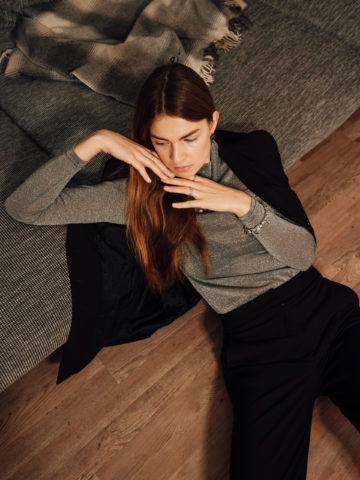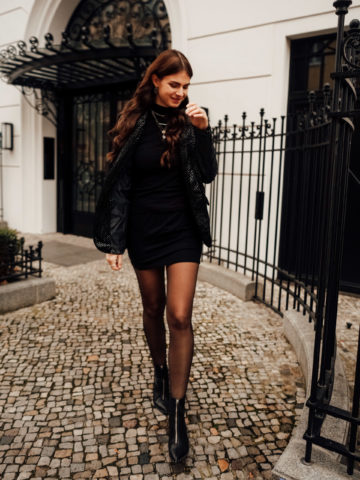 Chic Christmas Outfit
If you really like to dress up, you will need a chic outfit for Christmas Eve. A chic and classy outfit is probably the kind of outfit most of you might go for during the festive season. And it's pretty simple to put this kind of outfit together. When you want it classy, always choose black pieces of clothing. Black dresses or black suits are always a good idea. You can also add a little bit of glitter or sparkle just as I did with this velvet blazer with silver spots. The blazer is the key piece of my outfit, and I decided to combine it with a black turtleneck and a simple black skirt. But you could also combine it with a black dress or something more sparkling such as a sequins dress if you like it fancy. Wearing a blazer is one idea for a chic festive outfit and you can either combine it with a dress, a skirt or a matching pair of pants. Another idea for a chic Christmasoutfit is to wear a dress or a jumpsuit. And you can either keep it classy, or you can go all in and wear something fancy. The next outfit I want to share with you is such a fancy and sparkling Christmas outfit.
Sparkling Christmas Dinner Outfit
If classy isn't festive enough for you and you think it's kind of boring, you should go all in and wear something sparkling! The best way to create a very fancy and eye-catching Christmas dinner outfit is by wearing a long sequins dress as I did when I was in London together with Farfetch. We got to try several festive outfits that day, but this one caught my attention. It wouldn't always be my first choice as I prefer casual chic looks, but I wanted to show you what a difference a dress like this one can make. You will definitely catch peoples attention when wearing a sparkling Christmasoutfit and it probably is the most special kind of look you could wear. If you want to feel extra and special, go all in and wear sparkling clothes. But not only a sequins dress would work, metallic clothes or everything with embroidery or in a bright colour will do the job as well.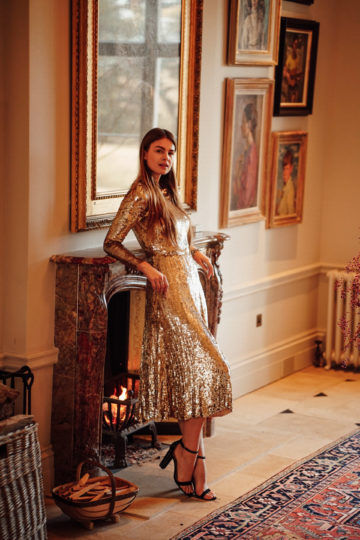 Festive Christmas Outfits Lookbook
Now that you've seen my four festive outfit ideas or Christmas Eve, you still don't know what to wear? No worries, I got more for you. On YouTube, you can find a Christmas Outfit Lookbook I created together with Kim and Caro. Here you can find six more festive outfits that might be helpful for putting together your Christmas dinner outfit.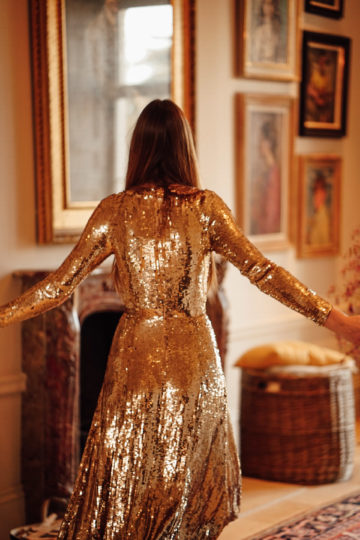 Tips for your Christmas Dinner Outfit
Most importantly you should always wear a Christmasoutfit you feel comfortable in.
Always combine at least one classy basic piece with a festive piece of clothing for your Christmas Dinner Outfit.
Yes, even on Christmas you should follow the rule "less is more". But a little bit of glitter never hurt nobody when it comes to Christmasoutfits.
If you prefer simple Christmas dinner outfits, you can add a few pieces of jewellery and more fancy accessoires, if you want to put together a festive outfit.
We eat a lot during the festive season, so your Christmas Dinner Outfit should be comfortable and wide enough, so you have enough space for all the food. 😉