The holidays are getting closer and closer, and one or the other of you will probably find it rather difficult in the current situation to fall into a festive mood. I would like to help a little and bring you a little in the mood with my ideas for your Christmas outfit this year. Because what's more fun than putting together the perfect outfit for Christmas and finally have a reason to get dressed up again?
I'm really looking forward to the holidays and made some thoughts on the subject of festive clothing in the last few days. This year everything is a little different and so maybe the looks for the holidays. What does that mean for me specifically? I can let off steam in terms of comfortable festive outfits. The focus is for me this year namely exactly there, with the coziness. In total, I've put together five beautiful Christmas outfits for you, all of which are primarily cozy, but also brings that certain touch of festivity.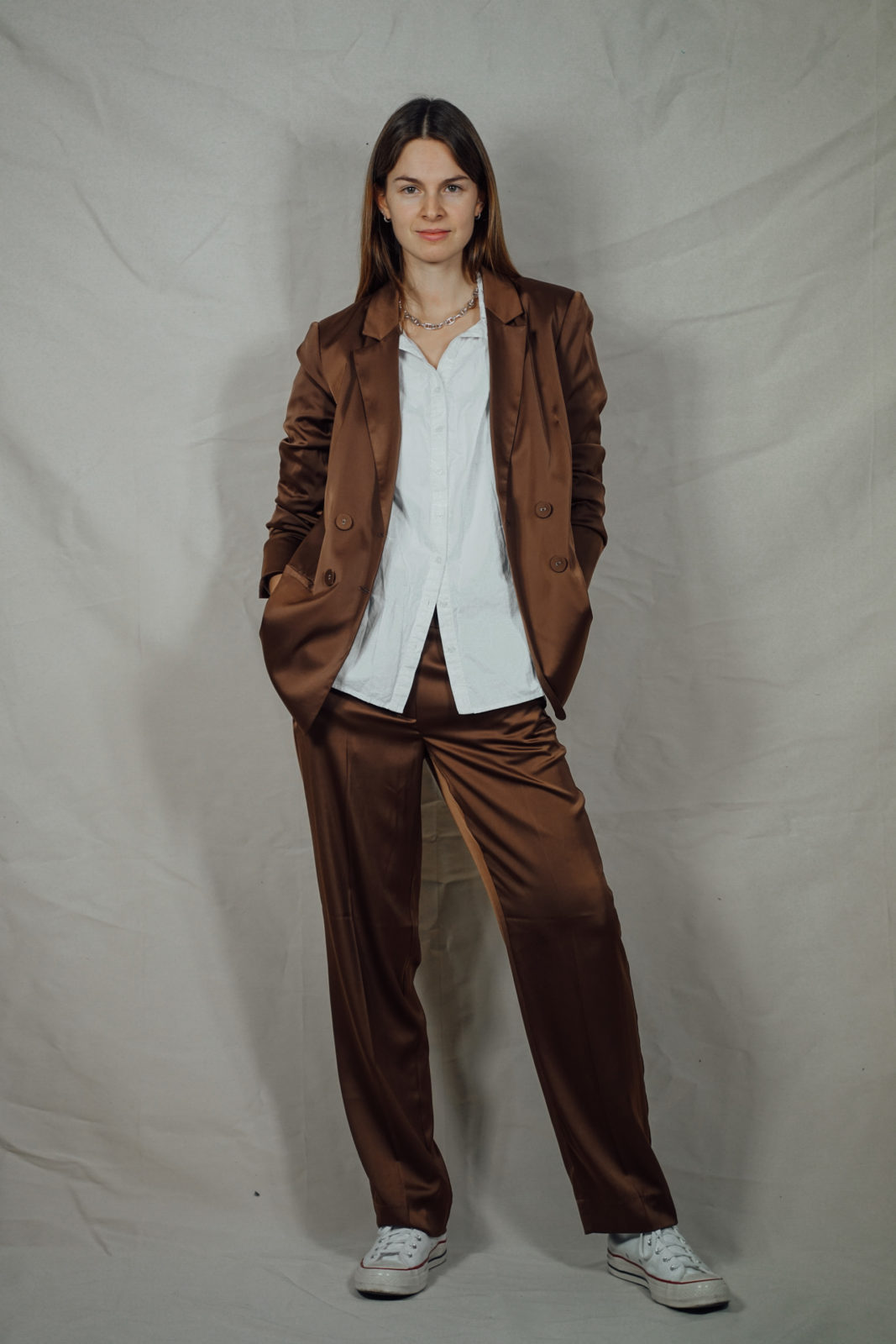 Elegant outfit for Christmas: The two-piece in shiny optics
For me, nothing goes without a two-piece, it is one of my go-to looks when I do not know what to wear. The great thing about the two-piece is that it is directly a look. It doesn't need an elaborate combination with many other pieces. Basics like a white shirt and a few accessories are enough. It is the same with this two-piece in a shiny look. The color as well as the shiny effect of pants and blazer make this suit the perfect base for a festive outfit for ladies. Many of you would possibly rather reach for dresses, but a chic suit can also be perfectly combined for the holidays.
I went for the combination with a loose white shirt as well as white sneakers. If you like it a little fancier, you can also put on a pair of heeled boots or – if it's not too cold – high heels instead of sneakers. Two-piece dresses are very versatile and easy to combine.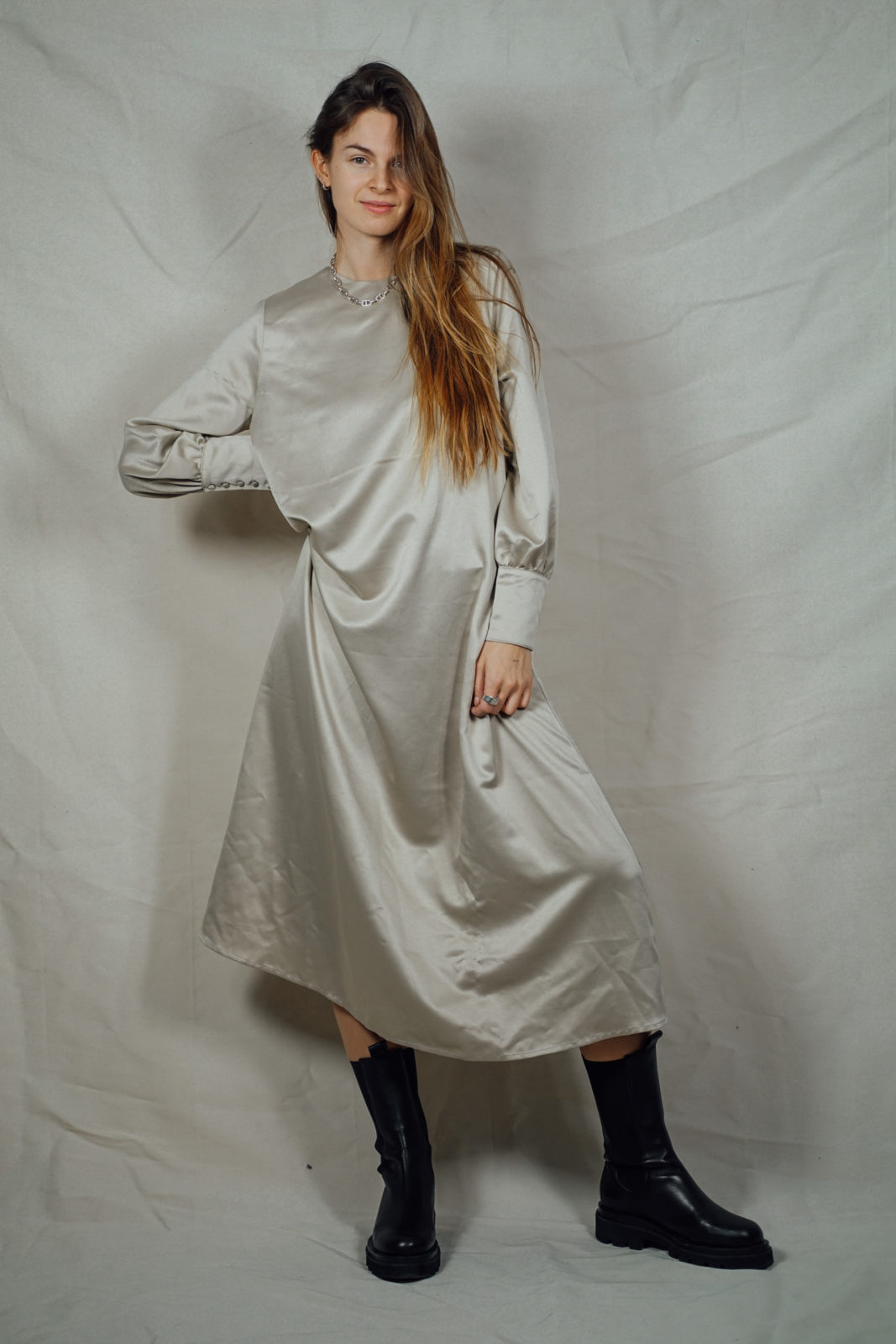 Dresses for Christmas: a long festive dress combined with boots
I love contrasts in my outfits which is why I usually combine my dresses with boots or sneakers. Also for this outfit for Christmas, I have again chosen this combination. The midi dress I have already worn in fall a few times and when I was looking in the closet for suitable clothing for Christmas, it jumped right into my eye. The length, the look of the material as well as the details on the sleeves and the color of the dress fit perfectly for the Christmas season.
If you want to combine it very simple and casual, you can like me just grab some chunky boots. Alternatively, long dresses are also great to combine with high heels for the perfect festive outfit. For more shape, you can still make a chic belt around and for another eye-catcher, a slightly longer chain is totally suitable.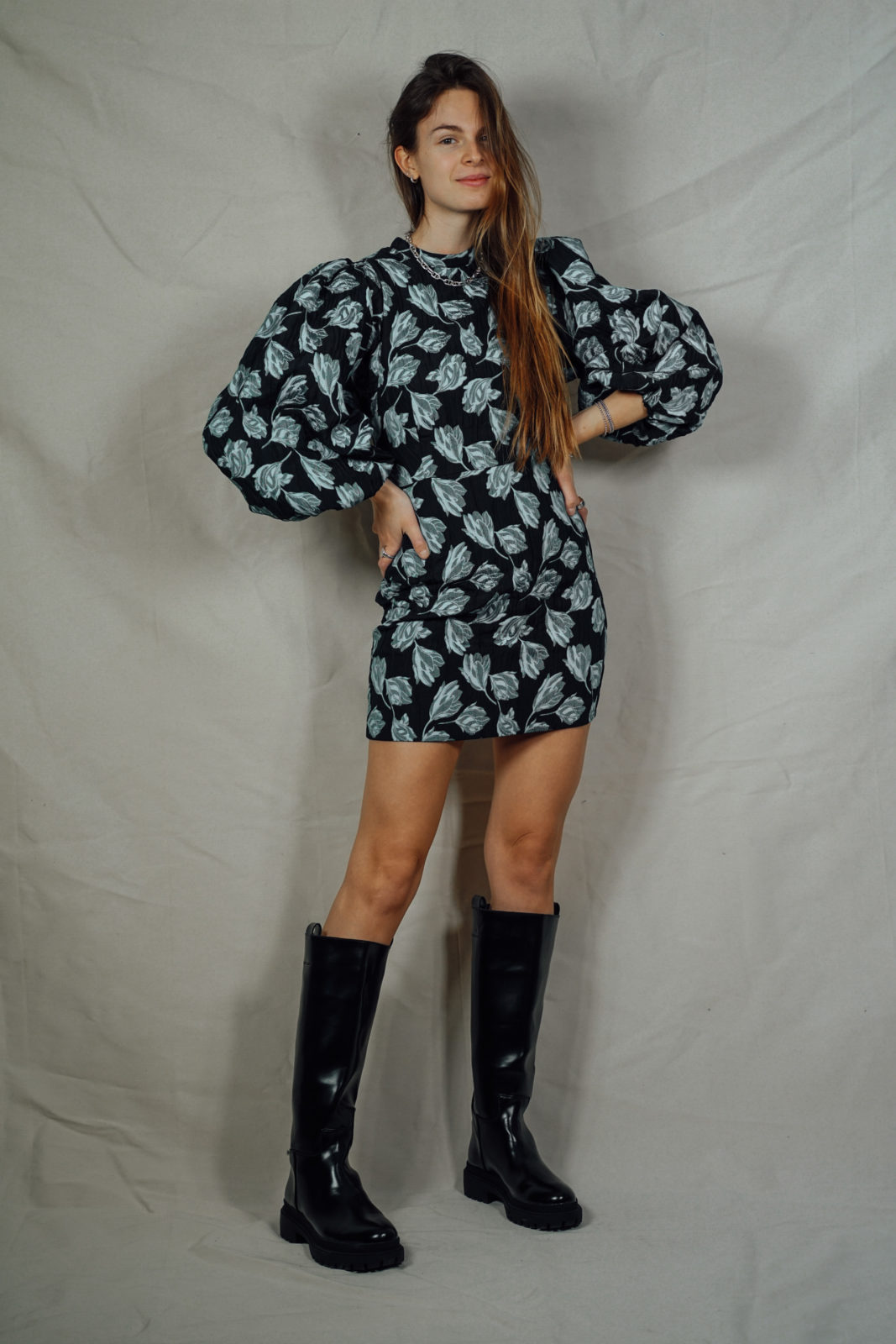 A short festive dress for Christmas Eve
Long dresses or those in midi length are not quite what you imagine for your outfit for Christmas, but it should definitely be a dress? Then simply go for a shorter version. A festive dress does not always have to be long. Combine the short dress simply with tights or with slightly higher boots. You can go for overknees or knee-high boots, which are totally trendy this year. I have decided to go for this variant, as you can see.
In terms of the dress, I have opted for a somewhat flashy dress model. Through the floral print and the puff sleeves, the dress becomes an absolute eye-catcher, which in the right combination is a great Christmas outfit for ladies.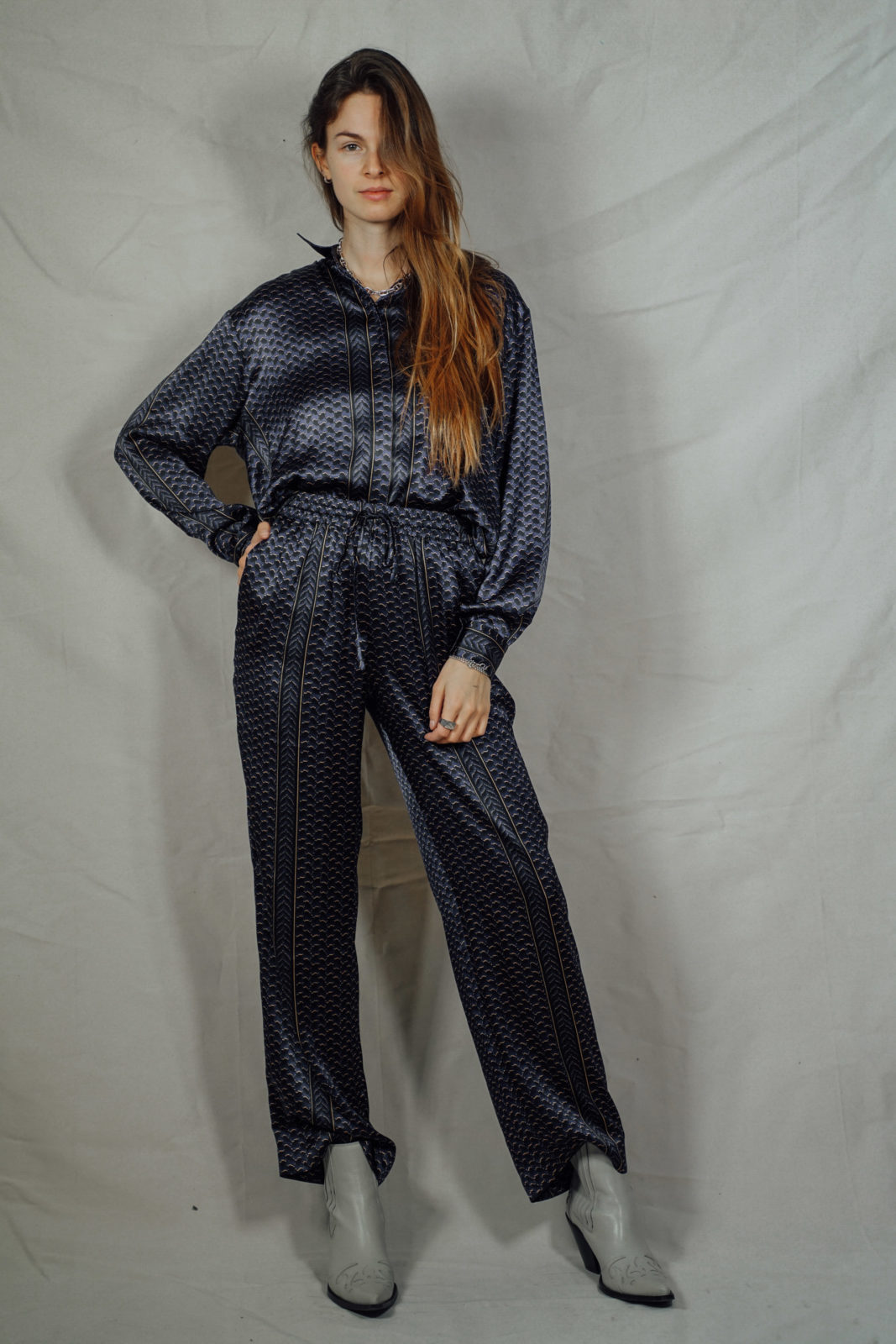 Christmas Eve outfit a little different: the two-piece in pajamas look
This year we will spend Christmas mainly in the closest circle and that will probably be super cozy. So why not transfer this coziness one to one to the outfit? For this, I have just the thing for you: a two-piece in pajama look.
Who wants to dare this look for your Christmas outfit should pay attention to one thing in particular: the material of the two-piece. For the pajama look to be suitable as a festive outfit, it should be made of high-quality materials. This makes the pajama look less sleepy but solemn and elegant.
Here I wear a beautiful two-piece made of silk. Both the material and the elegant print make it possible to wear the pajama look outside your own four walls. It's best to tuck the top into the pants and combine the look with chic high heels or boots with a small heel. Add a little jewelry and a chic bag, and your festive outfit for Christmas is ready.
A classic combination for Christmas: Blouse and pants
Besides two-pieces and dresses, you can also go for a super classic combination at Christmas: the combination of a blouse and pants. I decided against a simple white blouse combined with wide-leg black pants for this year. Instead, I opted for dark green corduroy pants and a white blouse with lace details for my Christmas outfit.
The green of the pants gives the outfit the necessary touch of Christmas, and the blouse looks particularly chic with all its details and becomes the highlight of the look. I have finished this outfit with a pair of high heels. You can alternatively go for sneakers for a casual chic look or boots if it should be too cold for the open shoes.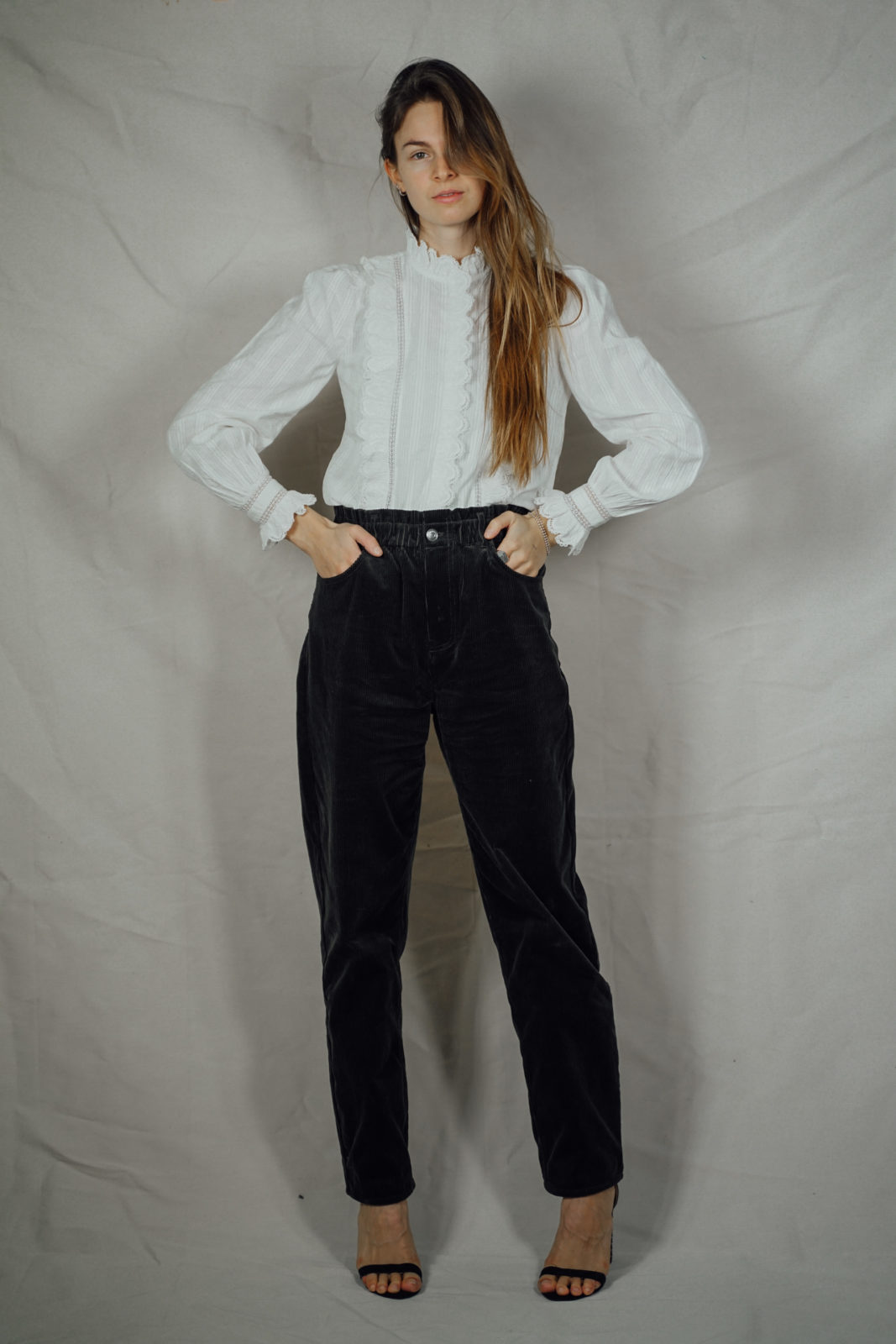 I hope I can put you in the Christmas spirit a little bit with these five outfit ideas for the holidays and help you plan your looks at the same time. You can also check out the outfit video for more details of my Christmas looks if you want.
Let me know which outfit you like best and what you will be wearing for Christmas this year. I look forward to your feedback and am excited to read about your plans.
P.S. If you didn't find the right festive outfit for you in these five outfits, then check out the Fashion Looks section and simply search for Christmas there. Here you can find more outfit ideas from previous years. There is a nice selection of different outfits for the holidays – from casual to chic.