Wearing fashion is just fantastic and you feel great about it. But what is almost as much fun is to follow the annual trends and try them out on yourself. Even though the big fashion houses usually set these trends, they are available for every budget and therefore affordable for everyone. How boring it would be if you always had to wear the same thing! The creations of the fashion labels are often extravagant and show what it's all about: attracting attention at any price. And that's just as well!
Also the fashion of blouses is just reinventing itself and the blouse trends 2020 are really impressive. While they were intended to be worn underneath rather discreetly and hardly ever appeared, they are present and multifaceted in the game of fashion this year. How does it do that? Blouses with high collars, stand-up collar blouses and with various other collars of all kinds. You should definitely be inspired by it!
Blouse trend 2020 – the trend pieces
The blouses are particularly striking this season. This is also confirmed by the trend colors red and pink, which catch the eye immediately. This shows the winter from its most colorful side. Funny refinements also bring momentum to the classic version of the blouses. So this autumn and winter you will find blouses with a sewn-on body that are both practical and sexy – practical to wear and sexy in look! And last but not least, the vintage style in the trend pieces is also present here and is very playful in blouses with peplum and wide flounce collar. Simply beautiful.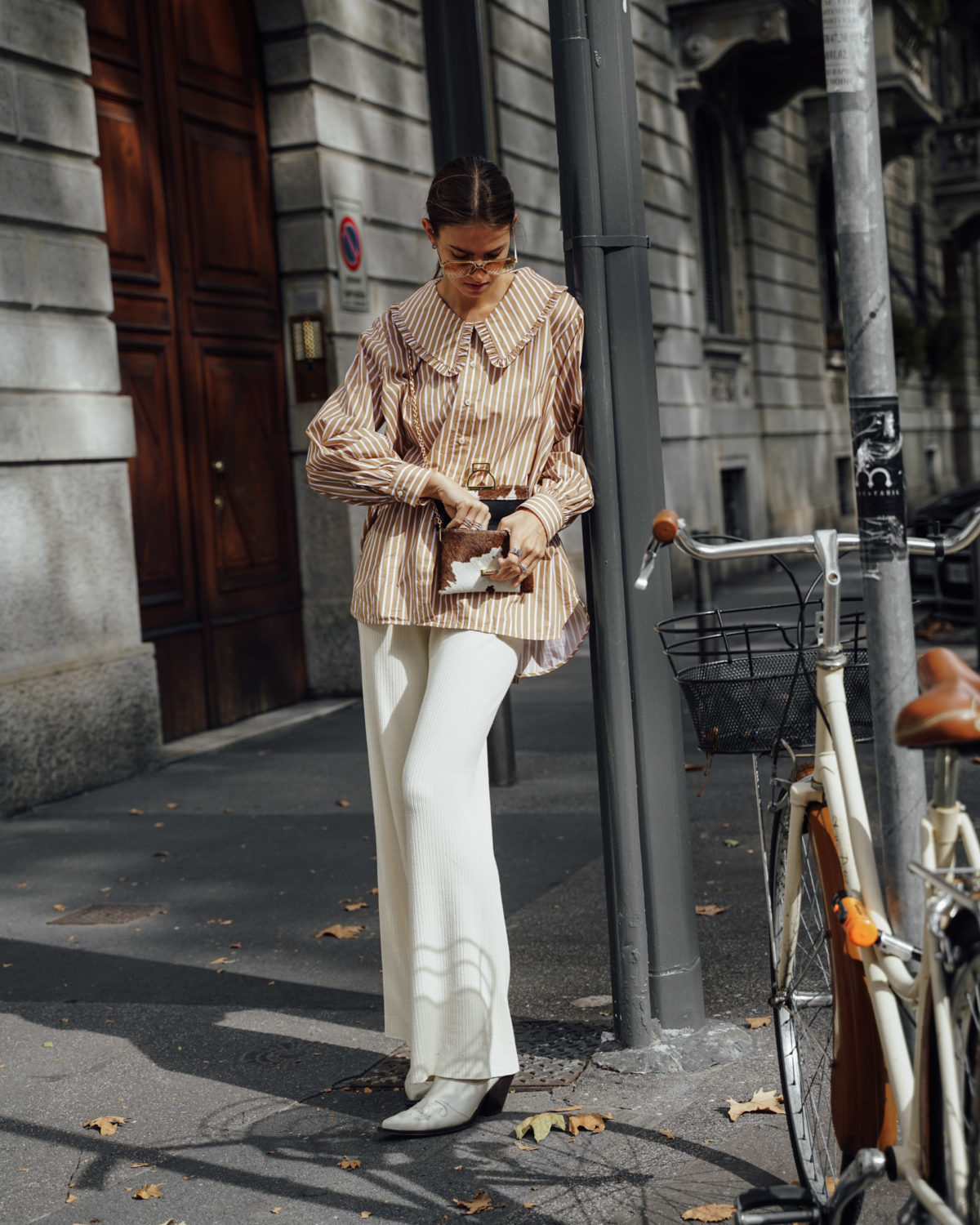 Blouses with a big collar
The blouses with large collars are incredibly classy and absolutely striking this season. The collar of the blouse is widely flared and falls softly. This makes a real statement and the blouse with a large collar is the eyecatcher of the respective outfit. This look makes the blouses look dreamy and romantic. Also, such a large collar on the blouse makes a beautiful neck and prepares a lovely neckline. Advantage all along the line and therefore perfectly dressed!
Also, this style can be combined wonderfully. How about a wide blouse with a large collar in combination with white trousers worn with white boots? A wide blouse with a large collar in muted colors like dark brown or black paired with skin-tight leggings and black boots with high heels? This look presents itself confident and with a touch of sexappeal.
Blouses with high stand-up collar
The stand-up collar blouse reinvents itself in the Blouses Trend 2020 and shows itself from its best side. The stand-up collar blouse for women is particularly dressable and can be found in both the business look and the sexy outfit. The blouse with a high stand-up collar can be worn either very chastely and high-necked with a skirt or pantsuit and is a popular choice for everyday work. The stand-up collar blouse for ladies is just as well suited for a wide neckline and deep décolleté slit. The stand-up collar blouse is available in a playful floral pattern or in a plain color.
Especially the blouse in white with stand-up collar is in these blouse trends 2020 with the party. The stand-up collar blouse in white fits to the body closely and presents itself as noble and absolutely classic. So the blouse in white with stand-up collar can be worn in countless combinations.
The look with thick pantyhose for cold winter days combined with a striking skirt is ideal. So the stand-up collar blouse in white in all its simplicity dominates the outfit.
Or how about the look with a white blouse with stand-up collar and short sleeve? The contrast with blouses with high collars and short sleeves is especially extravagant. The white blouse with stand-up collar and short sleeves can also be wonderfully combined with a sexy leather vest. The stand-up collar blouse is a real eyecatcher when going out with the girls in the evening!
The stand-up collar blouse in black is of course also available in plain color or with loving details in the blouses Trend 2020. You can find it with cute embroideries at the neckline, with delicate frills or even completely transparent in wafer-thin fabrics. The stand-up collar blouse in black can be combined with jeans and boots or elegantly with a short skirt and high heels for the club tour.
The blouses Trends 2020 also show what they are made of. The blouse with smocked stand-up collar is a particularly beautiful part in the range of stand-up collar blouses. This detail immediately attracts all eyes and gives the blouse with a high collar that extraordinary flair. The blouse with smocked stand-up collar can be worn in many ways. Whether very playful with a romantic flower pattern, in white or black, or with delicate lace, is of course up to your taste.
The blouse with stand-up collar is in the blouse trends 2020 quite far ahead. It can be perfectly combined and thus reinvents itself again and again. The stand-up collar blouse looks absolutely cool with cropped high waist jeans, for example. Especially the contrast dominates enormously in the blouse trends 2020 and you become a real eyecatcher in an outfit with a blouse with stand-up collar.
Italian blouses for women
Bella Italia! What do you automatically associate with Italy? Summer, sun and exquisite fashion. This is also reflected in the Italian fashion of blouses this season. Even in the dreary and dark weather of the winter months, Italian fashion designers do not let the mood be spoiled and show this in their fashion all along the line. The patterns are large and colorful and the fabrics are flowing and soft on the skin. Combining them with the warm clothes necessary for the season is even more fun! The Italian blouses for ladies are decorated with colorful flowers, with large patterns à la dots & Co. and made of the most beautiful fabrics. These can be worn very well with thick, warm pantyhose paired with a sexy short skirt and high boots. This way summer and sunshine really comes into our cold winter days. The Italian fashion of blouses is a real eyecatcher!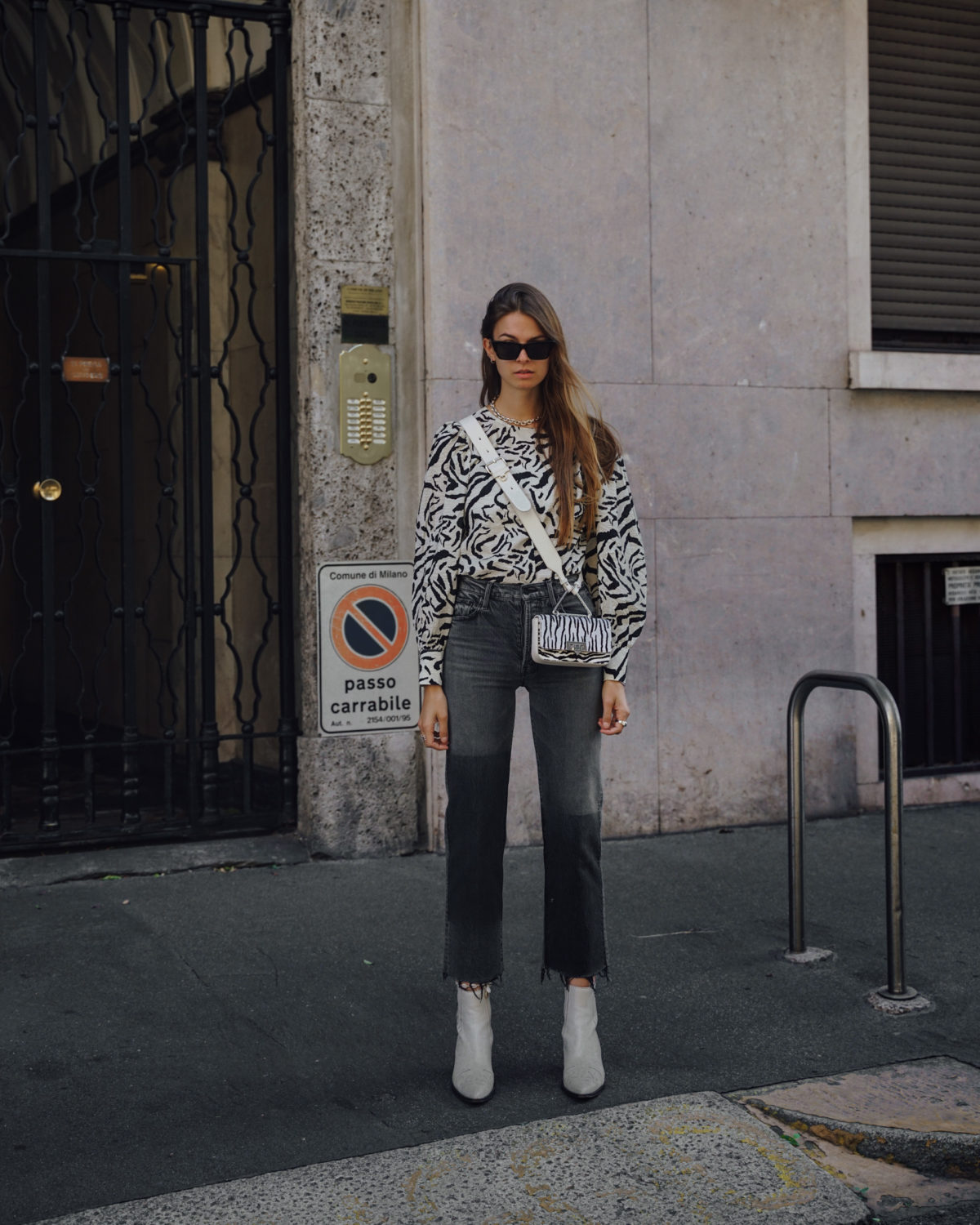 Blouse with tulip collar
The blouse collar shapes in the Blouse Trends 2020 are as diverse as they are wearable. So you are always well dressed and there is no boredom. The blouse with a tulip collar is right at the front. This style, copied from the flora world, looks particularly noble and makes a beautiful neckline in the blouse collar shapes. It does not matter whether you choose a classic or fancy look. Maybe you combine the blouse with a tight sweater over it? Worn with jeans or a denim skirt, this style looks particularly classy.
Blouse with round collar
Also, the round collar is nice to look at, and the collar falls soft and graceful. Blouses can be combined in as many different ways as they are included in the Blouses Trend 2020.