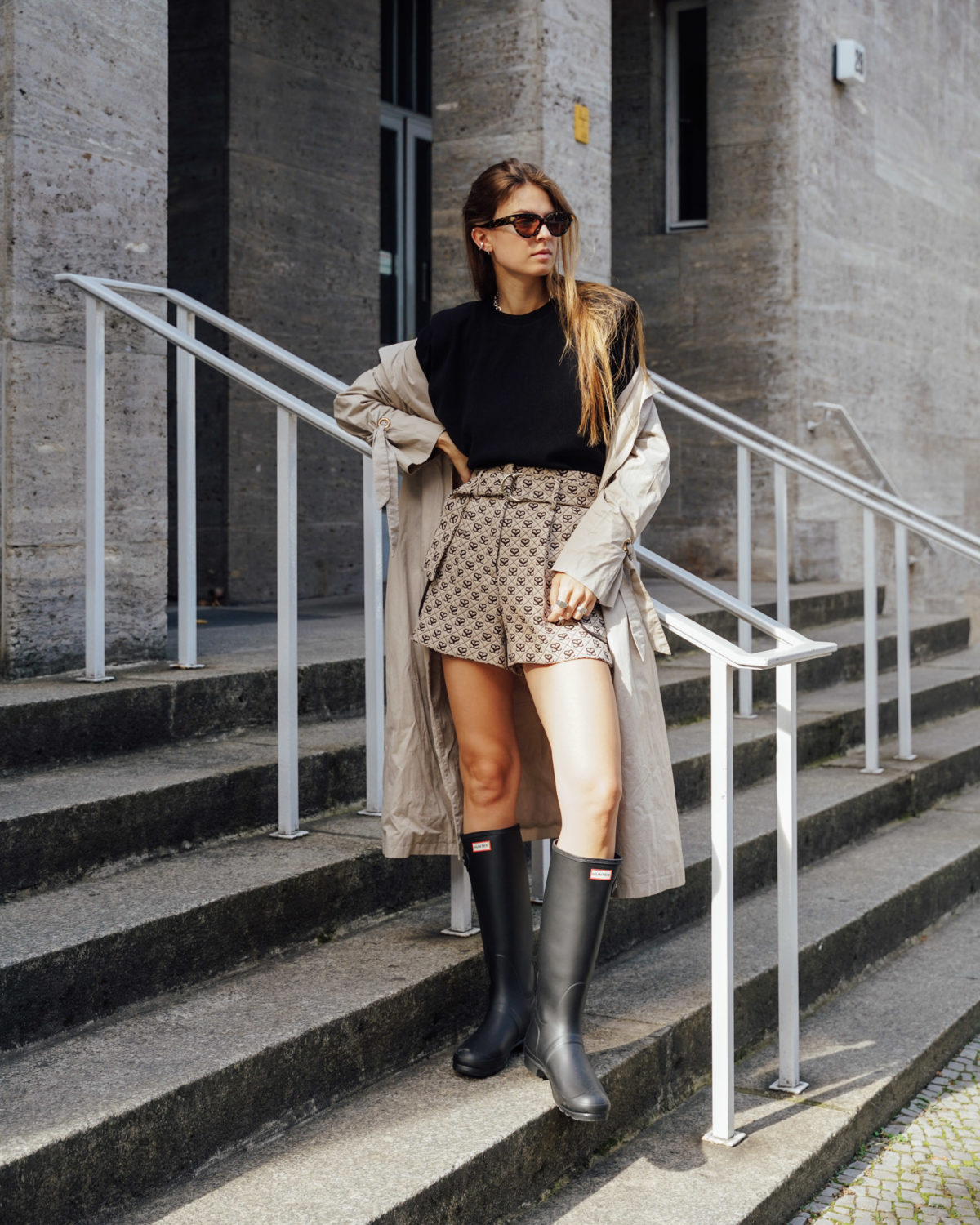 Rubber boots – are they not hip?
Rubber boots are only something for fishers, hobby gardeners, or small children? Far from it! For every shoe enthusiast, rubber boots are a real statement and are an essential part of the wardrobe. Whether for a walk in spring or summer with morning dew in the meadows and fields or sporty walks with the dog – rubber boots are always part of the outfit and are the ideal companion. Due to their water-repellent material, they are incredibly efficient and extraordinarily dress their wearer. Rubber boots paired with the right outfit look cool and casual. And the good thing about it is that fashion brands have also been following this trend for years now and are bringing their own creations to the market. So you also have a wide variety to choose from when choosing your rubber boots. And buying shoes is always fun – guaranteed!
Rubber boots for the winter
The cold season comes with significant steps, and the right shoes and boots need to be found. It is fun to follow and discover the latest creations of big fashion houses every season. And women love shoes! So this winter of 2020, rubber boots will be in abundance, and you will be spoilt for choice because you would like to try them all at once. The rubber boots for the winter present themselves both elegant and suitable for everyday use. The rubber for the winter rubber boots is incredibly robust and firm and keeps your feet wonderfully warm.
The rubber boots for winter are often also beautifully lined and have an insert made of woolen fabric, synthetic fur, or lambskin look. With these winter rubber boots, you are not only dressed at the very best, but you also have the perfect shoes for wind and weather.
How to style rubber boots?
You can combine rubber boots with a long coat or with an elegant down coat. Also a warm long wool sweater with a short denim jacket is in combination with winter rubber boots a real eye-catcher outfit.
A winter walk in the woods with the dog or a long walk with your best friend around the lake becomes a real event with lined winter rubber boots for ladies. Rubber boots for the winter are available in abundance, in all colors of the rainbow as well as with countless pretty patterns.
Rubber boots made of natural rubber
The rubber boots made of natural rubber are especially recommended for the cold season because the material is well insulated and 100% waterproof and at the same time extremely comfortable to wear. You won't get sweaty feet in rubber boots made of natural rubber and the wearing comfort is a real pleasure, especially for long walks in the woods or long hikes.
With these rubber boots, even long walks on the beach are welcome and you can go directly into the water with them and let the waves wash over your feet. With it also a jump into each puddle is no problem at all. Rubber boots waterproof for women to keep their promises. You can combine them wonderfully with skin-tight leggings and a warm wool sweater. Or how about leggings plus a wide jacket, maybe in a checkered pattern? This look is absolutely timeless and has something traditional.
Rubber boots in red
A real trend is rubber boots in red. Above all, they are the perfect partner for any festival, where it can rain a lot. With rubber boots in red you will definitely stand out and will be seen well in the crowd. And if there is a lot of rain and the whole area turns into mud, you are well prepared with your rubber boots and can defy the rain. So a good mood is guaranteed at every festival!
Colorful rubber boots
If you like it colorful even on grey and dreary days, you can brighten up your day with colorful rubber boots. Here you can find the most beautiful colors and patterns. How about a colorful flower pattern on the rubber boots? Or delicate white dots on almost every color of the rainbow? Rubber boots in bright pink or neon green are also very nice on rainy days. Rubber boots with a check pattern are traditional and yet colorful. Colorful rubber boots can be found in countless variations in the winter season of 2020 and this is making a choice twice as tricky.
Black rubber boots
The assortment of black rubber boots is also almost endless and you can find pretty much every shape and variety. Whether long and shiny or rather short and matt black – no rubber boot looks like the other and practically reinvents itself again and again. The elegant Chelsea boot as a rubber boot with the wide rubber band inserts is a real eye-catcher, as well as long shiny rubber boots with noble buckles and heels.
Black rubber boots are especially extravagant from the British fashion brand Hunter. They are long and have an elegant buckle at the back of the bootleg. Combining black boots is extremely versatile. In addition, the rubber boot outfit consisting of tight shorts and a thick sweater looks really nice. And not only that, because this black boot outfit keeps you warm and sexy at the same time. So even on rainy days, a stroll through the city is a lot of fun. Black boots can also be combined with wide shorts, a short sweater, and a wide beige coat.
Or how about this rubber boot look: You wear black leggings and a white shirt blouse. On top of that, you casually wear a light grey blazer combined with a long quilted coat. The crowning glory is the noble black rubber boots of the fashion label Hunter with the striking logo on the front end of the bootleg. In these rubber boots outfit, you present yourself extremely noble and move self-confidently while shopping through the city.  The black boots outfit attracts attention – guaranteed!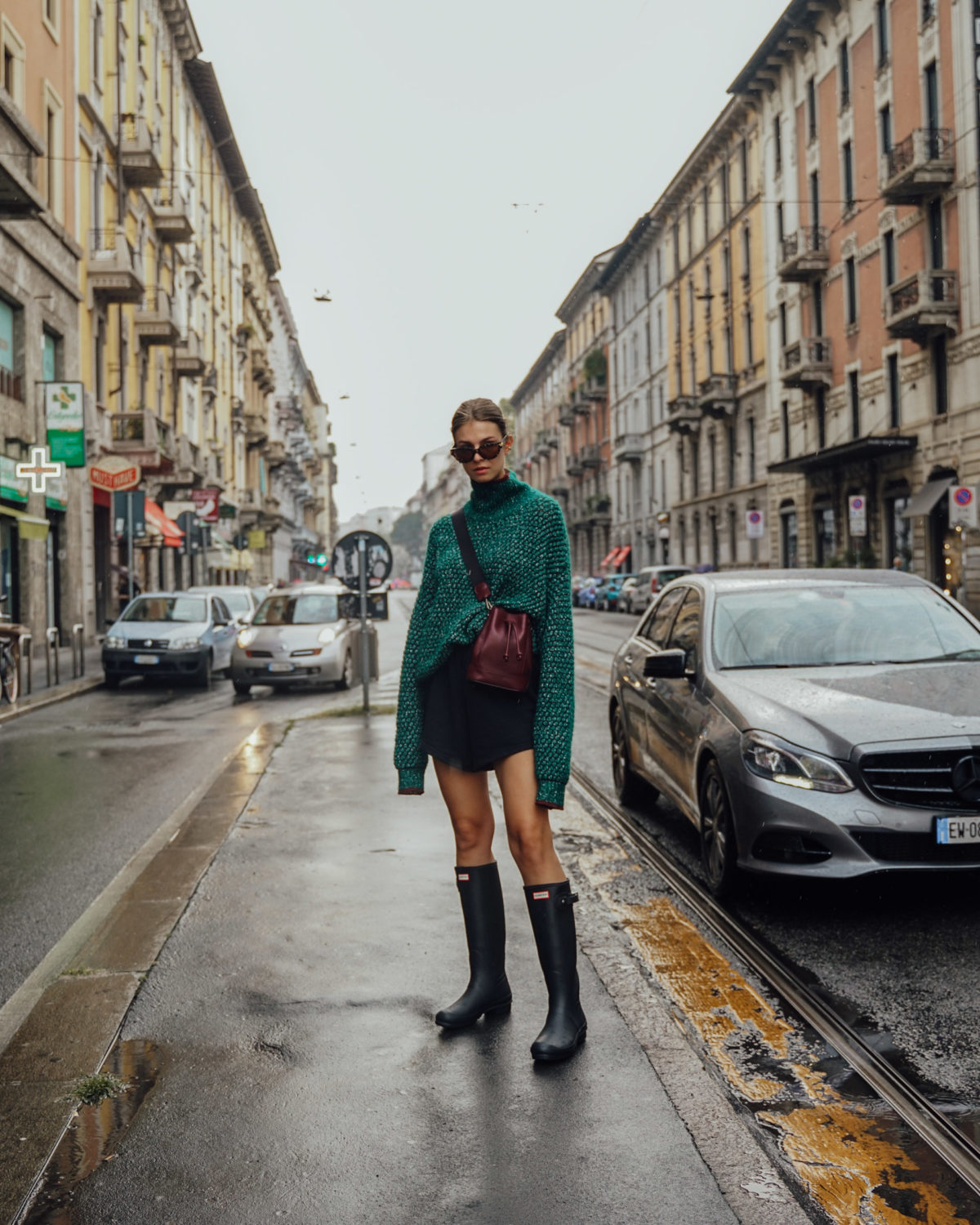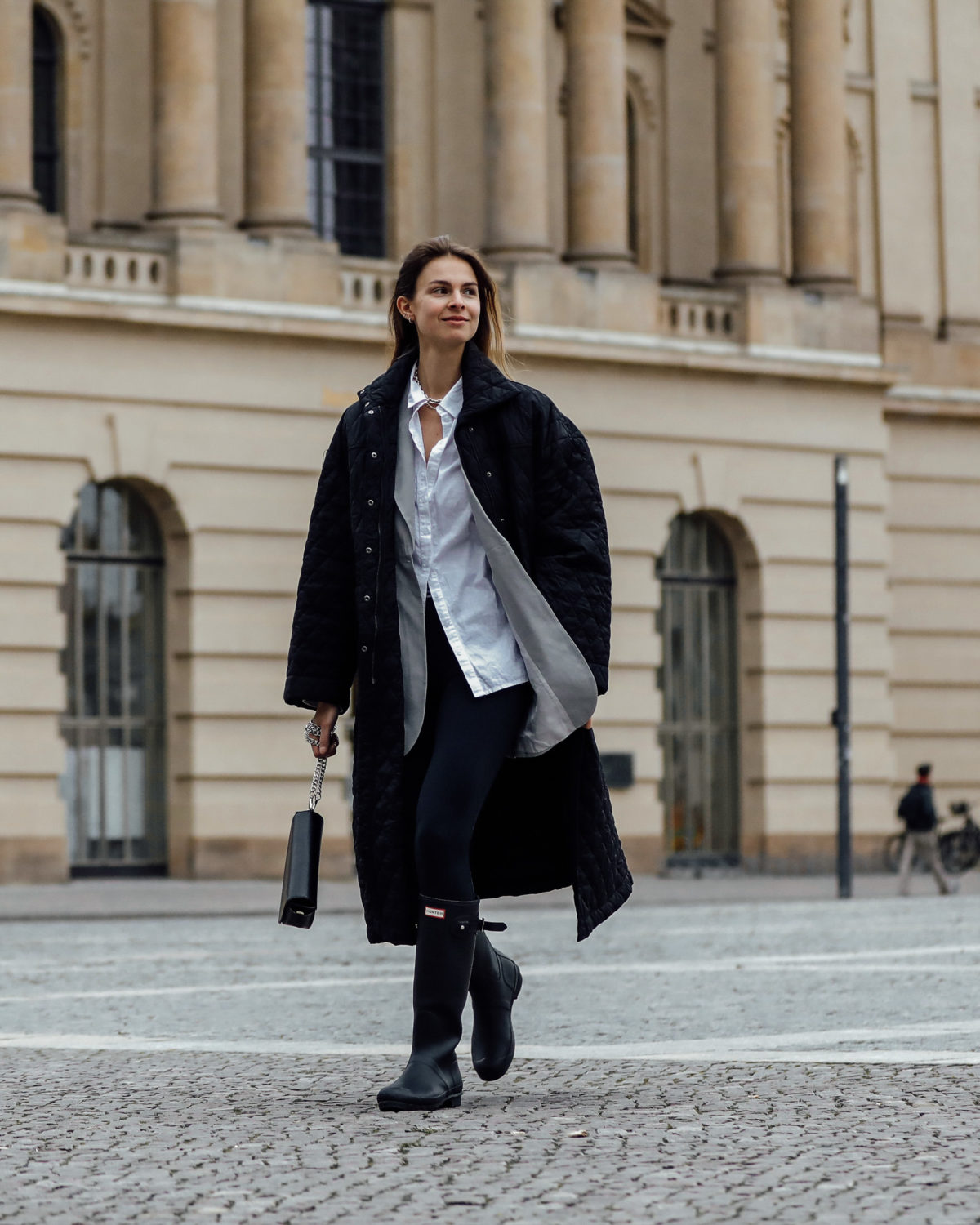 More outfits with rubber boots
In 2020, the perfect look with rubber boots shows a sporty-elegant side. With skinny jeans combined with a long sweater and a wide blazer, you are perfectly dressed for a walk in the woods or an extended shopping stroll. Add a fashionable woolly hat and you have a perfect rubber boot outfit! Rubber boots are best combined with casual leggings, tights with a skirt or a comfortable dress. On top of that, it is best to wear a coat or a rain jacket that matches the rubber boots (for example from the brand Derbe). This way, you are well equipped for rainy days. Especially the classic Hunter rubber boots look very pretty when combined.

A very lovely rubber boot outfit would be: You wear a short skirt and warm tights, your feet are in long rubber boots with a high shaft. You wear a blouse and a long cardigan and over it a denim jacket or, in colder temperatures, a short down jacket. A warm scarf wrapped around your neck and a large umbrella – in this look, walking through puddles with your loved one is a real experience.
Combining rubber boots with dresses
A rubber boot outfit of the absolute extra class is also the rubber boots with a dress to combine. This combination is absolutely hip this season and is available in countless facets and possibilities. How would be for example this combination: Overknee rubber boots paired with a trendy black oversize dress? Also nice are high rubber boots with a mini dress over a warm wool sweater. To combine a dress with boots is an absolute must this winter and you make a real statement. Whether you wear pantyhose with it, certainly depends on the temperature. The advantage of high rubber boots with heels or over knee rubber boots is: they make endlessly long legs and look infinitely sexy despite their practical side effect! Create your own style!
Hunter rubber boots 
One of the best known – if not the most famous – manufacturer of high-quality rubber boots is the fashion label Hunter. Founded in Great Britain in 1856, the fashion brand is world-famous above all for its rubber boots. With their trendy boots, they combine functionality with style and offer perfect protection against cold and wet. The collection with the eye-catching logo on the front end of the bootleg is indeed worth seeing. For the ladies, you will find the rubber boots with a high shaft and an elegant buckle as well as rubber boots in noble Chelsea style with ankle-length shaft and the rubber inserts on the sides. The absolute classic is, of course, the Hunter rubber boot in yellow – timeless and noble!
Rubber boots in every shape
Rubber boots belong in every closet at home because their numerous designs considerably enhance the respective wardrobe. They come in every imaginable shape and color and you are literally waiting for the next rain to come to wear your cool rubber boots again. You can find rubber boots in every price range because almost every shoe designer has rubber boots in his portfolio. There are rubber boots of the noble brands Chloé, Dolce & Gabbana, Tommy Hilfiger or Burberry, with their classic check pattern. For a particularly elegant appearance, there are rubber boots with heels, which is especially nice for small women.