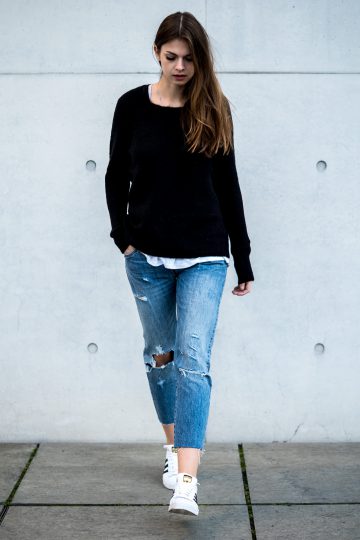 Happy Wednesday guys! I actually don't know what to write about. This week has been super busy, and I can't wait for the weekend to begin. But first there are three more days to go, and I wish these days would have more than only 24 hours, so I could get all the work done. x) I prepared this outfit post last minute yesterday evening, so please excuse if it doesn't make any sense what I'm writing.
When my days are as busy as they are right now, I never feel like dressing up. I'm usually wearing a pair of jeans, sneakers and a comfortable sweater and that's it. These are my favourite basic pieces, and I have a lot of them in my wardrobe, what makes it easier to combine different outfits every day while I'm still wearing the same kind of clothes. 😉 Sometimes I also wear this kind of outfits on the weekend, when I just want to relax and enjoy my free time. I was wearing the outfit I was showing you last weekend, it was sunny but quite cold in Berlin, so I actually was wearing a jacket on top of this look.
Black / Blue – you can combine these two colours
A lot of people say that you can't combine black and blue in one outfit. But this combination works very well when you're wearing blue jeans and a black sweater. Well, everything works well with a nice pair of blue jeans, doesn't it? I probably wouldn't combine the black sweater with a pair of dark blue pants, but I always combine black sweaters with denim.
Blue jeans and black sweaters are basics everybody should have in the wardrobe because both kinds of clothes go with always everything. I kept it simple the other day and combined them together. I also added a pair of white sneakers, and I was wearing a white top underneath my black sweater to add another highlight to this outfit. By the way, the jeans I was wearing that day are my new Levi's! I was looking for this Levi's jeans quite a while, but I didn't want to pay the full prize 😉 About two weeks ago I saw it online for only 40 Euro, and I couldn't resist. It's a little bit short – as almost every jeans -, but I don't mind, because I'll mostly wear the jeans with sneakers or sandals and if I'm lucky I'll find a nice pair of boots I can combine with this jeans and it's length as well. 🙂