When you want to explore Indonesia and get to know the culture and people, Bali probably isn't the best place to travel as it is quite touristy with a wide influence of European and Australian people. Due to this influence, you will find plenty of great restaurants, cafés, bars and clubs in Bali. And as much as I love exploring new places and getting to know other cultures, it is one of the things I like about Bali. When travelling to Bali, you get to enjoy beautiful landscapes, tropical temperatures and colours as well as amazing food. I talked a lot about Bali and the reasons why I love this island after my first travel there last year. I shared my favourite restaurants, and I will share another food guide next week or the week after. But one of the things I haven't talked about is the beach clubs and beach bars in Bali. I am not the person, who likes to party and goes out a lot, but the beach clubs and bars in Bali are actually pretty cool and here are why as well as my favourites:
My favourite Beach Clubs and Bars in Bali
There are plenty of beach bars and clubs in Bali, especially in Kuta, Seminyak and Canggu. Some of those are not even on the beach or close to a beach, but they all do have pools. And they all are very different. That doesn't mean that one is better than the other one because I actually couldn't tell which one is the best. I experienced them all in a different way, and I was there at different times. So you have to go their yourself and check them out in order to find a favourite. 🙂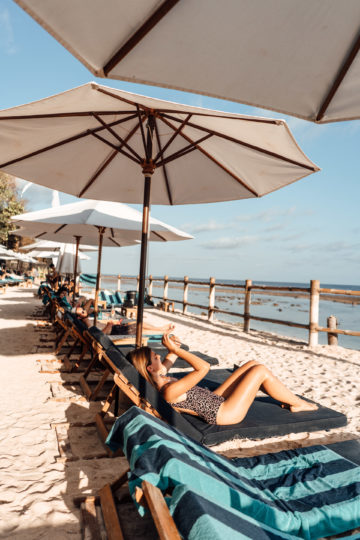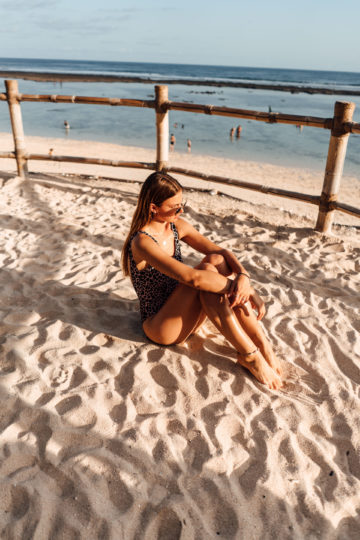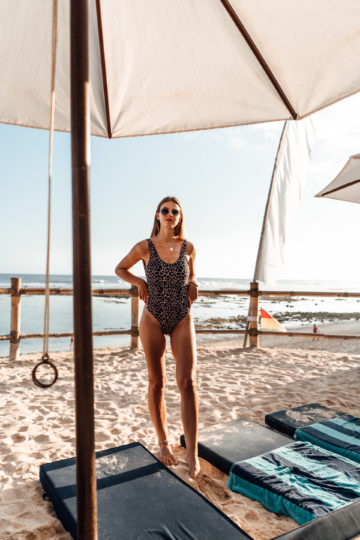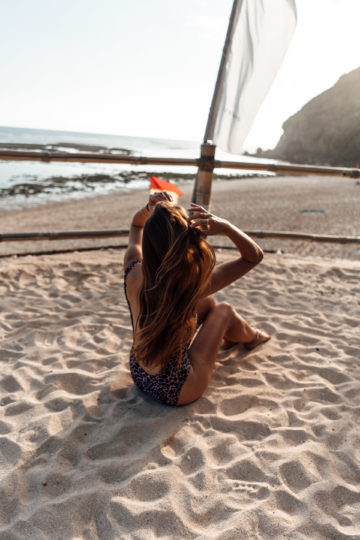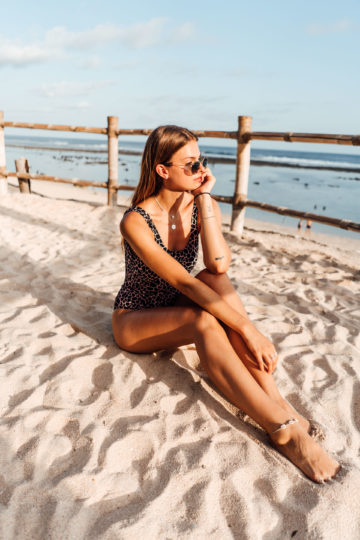 Mrs. Sippy
Let's start with Mrs Sippy because that's the only beach club I've been to before. Those who've been following for a while (or at least a year) now, might know, that we went to Mrs Sippy on our last day in Bali last year. It's such a cool place, with a big pool, springboards (is that what they are called?), comfortable chairs and day beds as well as great food and drinks. This year we went there again and spent half a day just enjoying the perfect weather, the delicious food and some time in the pool. I also jumped from the 3m-springboard for the very first time after years! So much fun.
Sunday's Beach Club
The only day in Uluwatu I wasn't sick (or not yet sick) we spent at Sunday's Beach Club, and this is, by the way, the place we took these pictures. I have to admit, that I liked this beach club even better than Mrs Sippy because of the ocean. Sunday's doesn't have a pool, but you obviously don't need it when you can go for a swim in the ocean. Also, if you don't like swimming, you can rent SUP boards or kayaks, which is quite a lot of fun. The restaurant ar Sunday's Beach Club is very good as well. They have a wide choice of dishes including healthy food as well as pizza and french fries.
La Brisa
We didn't spend a day at La Brisa, which is located in Canggu, and went there for dinner only. We actually went there to celebrate our 10th anniversary. I found the place on Instagram and thought it looks quite nice. I would have loved to spent a day or at least a couple of days there so that I could tell you more about the pool situation. I can tell you that much: La Brisa has several pools, and it also isn't too far from the ocean, but I don't know if it has direct access to the beach. The place itself looks super nice and cosy, and the food was great as well. So I would definitely recommend it.
The Lawn
Another beach club we went to is The Lawn. We neither spent some time by their pool nor had dinner or lunch at this place. We went there in the evenings for their parties, which were very nice. The atmosphere was very relaxed and the drinks quite good. As much as I know, The Lawn does have a pool, and it also has direct beach access. The food looked amazing as well, so I guess you can perfectly spend a day at this beach club and won't miss anything.