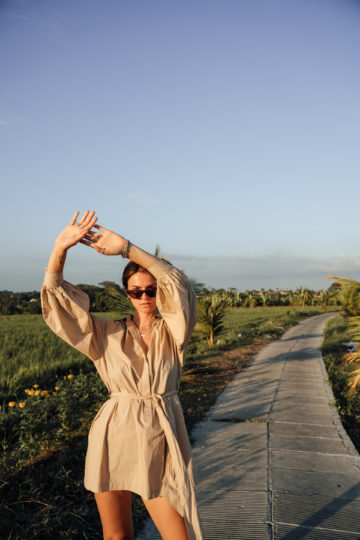 I am kicking off this new week with another post from Bali. And I can already tell you that this won't be the only post this week. For this week, I have planned to share three different posts, and I can't wait to hear how you like them. The first post I am sharing this week is all about one of the outfits I was wearing for sunset and dinner in Canggu.
When we headed out for sunset and dinner it usually was still very warm in Bali, but as soon as the sun was gone, it got a little bit colder. That's why I usually opted for something with long sleeves such as this beige dress. Get all the outfit details and more info in the following:
Combining a beige dress with black sneakers
When I arrived in Bali and unpacked my suitcase, I realized that I didn't bring a lot of dresses even though I love throwing them over when on vacation. They are usually very comfortable, easy to wear and you don't need to add a lot more clothes to create an interesting look.
Well, if you follow me on Instagram, you might already know that I got some new dresses while I was in Bali. But the one I was wearing that evening is actually one of two dresses I brought with me from Berlin, and I couldn't wait to wear it. Unfortunately, it wasn't a dress I could wear throughout the day due to the thicker fabric and the long sleeves, but it was just perfect for the evenings and nights in Bali.
As I mentioned before, I always keep it simple when wearing dresses on vacation and don't add many more clothes for an interesting look. In this case, the dress is quite interesting itself due to the belt and the puffy sleeves. But to create an even more interesting outfit, I decided to combine it with my black sneakers from Balenciaga. Last but not least I put on a pair of black sunglasses and a few pieces of jewelry and I was good to go. I didn't bring a bag as I didn't feel like carrying everything but my phone, so I left it at home. But if you want to recreate this outfit and need to bring a bag, I would go for a small black bag.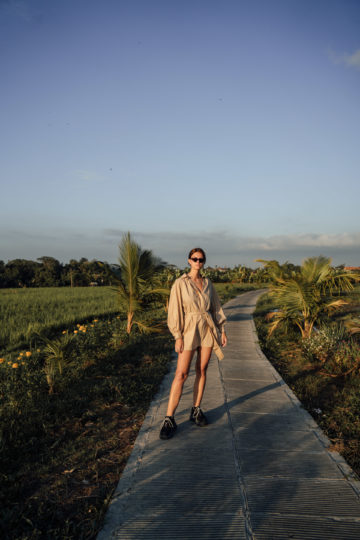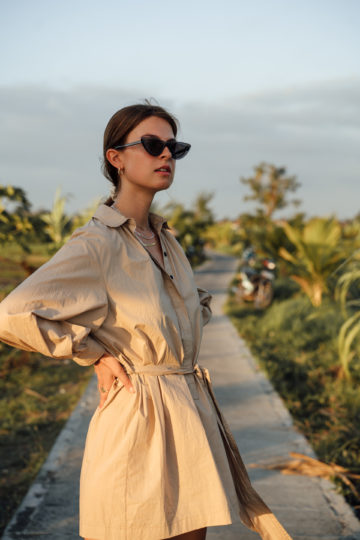 Sunsets in Bali
I've seen many sunsets in many different places, but the ones in Bali are my favorite ones. Ok, the sunsets in Costa Rica were pretty amazing as well, but Bali still is my personal number one. We always stay in Canggu and to be honest, the beaches in Canggu are not very beautiful. Nevertheless, it's the perfect place to watch the sunsets. We usually went to Canggu Beach or Seseh Beach, at Seseh Beach we saw the most unreal sunset ever. You can check out my story highlights on Instagram if you want t know what I am talking about. 😉
Have you ever been to Bali and watched a sunset on the beach? How did you like it? Where have you seen the most beautiful sunset yet? Looking forward to your comments. xx
*Ad, brands named – Baum & Pferdgarten Dress || Balenciaga Sneakers || Pilgrim Jewelry || Chimi Sunglasses