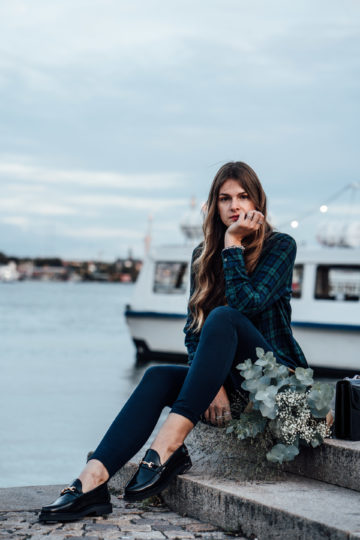 Summer is coming to an end, the days are getting colder and shorter, and it's time to get all our beautiful autumnal clothes out to put on some chic autumn looks. I have to admit, I am already missing summer, but at the same time, I am looking forward to sitting in cosy cafés, drinking hot chocolate and putting together some nice autumn outfits.
When I was in Stockholm at the beginning of the week, we had temperatures around 15°C, and it was time to put together the very first autumn outfit of the year, and I did this in collaboration with GANT. I will share all the details in the following, but I can already tell you, that the black watch print is back.
My GANT autumn look
The key piece of this outfit is the Tech Prep ™ flannel blouse by GANT, which is a real eye-catcher for autumn days due to the black watch print. You probably know how much I like to wear blouses and shirts and they are the garments I always look forward to wearing in autumn finally. I do have a lot of blouses and shirts in my wardrobe, some of them are oversized others are fitted, so I do have one for every occasion. In this case, I opted for a loose-fitting blouse, and I tuck one side of the blouse in the pants for a more casual look. Alternatively, you can also tuck the whole shirt in the pants or not at all. If you feel like this looks too boring, you can also knot the blouse or shirt in the front. You see, blouses give you plenty of possible outfit combinations, and you can put together many different looks even with just one model.
I combined the GANT blouse with a pair of skinny jeans and a pair of chic loafers. Since I wanted to focus on the blouse entirely, I kept the rest of the outfit quite simple. The result is a casual yet chic outfit you can perfectly wear in the office or at a fancy dinner or a meeting. I would also wear this look in my everyday life, when running errands or when I am in the city.
P.S .: How perfectly does the flower bouquet match the outfit? I just had to include them in the photos. And no worries, I also brought them home and added a few autumn vibes to my home.
The Blackwatch Pattern
As I mentioned before, the black watch print is back at GANT, and it also is the key to this outfit. I do like this print – also known as tartan print – a lot. It combines navy blue, dark green and black and can be combined in many ways. You can either combine it with clothes in one of the three colours of if you like it bolder, you can wear whatever colour you like best. So how about trying complementary colours?
By the way, at GANT you can find the black watch print in a nice selection from blouses and shirts to trousers and blazers. So theoretically you could put together a complete look with the black watch print. How about this combination?