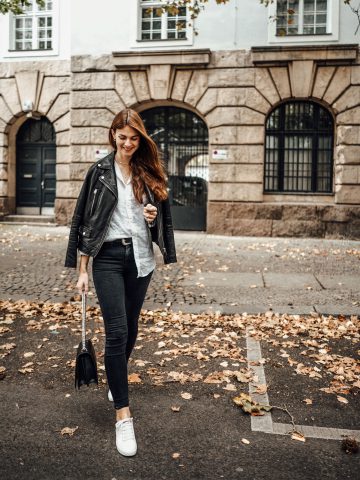 Happy Sunday everyone! While you are reading this, I am probably on my way back to Berlin from London. Those who follow me on Instagram might already know why I was in London and today I will tell you more about it on the blog as well. As every Sunday today I will share all the details about what I was doing the past week, so let's start with the previous weekend.
The last weekend was a very calm one. We woke up in Hamburg on Saturday due to the GANT event that took place on Friday. The plan was to stay in Hamburg the whole day and drive back to Berlin in the afternoon, but it was raining and cold in Hamburg, so we left after breakfast. We arrived back in Berlin in the early afternoon and were not only exhausted but also hungry. We went grocery shopping, prepared something to eat and spent the rest of the day at home. Sunday was even calmer than Saturday, and I spent most time of the day at home. I had to work a little bit and went for a run, but the rest of the day I was lying on the sofa watching Netflix. Sometimes that's all you need, isn't it?!
I also wanted to use the weekend the calm down, because I had a very busy day ahead of me. I worked from home on Monday and Tuesday to be as productive as possible and to write without interruption. That worked quite well on Monday, but on Tuesday I didn't have enough time. I was at the KOA conference here in Berlin from 10 am to 2 pm and had a doctor's appointment afterward. The conference was super interesting, and it was such a pity I couldn't stay until the end. I had the chance to listen to several speakers about founding a company, being part of the business world as women in a leading position and believing in one's dreams. It was not only interesting but also inspiring and motivating. This conference was an amazing opportunity to talk to people you usually don't get the chance to talk to, to learn something more and to get encouraged. Thank you for having me, guys! 🙂
I was back at my home office around 4 pm and spent the rest of the day in front of my laptop. I had to answer emails, prepare the Bali trip and work on new blog posts. I wanted to get as much as possible done because on Wednesday accounting was on my schedule. Ah, how much I hate this accounting stuff, but it has to be done, and I was already a little late. Luckily I finished everything on Wednesday, but it took me a whole day, and I didn't have the time to work on other parts of my To-Do list. In the evening was the opening of the new Goertz store here in Berlin and I definitely needed to leave the work desk after a whole day of accounting. I met up with some friends, who were invited as well and it was super nice to chat with them and have a little bit of free time that evening. 🙂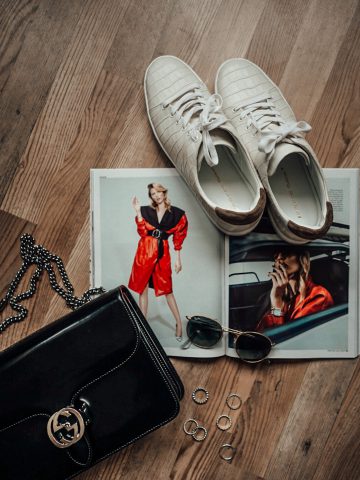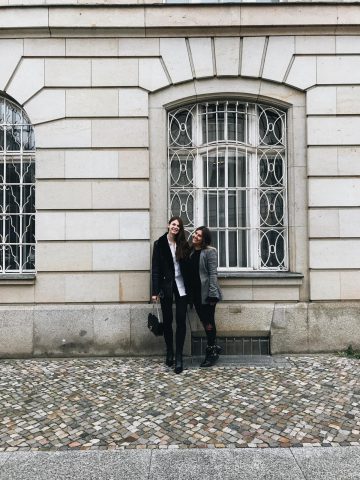 On Thursday I headed to London. I had to catch a flight at 2 pm and headed straight to the hotel once I've arrived in London. It took me quite a while to reach the hotel due to rush hour, so I quickly left my luggage at the room and went straight to dinner. Friday was the first day of the Coty Professional Beauty media event. It was such an inspiring day, and lots of innovations and new ambassadors were announced. Guess who is new global brand ambassador Wella Professionals is? No less a figure than Sophie Turner, well-known as Sansa Stark in Game of Thrones. They also announced colorist Andreas Kurkowitz as the global color ambassador and showed us the newest hair color trends I can't reveal at this point 😉 In addition to the new ambassadors as well as the new hair color trends, they also introduced new products I can't wait to tell you more about as soon as they are out on the market. I will just tell you this much: they will make your hair look amazingly healthy and give you so many possibilities to try new styles and colors without worrying about your hairs health.
After these presentations, we went to the Victoria and Albert Museum to see the Balenciaga exhibition, which was super inspiring as well. I didn't take any pictures, so you have to make sure to go there once you are in London. I think you can see the Balenciaga exhibition until February 2018.
We were back at the hotel around 4 pm, and after sitting most time of the day, I felt like I had to work out a little bit. I quickly got changed and went to the hotel's gym for about an hour before it was time to get ready for dinner. I had an amazing time in London and can't wait to tell you what I was doing the last day there next week. Enjoy your Sunday. xx