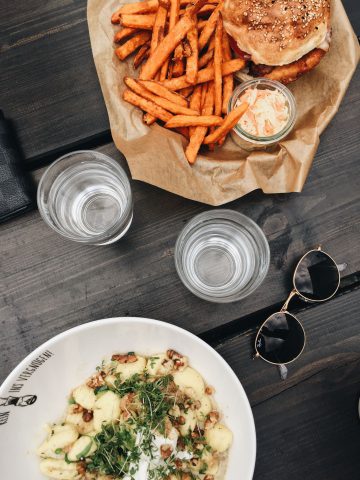 Happy Sunday from Spain! Today is already our last full day here by the ocean before it is time to head to Barcelona for the shoot on Monday and back to Berlin on Tuesday. I really can't wait to tell you more about these days soon, but as every Sunday I will first tell you more about the past week.
The past weekend was a very relaxing one because the weather wasn't the best and we didn't want to spend a lot of time outside. It was windy and partly rainy and staying home was the best idea! I also felt a little demotivated and uninspired and didn't want to take any outfit pictures or film for my Instagram Stories – some of you might have noticed, that it was very calm on my Instagram account these days. So yep, there is actually nothing exciting to tell you more about, and I will jump right to the next day: Monday.
Oh, I might mention, that we planned a very spontaneous trip to Spain the past weekend – the trip we are currently on -, so we spent some time looking for a place to stay. It wasn't as easy as we thought because a lot of Airbnb's and hotels were already fully booked or just too expensive. We ended up booking an Airbnb about an hour away from Barcelona on Monday morning. Afterwards, we headed straight to the office to get some work done and barely didn't do anything else. I first wanted to go for a run in the evening, but we decided to walk home instead, and after those three kilometres I didn't want to go for a run anymore. Tuesday was another busy day at the office, but I left it a little bit earlier to go to the gym.
I took part in the TRX class, and it felt great to do it again after a way too long time. Afterwards, I ran five kilometres and then I already had to drive back home to get ready for our Think Tank in the evening. We regularly meet up with friends for Think Tanks, where we talk about projects and stuff like this, and it is always not only super inspiring but also a lot of fun. That day we also had a little BBQ, and you probably can imagine how hungry I was after the workout at the gym 😉 So the food actually was the best part of this Think Tank.
Since Wednesday was the day before the flight to Barcelona, we had to get a lot of work done and spent all day at the office. In the afternoon we brought Jimmy to my boyfriend's mom, who will take care of him while we are away. We also had super delicious dinner at her place and drove back home around 9 pm, because we still had to pack our bags for Spain. Well, it was the plan to pack our bags, but we ended up watching Game of Thrones, fell asleep after 30 minutes and had to pack our bags on Thursday morning.
Departure was at 3 pm on Thursday, so we had a little bit of time left that we spent at the office, of course 😉 We also had time to have lunch before we headed to the airport and then it was time to leave. We arrived in Barcelona around 6 pm, picked up our car and headed to a restaurant to have dinner before driving to our Airbnb apartment. Since we arrived there quite late, we didn't do anything that day and were ready for a full day in the sun on Friday. So we actually didn't do much on Friday but sunbathing and enjoying some free time without work.