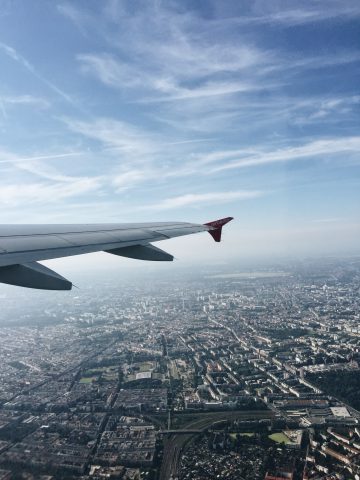 It seems like my weeks aren't getting less busy at all! The week before last I was in Vienna for two days, and this past week I was in Paris for two days. I love travelling, I love it a lot, but the days before and after are always super busy – especially when Fashion Week in Berlin is coming up. But let's start from the scratch, let's start with talking about the past weekend.
I spent the past weekend in Berlin and was super happy to be back home after two eventful days in Berlin. Saturday was a very calm day, and I spent a lot of time at home, working a little bit and watching series all day long. We also ran some errands, but that's actually it. Nothing interesting to tell you more about at all. Sunday was quite calm as well. I started the day with working on a new blog post, which took me about two hours… afterwards I went for a quick run and then my boyfriend, and I got something for lunch 🙂 We also wanted to take some outfit pictures, but it was rainy and gloomy all day, so we didn't have the chance to take pictures outside. That's why we decided to go to the Museum of Photography here in Berlin instead. Right now you can see Mario Testino. Undressed, Helmut Newton. Unseen and Jean Pigozzi. Pool Party at the museum and it is definitely worth a visit (and the 10 Euro you pay). Since the weather didn't get any better, we drove back home afterwards and didn't do anything but watching soccer and series for the rest of the day.
Monday and Tuesday were two very busy days at the office because I had to get as much work as possible done. Due to that, I spend the whole day at the office on Monday and Tuesday until 6 pm, because afterwards, I met up with my dad for dinner. Tuesday was the best day of the week regarding the weather, and we could sit outside and enjoy the warm temperatures – not warm enough for summer clothes, but at least we weren't freezing.
Wednesday was the day I flew over to Paris for the Havaianas party. We had a quite early flight, and the party was at 7 pm, so we had a couple of hours to walk through the streets of Paris. It definitely is one of my favourite cities, and I enjoy being there every single time – the architecture is amazing, and all the small boutiques and cafés are so inviting. Even most people seem to be very friendly and cheerful. 🙂 We stayed in Paris until Thursday noon, and because I will write a whole post about our trip to Paris and the Havaianas party as well as the limited edition, I won't share every single detail today 😉 I hope you don't mind!
So let's get straight to Thursday afternoon. Our flight was at 2.20 pm, but for some reason, we couldn't leave the airport and had to wait for 45 minutes. I was a little bit afraid we wouldn't make it to Berlin because the weather in Berlin was CRAZY! It was raining like crazy, most streets and even the airport were flooded. Most trains didn't drive; it was almost impossible to get a taxi and to be outside for only 10 seconds meant being completely sodden.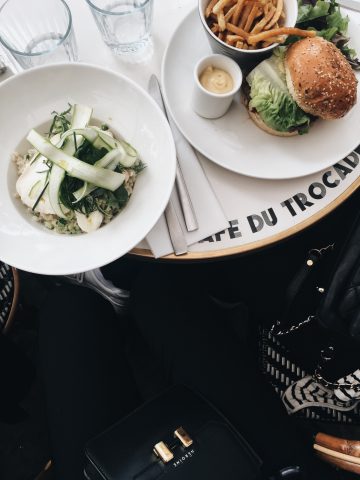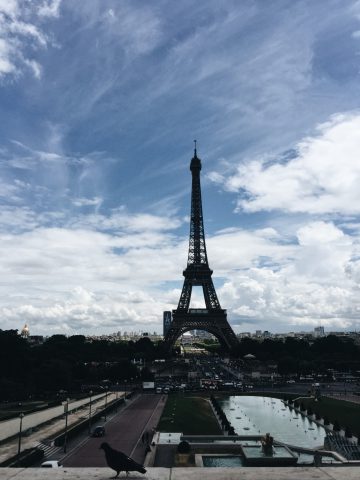 But after waiting for 45 minutes, we were ready to take off, and we could land in Berlin – fortunately! Another reason I really had to get back to Berlin was an event I wanted to go to. Our flight was supposed to land at 4.05, but due to the delay we arrived at 5 pm, and the event started at 5/5.30 pm as well. I headed straight to the train and reached the train station close by the event at 5.45 pm. The only problem: I had to walk the last 200 meters or so. Definitely, a too long distance, because when I arrived at the location, I was wet – seriously, everything was soaked with water! But the event took place at a hotel, and they had enough towels to dry my clothes and hair at least a little bit 😉 And it was a right decision to go to the event because it was a lot of fun. We started with a little punch workshop and created our own punch, got to hear more about the chef's creations and to enjoy a super delicious three-course menu afterwards.
Let's not talk about how I got home on Thursday because it was no fun at all and the story includes a lot of water 😉 I will continue on Friday even though it was one of those boring days at the office. It was still pouring on Friday, so we spent all day at the office and got work done. There is not much more I could tell you about this day, I am sorry.