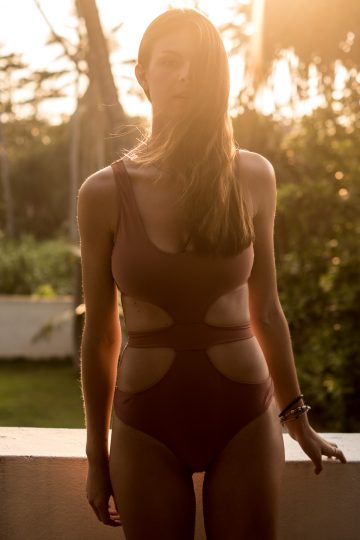 Today is the day I'll continue sharing the pictures we took in Sri Lanka. This week will be all about Sri Lanka, and even the first days of the upcoming week I'll share some last posts from Sri Lanka including a travel guide. The pictures I want to share today were taken on our very last evening (well, the last night we could enjoy) in Sri Lanka. As you might know, we changed the hotel for the last night, because the one we stayed before was horrible and we couldn't enjoy a second at this place. Changing the hotel was the best decision ever because the hotel we chose was very nice. We had a nice suite with this big terrace from which we could enjoy the sunset on our last evening to the fullest. We worked a little bit, had something to drink and just watched the sunset until the sun was gone.
Golden Hour in Sri Lanka
I could watch sunsets forever. And guess what? You know, you're on vacation when you watch more sunsets than Netflix 😉 That was definitely the case when we were in Sri Lanka, and I enjoyed it so much. Of course, we also had to take advantage of the light and take some pictures during golden hour in Sri Lanka. One of the results are these pictures. It was very spontaneous, I was still wearing my swimsuit, and we were actually working when the sun set. We took these pictures on the terrace/ balcony of our hotel room. That's the good thing about staying at a beautiful hotel; it doesn't take long to find a nice location to take pictures at.

We didn't do any hotel cooperations during our Sri Lanka trip since we planned everything very last minute. But I think I'll add a list of the hotels we stayed at (only the ones I would recommend) when sharing my travel guide for Sri Lanka next week. I think it could be very helpful because finding a nice hotel in Sri Lanka isn't the easiest thing. It took us such a long time to plan and book everything. Not only because we couldn't decide where to go, but also because we couldn't find nice hotels everywhere we wanted to go. So, in the end, we had to plan our stops depending on the hotel availability. That went well most of the time; only the last hotel wasn't what I would call a lucky strike 😉
Now I'll leave you alone with the pictures. I hope you'll like them as much as I do. Looking at these pictures really make me wanna go back and I can't wait for the next trip to start – Morocco in February, wouhuuuu! Have a lovely day and a great start into the new week. xx