HAPPY NEW YEAR! Even though you are probably all busy planning the new year, writing down resolutions and goals, I still want to share the recap of the last month of 2021 with you. Not that December was a very eventful month, it actually was a month filled with work before I finally could take some days off to recharge my batteries. Read more about it in detail in the following:
I tried to be more active
My plan and goal for the last month of the year were to be more active on a daily basis. I wanted to do a workout, go for a long walk or just do something for my mind and body every day. It worked very well the first two weeks; I either did a quick workout, went for a run, did yoga, or just went for a long walk. Then a few last-minute jobs came up, days got busier, and I couldn't stick to my routine. The last week of 2021, I also got sick, so the only thing I did was watch lots of series I love – so I did something for my mind at least. 😉
I love the idea of being more active and doing something for the body and mind every day in everyday life. So even though it didn't work out as planned in December, I now want to try to make this a goal for 2022. Eat healthily, walk at least 5km every day, workout more often, drink a lot of water, watch my favorite movies and series, read good books, meet up with friends and just enjoy the small things every day.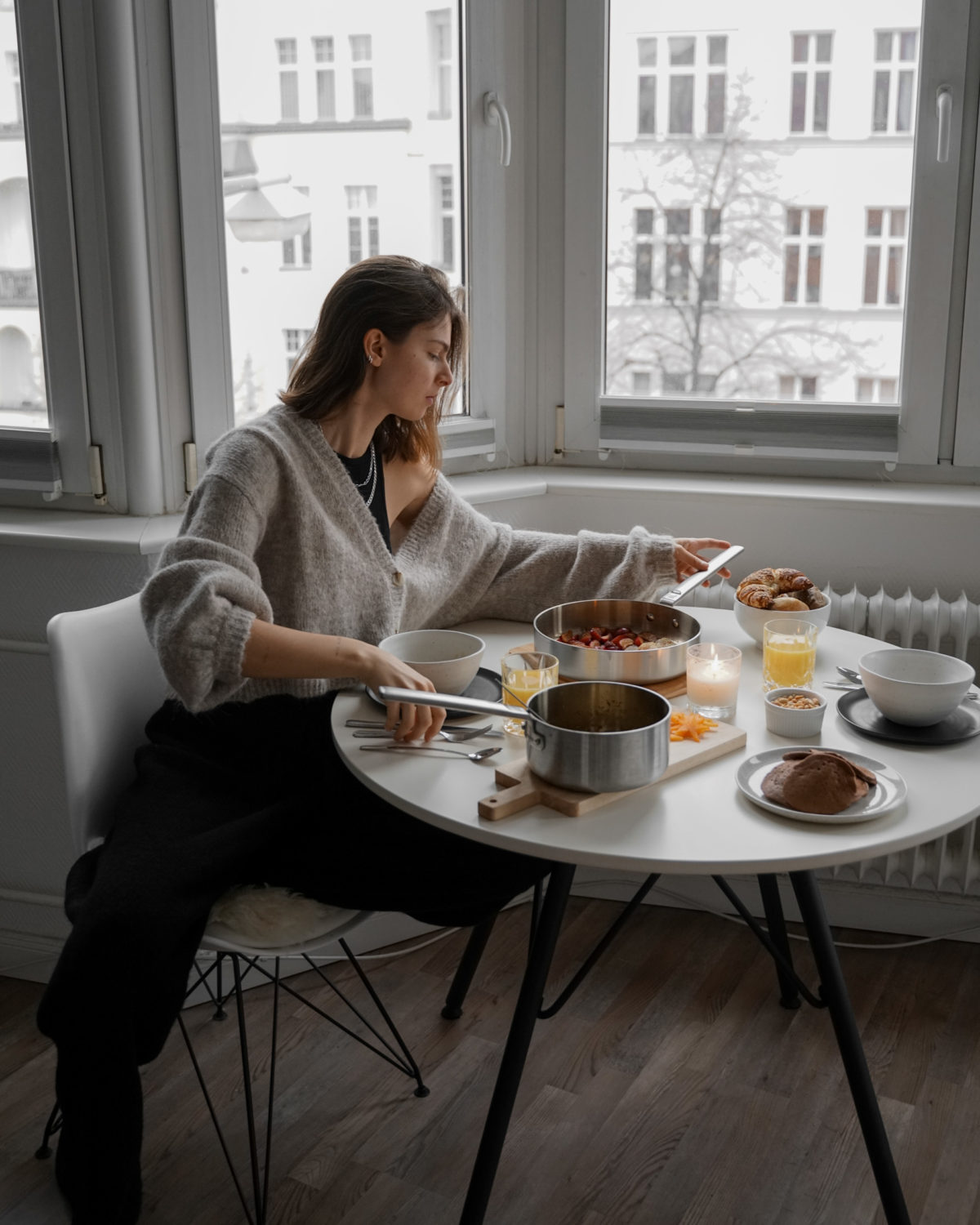 First snow this winter
I am not a winter person, as you know. But the first snow in December actually was something I really enjoyed 🙂 It didn't last long, but it was nice for a few days. The days in Berlin are mostly grey and dark; a little bit of snow brightens them up and adds such a lovely atmosphere. Of course, snow was gone before Christmas, so we didn't have a white Christmas once again. It also got very mild at the end of the year, so right now, it doesn't look like it will snow again soon. We will see. 🙂
Coffee dates with friends and pre-Christmas dinners
Besides working a lot, I also took the time to meet up with friends in December. It's something I always postpone, but not in December! That's why the month was filled with coffee dates as well as pre-Christmas dinners. It was really nice to get distracted from work a bit and talk about all things life (and some work, of course, because we all work in the same business, haha).
I also had a pre-Christmas dinner with my siblings instead of buying gifts for each other. Generally, I prefer personal gifts over materialistic ones. I love to gift activities, things to do together – and that's what I love to receive as a gift as well. Things you can lose, or they get broken. Memories last forever.
So many nice projects and content we created
As mentioned before, December was filled with work. We had so many nice projects, which are already online on Instagram. It's worth having a look and follow me if you aren't already 🙂 In the following, I will also share some content creation projects in addition to the outfits I was wearing in the last month of 2021. Let me know how you like it. x
Outfits I was wearing in December
Content Creation December 2021