And just like this, the first month of 2021 is over, and it didn't really go as planned. End of 2020, we were hoping that the start of the new year would bring better times. We were hoping that the lockdown series would finally come to an end. I don't know how the situation is in your country, but in Germany, we are still in lockdown (and it's the beginning of February).
Due to that, I didn't really have an eventful and exciting January. To be honest, it was a very calm month, and I struggled a lot with motivation. I had some nice days but also some not so good days in January, and in the following, you can read more about it:
Home Office and new routines
As you guys might know, we moved out of our office end of 2020. We already found a new one, but it's currently being renovated, and we can't move in before mid of February – fingers crossed we get the keys on the 15th.
Due to that, we worked from home all January, and it was a challenge, to be honest. I love working from home now and then, but it can be hard to stay focused when I have to do it every day. Luckily I found a way to make it work with new routines.
I set my alarm to 6.45 am every morning, get up to brush my teeth, and wash my face before I do a little workout or yoga session (20-40 minutes, depending on how I am feeling in the morning). Afterward, I drink a glass of lemon water while checking the phone for the first time of the day. Between 8 and 8.30 am, we go outside for a walk with the dog, and it honestly feels so good to get some fresh air before starting to work in front of the laptop. Because that's what follows after our walk: work, work work.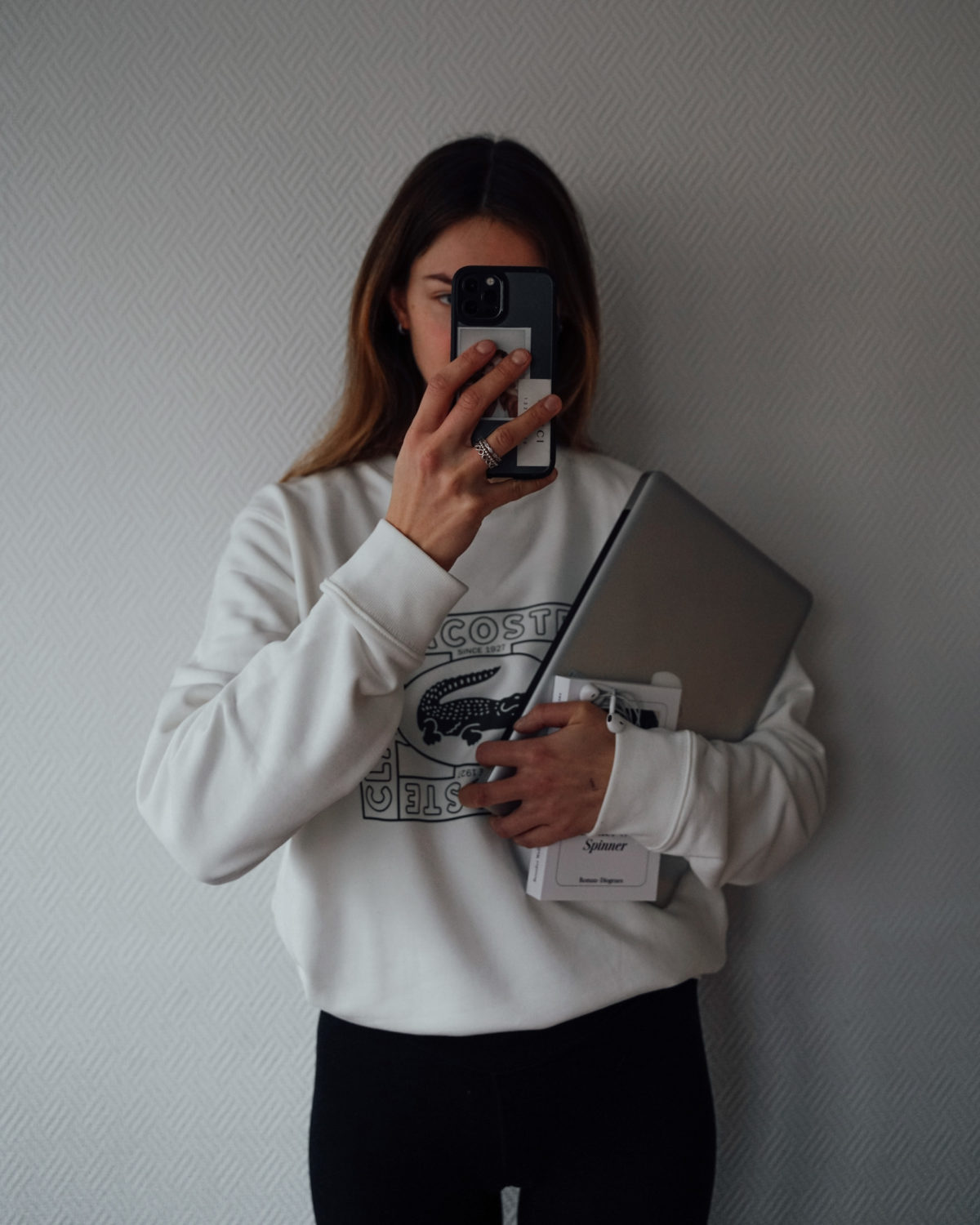 Digital Berlin Fashion Week and Street Style Shoots
One of the more exciting happenings of January was the Berlin Fashion Week. After it paused last summer, it was finally back with a digital edition. A digital fashion week isn't the same as a physical one, but it was still lovely to see what the designers created and have a slightly different workweek.
Since everything was digital, I could sit home with my sweatpants and watch the shows and films on my sofa. Of course, I missed the usual fashion week hectic, running from show to show, getting changed in between, shooting street style, and just being on the go from morning until night. But it also was nice just to stay home, to not worry about what to wear and if I will make it to the show or not.
Even though the fashion week only happened digitally, I met up with street style photographers or hat facetime photo shoots. It was nice to have time to plan the looks and shoot themselves as we didn't have to rush.
Onvacay and Onweekends Update
On another note, we also worked on our two babies: Onvacay and Onweekends. For Onvacay, we finally got our long-awaited delivery from Bali with new bags and pillow covers. It took us months to finally get it, and we are so happy that all the pieces are back in stock now. We are also planning to travel to Bali as soon as possible and save enough again to source new products.
A bit more is happening for Onweekends as we are currently sourcing new manufacturers in Europe. We also FINALLY finished some pieces we've been working on for a while now. It seemed like endless sample runs but now a part of the styles is finally how I had them in mind and currently being produced. It's still a lot to do, and many styles are not even close to being ready for production, but we are working on it, and I am already looking forward to when I can finally launch them. Stay tuned for more and follow on Instagram if you don't want to miss any news.
Outfits I was wearing in January
Content Creation January 2021