It is Wednesday already, time to share another Fashion Week outfit with you guys. I have to admit, that I did not only have any time to prepare new blog posts during Fashion Week in Berlin but also to take pictures of all the outfits I was wearing. We took pictures of three outfits only, and I actually was wearing three more I can't share with you – and I am very sorry about it. Maybe I will have the time to wear the outfits again this week and take pictures of them, but it is very rainy and gloomy in Berlin right now, and I don't feel like taking pictures. Anyways, I shared only one Fashion Week outfit so far, so there are two outfits left. Today I will share the pictures of the outfit I was wearing on day two of Berlin Fashion Week, and I hope you will like them 🙂
Fashion Week Berlin Day Two
The second day of Fashion Week in Berlin, last Tuesday was another very calm day. I didn't go to any shows that day – well, I missed one – and had only a couple of meetings. My day started at the office, so I could get some last things done before the busier days of Fashion Week. Around noon I had to leave to drive to the Panorama fair for a meeting with GANT, and I also stopped by the Pepe Jeans booth, to say hi and have a look at the new collection 🙂 Afterwards, I had to drive to the Premium Fair to meet up with Maison Heroine. As you might know, I was doing a little collaboration on Instagram with this brand and had to pick up my bag for Berlin Fashion Week at the Premium fair.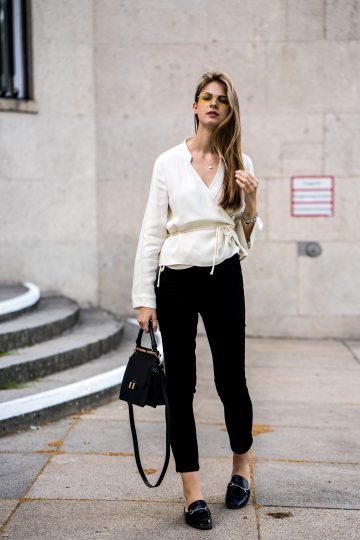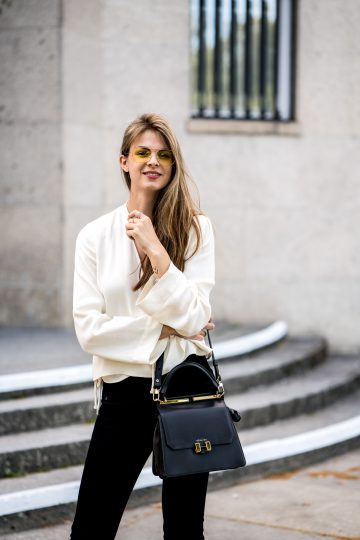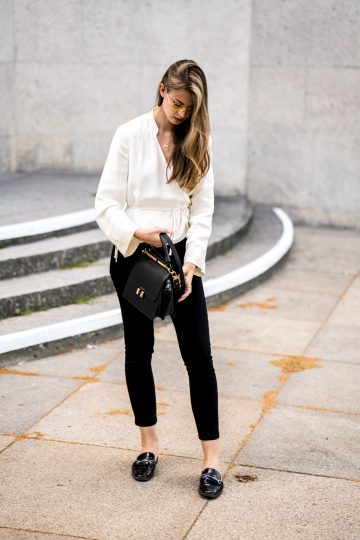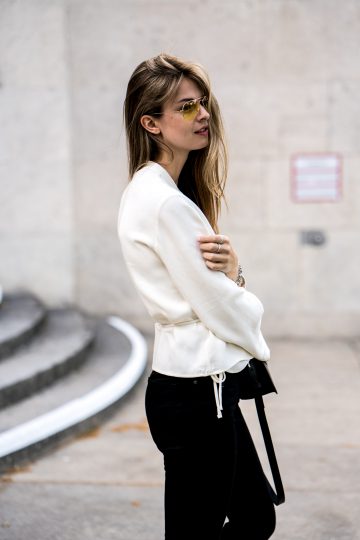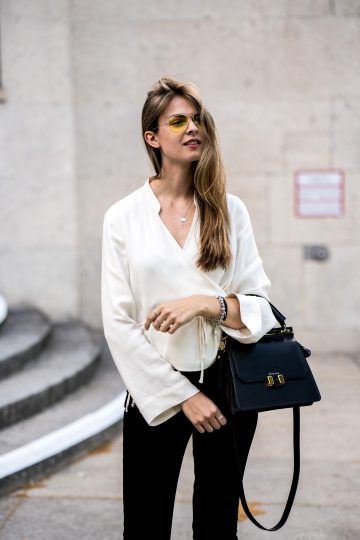 I actually didn't spend a lot of time at the trade shows, because even though it is interesting to talk to the brands and see the new collections, it is not the best place to discuss collaborations and new partnerships. So I drove straight back to the office after my meetings, got some more work done and had time to take these outfit pictures. In the evening we went to the Lee party, but it was actually a little bit disappointing, so we left after an hour. I have to admit, that I was quite happy about being back home earlier than planned… I didn't get a lot of sleep that week and needed every additional hour I could get…
White wrap blouse and yellow sunglasses
The outfit I was wearing on day two of Berlin Fashion Week was a little bit more fashionable than the one I was wearing the day before. Of course, I stuck to what I feel most comfortable in and kept it simple. That's why I was wearing a black and white outfit I topped off with a pair of yellow sunglasses I just received the day before.
The white wrap blouse is the key piece of this outfit. I found it on sale at Zara the other day and first wasn't quite sure whether to order it or not. Two reasons that made me unsure about it were that it was only available in size L and that I thought it would be a little bit too short. I decided to give it a try, and as you can see, I decided to keep it. The bigger size makes it a little bit longer and since it is a wrap blouse you can quickly tighten it a little bit more, so it won't be too wide. As I mentioned before, I kept it simple that day and combined my new blouse with a pair of black jeans, black mule sandals as well as the Maison Heroine bag I borrowed for Fashion Week.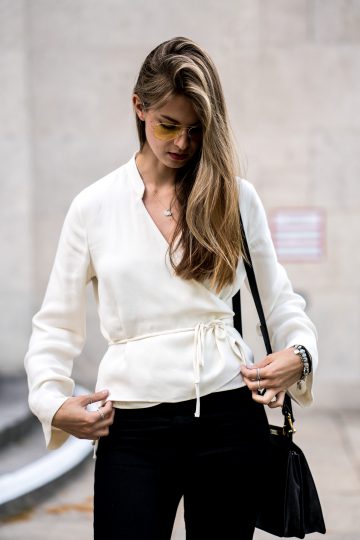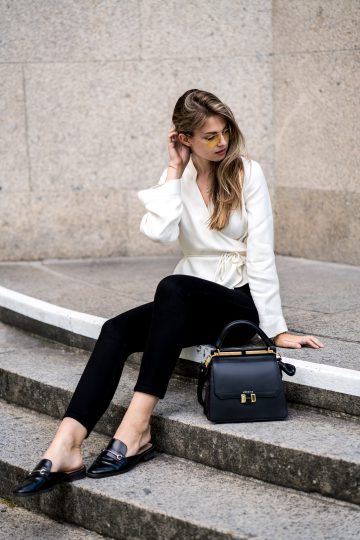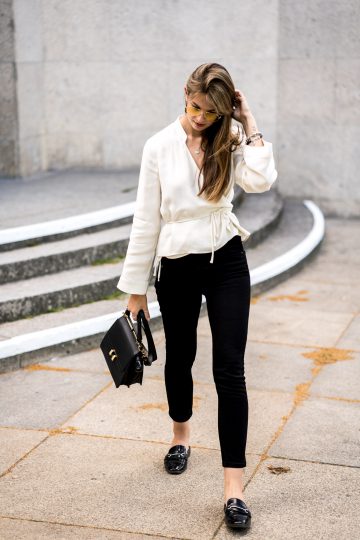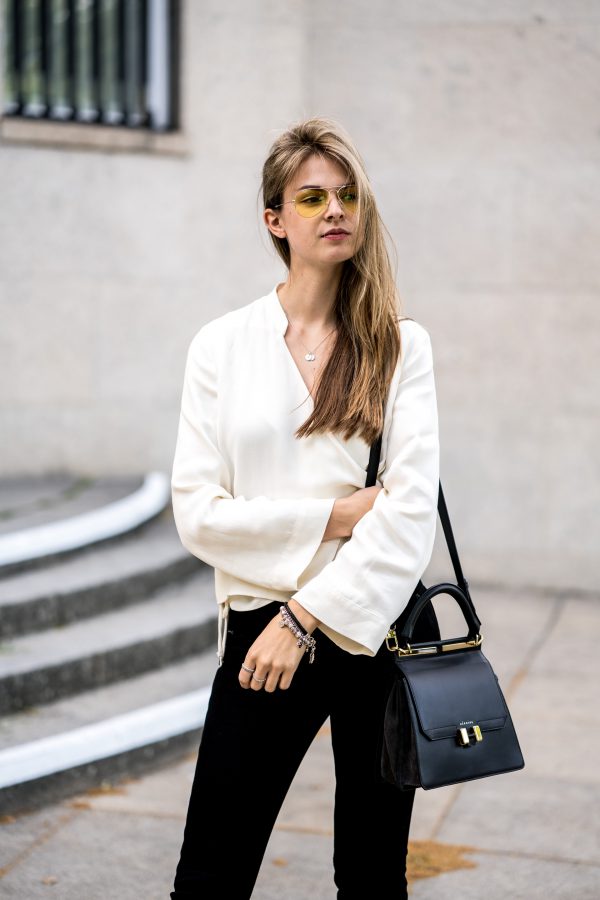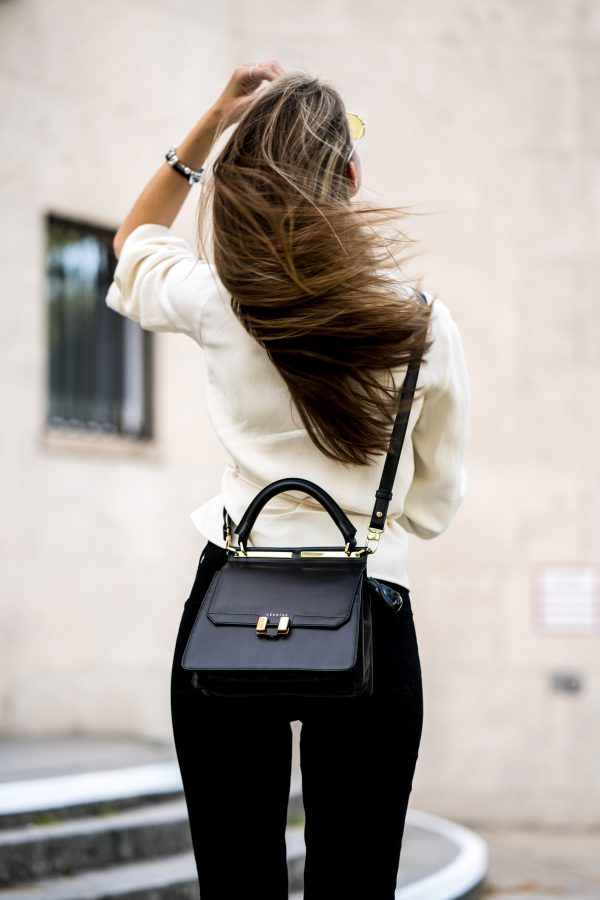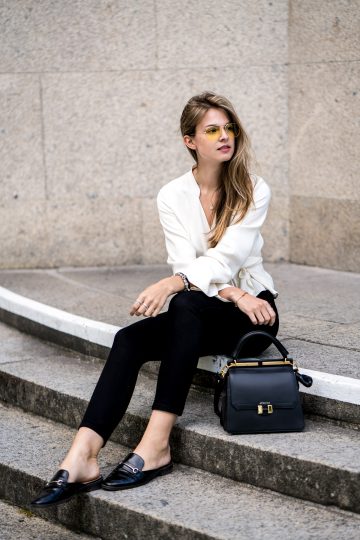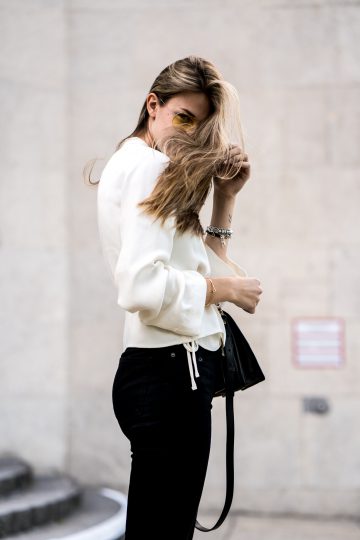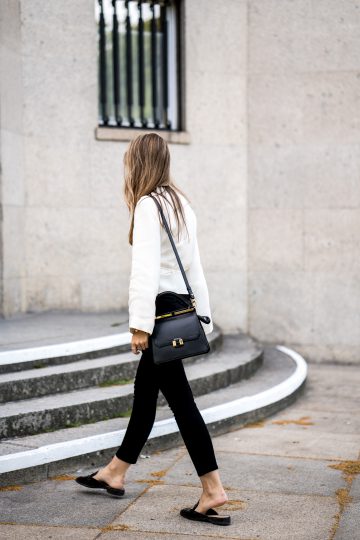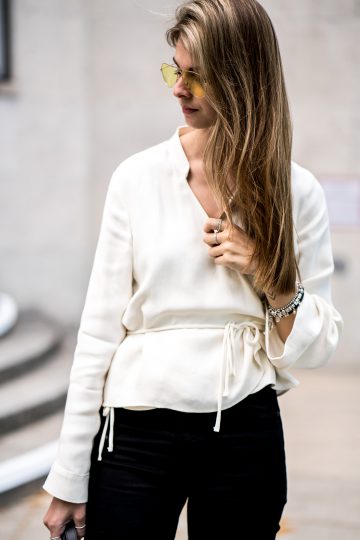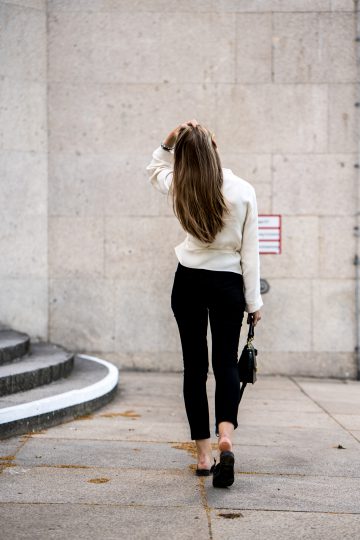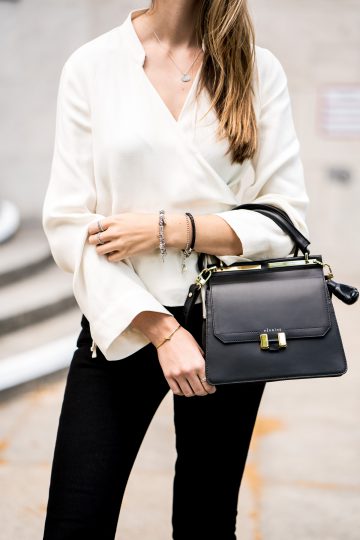 Sponsored products: glasses via Brille24, bag borrowed from Maison Heroine.