I'm so happy I can finally share an outfit that actually looks like spring with you today 🙂 As you might know, the last weeks weren't the best here in Berlin regarding the weather. We had super cold and windy days, rain and even snow showers and I didn't feel like being outside or dressing up at all. But as soon as the sun came out the other day, I just had to go outside. I also took advantage of the sunshine and finally wore this super vernally outfit I got from GANT a few days ago.
Spring Outfit: Trenchcoat, White Jeans and Top with Flower Embroidery
I barely wear bright colours in autumn in winter. And I am always happy when it is getting warmer, the flowers and trees bloom and the sun is shining more often because that means that I can get all the bright clothes out of my wardrobe again. The reason we don't wear bright colours in autumn and winter usually is, that it is raining a lot and it gets very musty outside. And we don't want to get our clothes dirty, do we?
But the weather in spring – excluding the usually very rainy April – is so much better, that's why a typical spring outfit includes at least one bright coloured piece of clothing. The other day I went the whole hog and opted for bright colours only. I was wearing a beige trenchcoat, a light blue top with flower embroidery, a pair of white jeans as well as white sneakers. It is a simple yet chic outfit, something I would wear to a dinner with the family or a meeting – just to name two examples.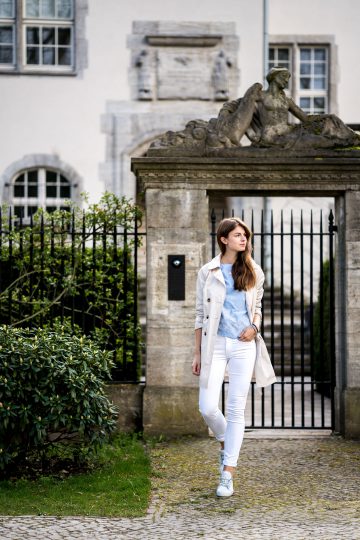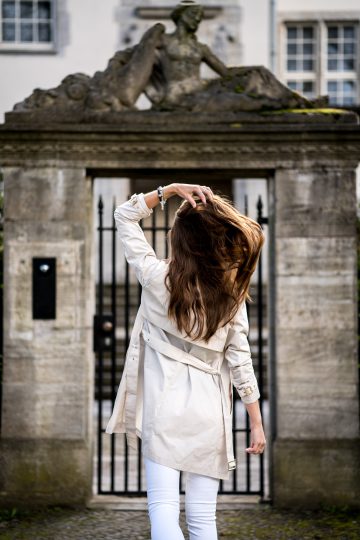 The trenchcoat is the highlight of this outfit. It's one of those timeless classics every woman needs in her wardrobe. What I like best about this GANT trenchcoat is the water repellant memory fabric. One the one hand it is very practical to have a water repellant jacket these rainy April days, and on the other hand, it will stay crease-free due to the memory fabric. The latter of these two is perfect for someone who doesn't have an iron at home. 😉 I will for sure wear it pretty often during the next weeks, especially when it will continue raining all day.. I just need to put on a comfy sweater underneath on the gloomy and windy days to stay warm. The trenchcoat looks super nice and is water repellant, but it is made for real spring days and not for those that almost feel like winter (the temperatures in Berlin has been below 10°C the past days).
My second favourite piece of this outfit is the light blue top with its flower embroidery. It's such a simple piece, everything but boring to the embroidery. It tops off every outfit, no matter if you're combining it with a pair of white jeans as I did in this case or a pair of denim shorts. I can even imagine combining it with a nice leather skirt in summer… you see, I already have a lot of possible outfits with this top in mind, and I can't wait to wear all of them.
Which one is your favourite piece of this GANT outfit? And what do you think about this outfit in general? I would love to know what you think and read your comments. xx