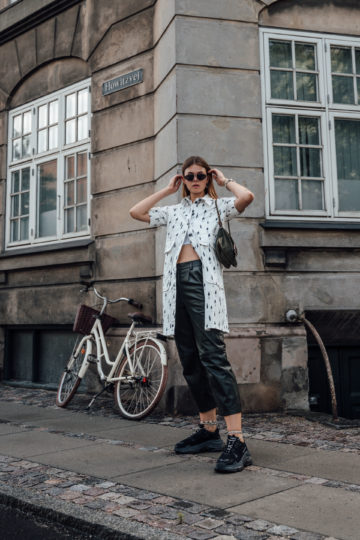 I am back from Lake Garda and will be in Berlin for, at least, the next two weeks. This means that I have some time to finally catch up on some work, including blog posts and videos. I already edited all the outfit photos from Copenhagen Fashion Week, and I want to share two or three of the outfits with you this week. Let's see how productive I will be this week 🙂
I will start with one of the outfits I was wearing on my last day in Copenhagen. I had a few shows that day before we had to head to the airport and go back to Berlin. I was wearing two different outfits that day and the one I am sharing with you today is the first outfit of my last day in Copenhagen. It's all about a pair of green leather pants and a shirt dress worn as a top. Read more about it in the following.
Wearing a shirt dress as a top combined with leather pants
When I had to pack my suitcase for Copenhagen Fashion Week, it was a real challenge for me. Not only, because I only had hand luggage booked, but also because I had a few fittings in Copenhagen and didn't know what I would get to choose there. So not only didn't I know which clothes to pack, it was even harder to decide what kind of shoes and bags to bring. I ended up going for some basics as well as my favourites, and it definitely was a good idea.
For this first outfit of the last CPH FW day, I put together two pieces I got fitted. It was a very spontaneous decision to wear this outfit. I first had planned to wear leather pants with a black coat, but it was too warm to wear it. And I wanted to wear this shirt dress for the last show I was invited to that day. But I also had a second option for the last show and didn't have anything else that worked that well with the pants, so I ended up wearing this shirt dress as a top combined with the green pair of leather pants.
I first wanted to wear this outfit with a pair fo black boots, but my feet hurt from the day before so I opted for my Balenciaga Triple S sneakers in black instead – and it definitely was the right decision.
But let's not focus on the details here, let's talk about how I was wearing a shirt dress as a top that day. I tried a few ways of wearing this dress as a top before I ended up wearing it like this. There are three ways of wearing a dress as a top:
– you can unbutton it and wear it like a jacket with a top underneath,
– you can only button up the top of the dress and leave the rest unbuttoned just as I did or
– you button it up all the way and wear it as a dress but with a pair of pants underneath.
I tried on all three options, and I liked the second one the best. What do you think? How would you wear a shirt dress, if you would want to wear it as a top?
I am looking forward to your comments. xx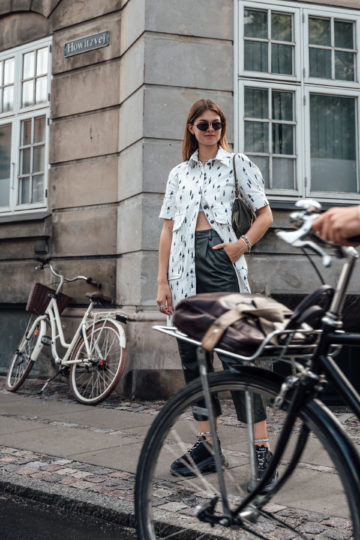 *Ad, brands named – Baum & Pferdgarten Dress || Gestuz Pants || Vintage Fendi Bag || Balenciaga Sneakers || Carrera Sunglasses