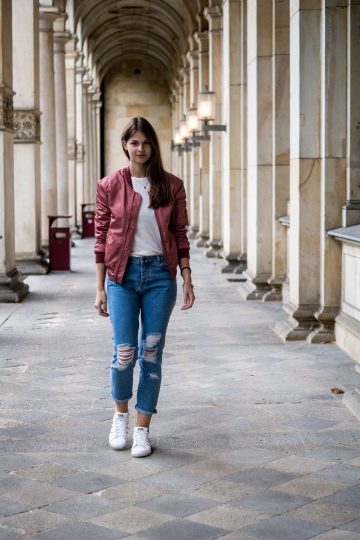 Good morning guys! Today I want to take the topic of yesterday's post up and talk about one of the hottest trends of the season again: the bomber jacket. Yesterday's post was about my autumn essentials for 2016, and the bomber jacket is one of three essentials I shared with you. I told you that they come in different styles (satin, varsity-style, lightweight and athletic) and a lot of different colours and that there's for sure the perfect bomber jacket for all of you. Speaking for myself, I like them all! I have four or five different bomber jackets in my wardrobe, and they have only one thing in common: I bought them one size bigger to wear them oversized. The newest member of my bomber jacket family is this pink bomber I got at Subdued the other day:
Pink Bomber and Boyfriend Jeans
While I shared a comfy yet chic autumn outfit yesterday, I want to share a more casual and sporty one today. It's all about feeling comfortable in autumn because the temperatures are dropping and the days are closing in. Autumn is the season of the year; we transform our wardrobe from summer to winter. But it's not only about changes in our wardrobe but also in all the other parts of our home. We get all the cosy blankets and candles out, spend a lot of time at home and drink tea. These are only a few examples of all the changes autumn brings with it. But let's get back to the main topic of today's post: the bomber jacket and my outfit.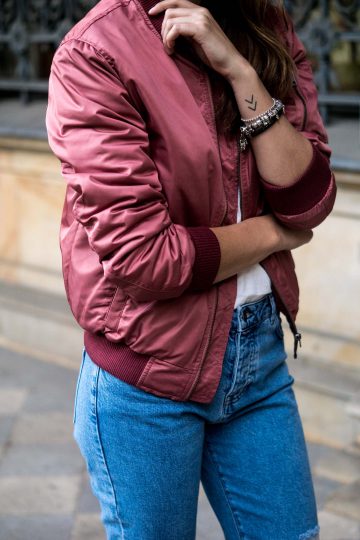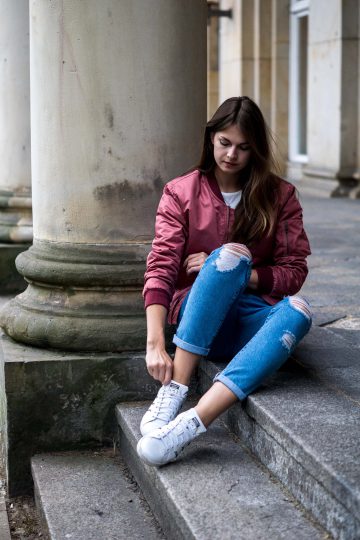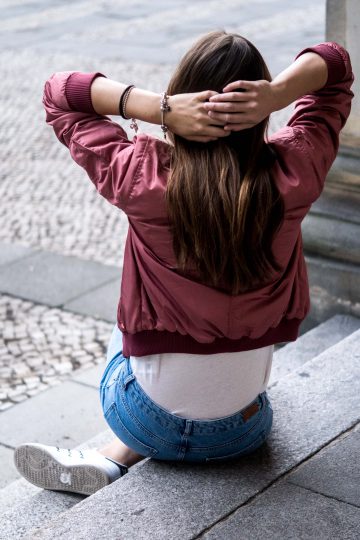 You already know that I got this pink bomber jacket recently, and you might wonder why I went for this colour. I usually prefer black, white and grey and wear colours very seldom.. but when I saw it in the store, I just couldn't resist. I thought about three different ways to combine it and an all black, as well as an all white look, came to my mind. I just had my problem with the last outfit combination. Should I risk something and go for a very unusual look by combining this pink bomber jacket with blue jeans? Well, as you can see, I did take the risk. I went for a boyfriend jeans for even more comfort and added a white tee as well as white sneakers to keep it simple. Let's be honest: wearing pink and combining it with blue is risky enough, isn't it? 😉
And believe it or not: I like this combination a lot. The outfit itself is super comfortable thanks to the bomber jacket and boyfriend jeans. And, of course, the sneakers are comfortable as well. There's not a lot you could say about a white tee. In this case, I could mention the print, which is quite nice. The print is actually the reason I decided to buy this shirt. 🙂 What do you think about my casual and sporty outfit? And what do you think about the bomber jacket trend?