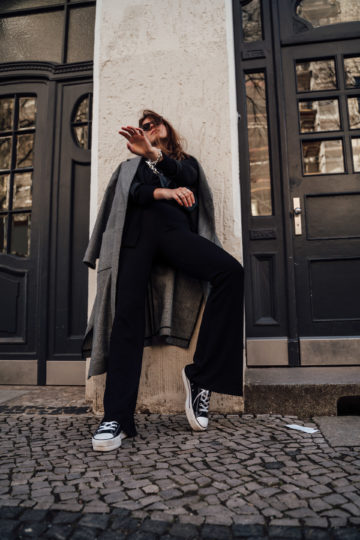 Spring is coming closer even though we only had a few really nice days these past weeks in Berlin. It is indeed getting warmer, but after one warm day, the temperature usually drops again, and we even had one day with snow. But now that April is coming closer, I hope that these days well get fewer and that I will be able to wear more of my favourite spring outfits as soon as I am back from my travels. Yes, I will be away for about a month and wear a lot of summer outfits while I am gone. BUT I took advantage of these few springlike days in Berlin and shot some outfits; I can share with you here on the blog while I am gone. Due to that, I can make sure you will get the outfit inspirations you need these days. 😉
I will start with a casual spring outfit you can wear either on the weekend or on a calm day at the office depending on where you work and what the dress code there is like 😉 I would wear this outfit every single day no matter, if I am spending it at the office, meeting up with friends, going grocery shopping or just relaxing at home.
Long grey coat combined with an all black look
It is not a secret, that I do like this long coat a lot and that I wish I also had it in more colours such as black or even a colourful version would be nice. It is hard to find a long coat, that fits that well as most of the ones I've tried are just too short for me. So whenever I can wear this one, I am wearing it. 🙂 It also is not too thick, so I can actually wear it perfectly in spring and autumn and not only in winter.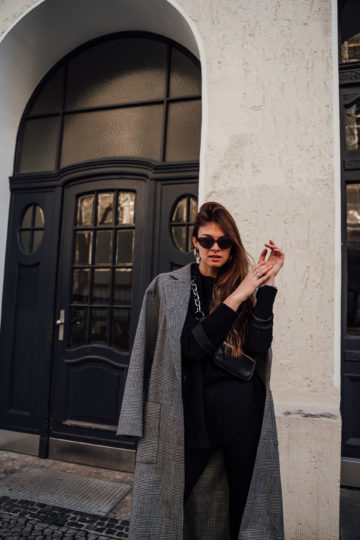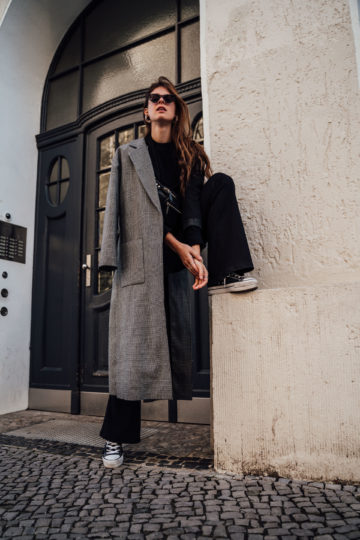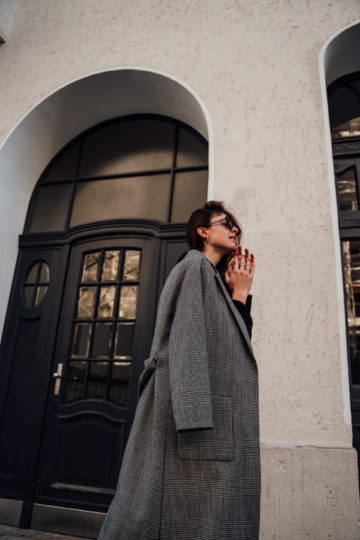 For that springlike day a couple of weeks ago, I opted for an all black look to wear with this long grey coat. It was a calm day, and I spent most time at the office. And even though I am my own boss and I actually could also wear sweatpants and an oversized hoodie at the office, I like dressing up and wearing something comfortable yet at least a little bit fashionable. So, in this case, I was wearing my perfect pair of long black pants I already wrote about last week. They are perfectly comfortable, have the perfect length, and I love that they are flared. As the pants are quite casual, I combined them with a black blazer to make the outfit look a little bit chicer as the rest of the look also is more casual than chic: black sneakers and a black belt bag.
With a different bag and maybe also a different pair of shoes I would not only wear this outfit on a calm day at the office, but when having a meeting or an event as I think that it is the perfect mix of casual, comfortable and chic, And with just a few classier pieces it definitely works as a business outfit. Also, try to imagine this outfit with a few pieces of nice jewellery and a chic watch. If this isn't business, I really don't know 😉 What do you think? Do you like this kind of outfit?
I am looking forward to reading your comments. Also, let me know what you are looking forward to wearing this spring and summer and what are your favourite trends. I would love to know, and maybe I can put together some outfits showing you how you could wear your favourite trends of the season.
*Ad, brands named – Weill Paris coat || Vintage Blazer || Loavies pants || Bershka belt bag || Converse Sneakers