They are extravagant, absolutely in fashion and even the Romans used to wear them: Lace Up Sandals. If you want to attract everybody's attention regarding the shoes you're wearing this summer, you should wear Lace Up Sandals instead of flats, flip flops or summer booties. You want to know how to wear this new trend, how to combine it and what kind of lace up sandals you can buy? Find some tips as well as some of my favourite styles in the following:

Lace Up Sandals 2015 – this shoe is attracting attention
If you want to wear a pair of Lace Up Sandals you should always keep in mind that less is definitely more. The Lace Up Sandal Shoe is fancy itself, that's why you should keep your outfit simple. You can never go wrong with skinny jeans and a basic white shirt or what about some nice denim shorts? But the Lace Up Sandals go with dresses and skirts as well. But remember to keep it simple! Colourful patterns would put the shoes in the shade instead of bringing it off. This extends to farraginous bags and too many accessoires.You should always create your outfits without these things, if you want to focus on your shoes.
Lace Up Sandals 2015 – flat or heeled?
You can buy the Lace Ups Sandals Trend in several varieties: flat or heeled and black or colourful. The flat version is the best choice for your everyday life, but if you want to wear this new trend for a night out as well you can switch over to heeled Lace Up Sandals. They'll give every look a chic touch and attract everybody's attention. 😉
Lace Up Sandals Trends – Designer vs. Budget
The absolute MUST HAVE this summer is probably the Lace Up Shoe from Aquazurra, but not everybody can afford it. IT-Girls and fashion blogger like Olivia Palermo or Chiara Ferragni are already wearing them, but don't worry, you don't have to buy the expensive designer version. There are lot of more favourable Lace Up Sandals in stores right now – and they're nice as well. You can find some of my favourite styles below, Designer Lace Up Sandals as well as some budget versions.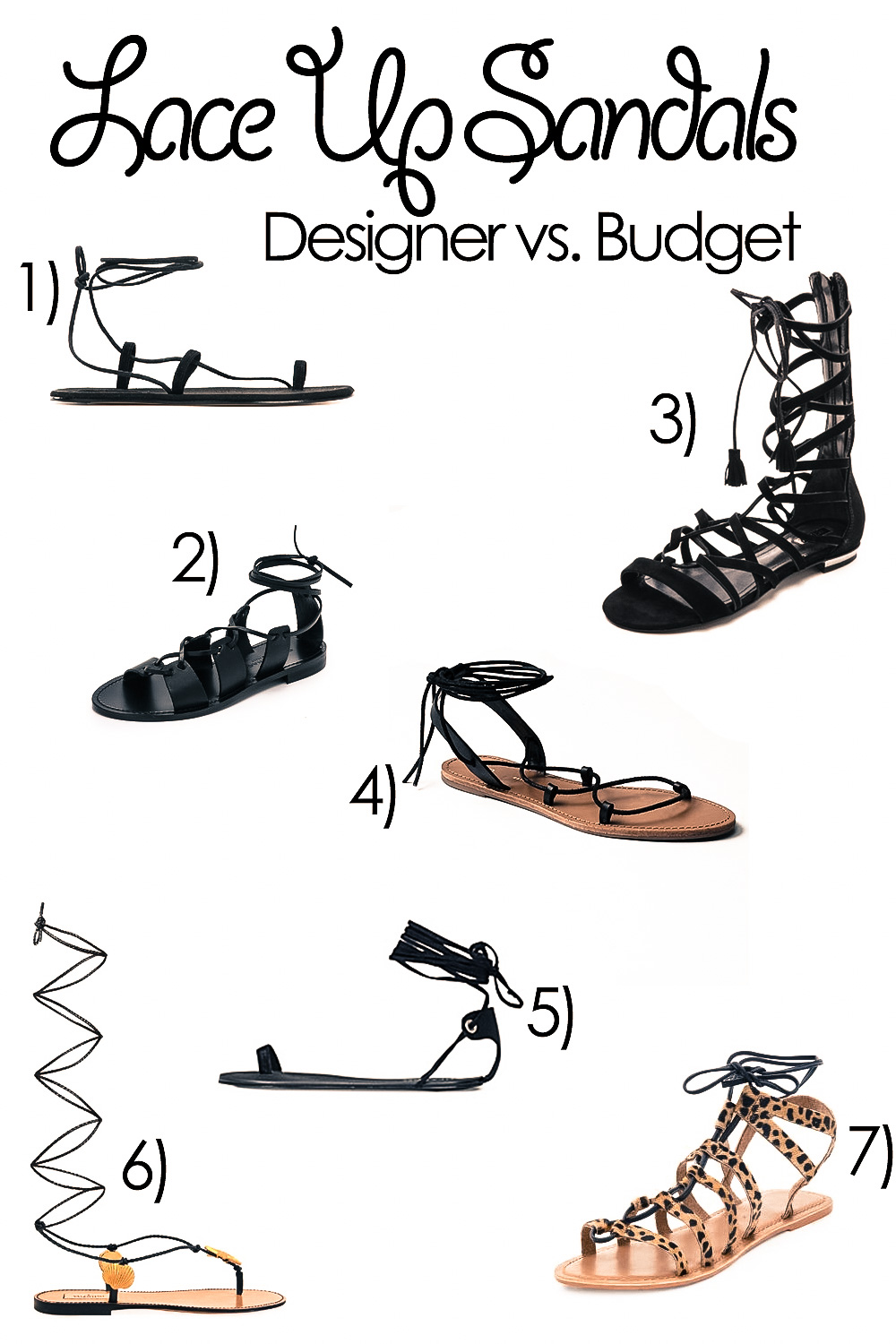 1) Chloe 2) Club Monaco 3) Schutz 4) Gap 5) NLY Shoes 6) Valentino 7) New Look