Before we get started with the best restaurants in Cape Town, which we, of course, all tested ourselves, we want to tell you some facts about the African cuisine in general. So the African cuisine can be roughly divided into four regions. These are the North African Cuisine, the Ethiopian Cuisine, the sub-Saharan African Cuisine and the South Africa Cuisine. Our food guide for Cape Town just covers the South African Cuisine, why we want to give you a short introduction to it.
Typical South African Cuisine
Actually, there is no typical South African Cuisine. Every province interprets the dishes their own way so that they are not just cooked differently but also taste different. In general, you can say that South African cuisine is influenced by European and Asian Cuisine. So the typical South African Cuisine cooks a lot with chicken, beef and pork. But lamb is also very popular. Of course, vegetables are also an essential part of the meals. Favourites here are carrots, corn and onions and of course a lot of other veggies. Finally, we should name the most typical spices. Besides cilantro and cardamom, cinnamon, chilli and ginger are also very popular and used often. Typical South African dishes are besides others, Amasi, Mosbellotjies or Vetkoek.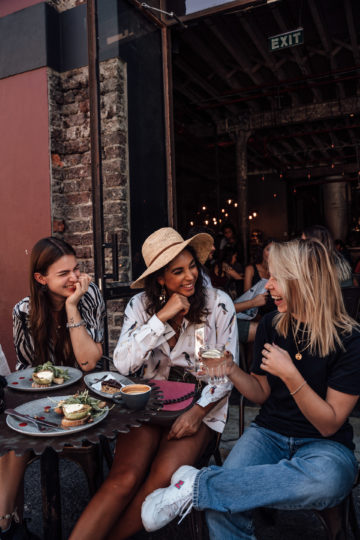 Out for dinner in Cape Town – go here!
The Cousins Trattoria
This restaurant in Cape Town serves typical Italian food. Especially the variety of pasta dishes needs to be mentioned. The atmosphere is cosy and modern at the same time. The staff is very friendly and courteous, and the price-performance- ratio is excellent. We and also the countless other guests at The Cousins can highly recommend this place.
Folk Cafe St. James
The Folk Cafe St. James is a very modern cafe, where you can enjoy your coffee or pastry as well as cakes outside on the terrace if you want to. It doesn't matter if you want to enjoy the sunshine or prefer sitting in the shade, both are possible. The staff here is very friendly as well and also prepares some snacks if desired. For example juicy burgers, fresh salads and many more. We think the Folk Cafe St. James is worth a visit.
Chinchilla Rooftop Cafe & Bar
The Chinchilla Rooftop Cafe & Bar is one of Cape Town top restaurants. It should be mentioned that The Chinchilla does not just offer an awesome view of the sea, which alone makes it worth visiting; the served food & drinks are also excellent. The yummy cocktails and the comfortable ambience should be particularly mentioned. The Chinchilla, by the way, is famous for its Sandwiches and seafood.
Truth Coffee Roasting
The Truth Coffee Roasting should be on every Coffe-Addicts list of the places to go in Cape Town. But The Truth does not just offer incredible coffee in all its varieties; it also has a top service, and the industrial style interior has its own kind of homey atmosphere. On top of that, you will find various sweets and snacks. We would definitely recommend the apple pie.
Beluga
The Beluga, which is located in the centre of Cape Town, is another of Cape Town hot spot restaurants. Who enjoys the Japanese or rather an Indonesian cuisine should definitely make a reservation at the Beluga. It should be mentioned, that allergy sufferer, as well as vegans and vegetarians, are in good hands here. Many guests us included did really enjoy the beautiful ambience. In particular, the terrace in the middle of industrial buildings is unique. About the food and drinks, you can say that some are very exceptional but always delicious. The Beluga should be on your to do list for Cape Town.
Kloof Street House
The Kloof Street House is 'the' restaurant in Cape Town per se. And it's not just the beautiful and individual flair of the restaurant, it's also excellent service and the huge selection of food and drinks. By the way, the Kloof Street House is one of the trendier spots in Cape Town and so also suitable for vegetarians, vegans and those who suffer food allergies. The Kloof Street House serves international cuisines in a high standard at a good price.
Jarryd's
Getting good food at every time of the day in Cape Town- go to Jarryd's. It has a fairly modern ambience without lacking any comfort. At Jarryd's you can have a delicious coffee and fresh fruit salad for breakfast or a juicy burger with fries and a cold coke for dinner. To be mentioned is the extremely friendly staff.
Madam Taitou
The Madam Taitou is the only typical African restaurant in our list of recommendations for Cape Town. It does not just have an extraordinary flair, which is absolutely cosy, the Madam Taitou also offers a huge variety of typical African meals and drinks. Besides having excellent food at Madam Taitou, you can also buy souvenirs. The relatively favourable pricing has to be noted. Who searches for typical African food should, in any case, visit the Madam Taitou. We absolutely regret nothing and still daydream about our visit to this fabulous restaurant.
This has been our top restaurants to visit when in Cape Town. As already mentioned we tested all these restaurant, cafes and bars ourselves and could recommend them all without any doubt. The quality of the service as well as of the food and drinks has made us more than convinced.