Damn it, is it really already Thursday?! Where has the time gone? It's always the same; I have too much to do and too little time. 😉 But I really don't want to complain today. I just want to share a new outfit post with you today. The weather in Berlin still isn't pretty nice. Most days are gloomy and rainy, and I'm glad about every single day it's not rainy. Luckily we even had some sunny days the last week, but they're very seldom. But I don't want to ask too much from the autumn season; that's why I'm glad about the days it's not rainy even though the sun isn't shining. We took the outfit pictures I'm sharing with you today on one of those not rainy and not sunny days in Berlin. It was quite cold that day, so I was wearing my new favourite bomber jacket. Read everything about it in the following:
The Whatever Camouflage Bomber Jacket
It's been a while since I last bought something at Zara, but when I saw this bomber jacket online, I couldn't resist. I simply like everything about this jacket: the cut, the print and of course the "Whatever" on the back. It's a mix of bomber jacket and down jacket. Well, I would call it bomber,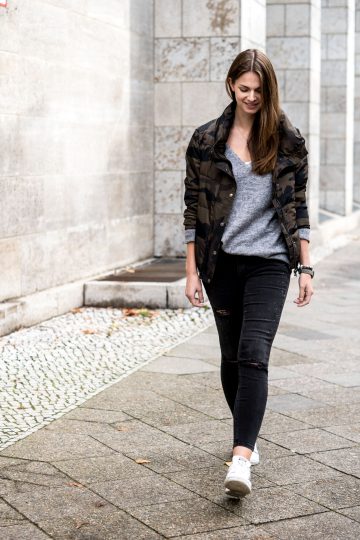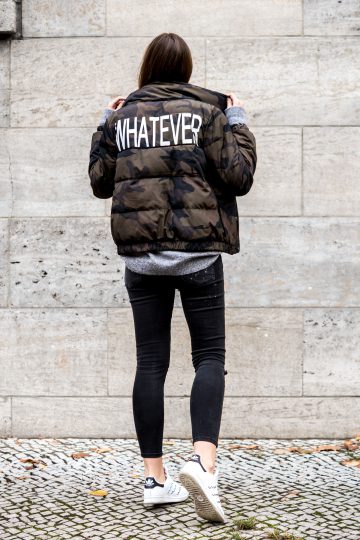 but it's much thicker than other bomber jackets, that's what reminds me of a down jacket. Of course, it's not as warm as a down jacket, but it's still warmer than most of the bomber jackets I have in my closet. Anyways, I probably couldn't wear it in winter. It works pretty well at the moment with temperatures around 10°C in Berlin. But I definitely have to wear a sweater underneath.
The first time I was wearing my new favourite camouflage bomber, I combined it with an oversized grey sweater, black jeans and white sneakers. It's one of those outfits I could wear every single day (and I was wearing this exact outfit two more times after we took these pictures) because they keep me warm and I feel very comfortable in them. That's mainly because they ARE comfortable but also because it's a simple combination you can't go wrong with. This outfit works for several situations. Well, it's not the best choice for a gala dinner or a similar occasion. But it works for a day at the office, for a shopping trip, lunch or dinner with friends and so much more. I would even wear it on a date because it's important to wear something you feel comfortable in when having a date. 🙂 What do you think about this look and my new bomber jacket? Would you wear it as well?