Fashion Weeks are not only about shows, tradeshows and showroom visits. They are also about blogger events, and those events are usually more casual than the shows and everything else. That's why the second VILA Fashion Week outfit I put together is way more casual and comfortable than the first one. It actually is an outfit I would wear in everyday life as well, so nothing very fancy at all. 🙂 But as I mentioned before: it is all about feeling comfortable and not about masquerading.
So you can either take this one as inspiration for a Fashion Week outfit or take it as inspiration for an everyday life outfit. I would definitely wear this outfit to a blogger event during Fashion Week, but I would also wear it to the office or at the weekend. But let's not talk about the occasion to wear this outfit, let's talk about the outfit itself. As I mentioned on Monday, I chose one key piece for each of the VILA Fashion Week looks I put together. And the key piece of this outfit is the brown leather jacket.
Brown Leather Jacket
I have to admit, combining a brown leather jacket wasn't as easy as I first thought it would be… you know, that I usually prefer wearing black, grey and white as well as denim from time to time. Brown definitely isn't one of the colours I feel most comfortable in. But this brown leather jacket caught my eye when I saw it online, and I couldn't resist. I wanted to create an outfit around this key piece and guess what?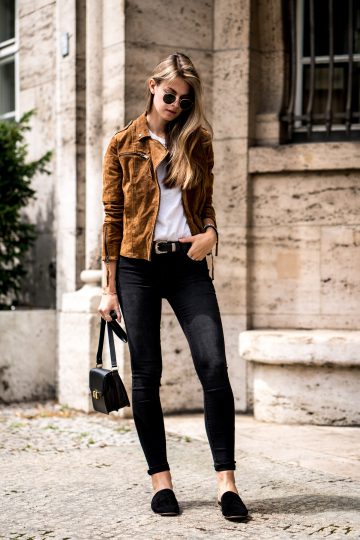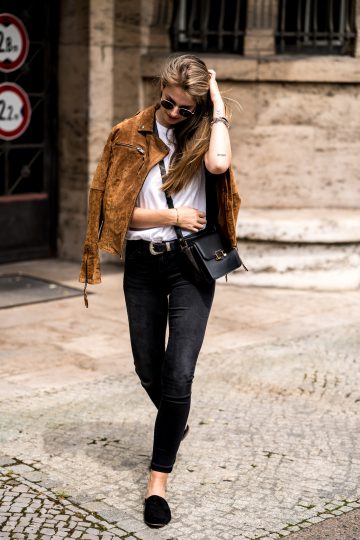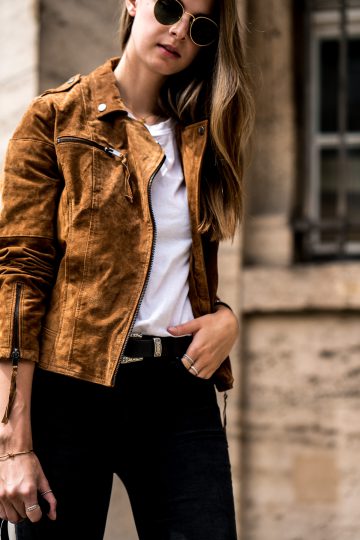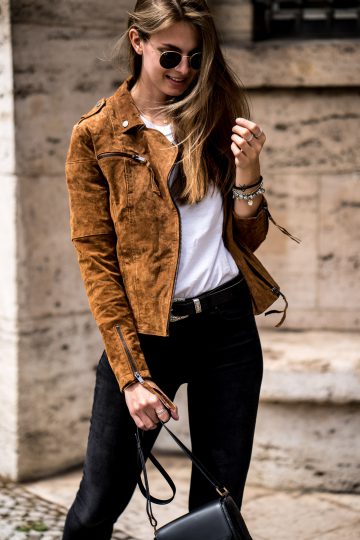 I stuck to what I usually do and kept it simple. I combined this brown leather jacket with a pair of black jeans, a white t-shirt and black shoes. I also added a black bag, my round sunglasses and my everyday jewellery. Of course, it is a very simple outfit, nothing fancy at all, but don't we all feel most comfortable in this kind of outfits?
The jacket makes this outfit look a little bit more interesting to me. Without the jacket, it would just be a simple black and white, jeans and t-shirts kind of outfit – nothing outrageous at all. The jacket tops everything off. But it doesn't work because it is a brown leather jacket. This would work with every other jacket as well. Maybe you shouldn't choose a black leather jacket or another simple black jacket. Everything in a different colour, everything with a special detail or an interesting cut would work and make a simple outfit combination look more appealing.
The last day of Fashion Week in Berlin
Today is already the last day of Fashion Week in Berlin, and even though I am a little bit happy about Fashion Week coming to an end, I am sad at the same time. It is always a lot of fun to meet all the people, who are not living in Berlin and who I haven't seen in a while and, of course, to meet new people. I also really enjoy the shows and events, but the schedule is always super busy, and it's more like running from A to B than enjoying being at the events. I will tell you everything about the past days next week when I will probably have more time and edited all the pictures. But if you want, you can follow me on Instagram for some behind-the-scenes footage. I am taking you along via Instagram Stories, and I also shared some pictures already.