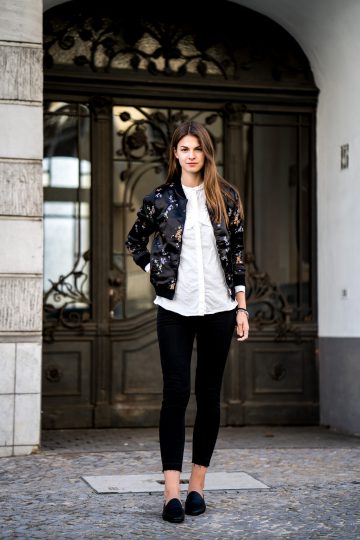 HAPPY FRIDAY! Today is our last day at the office before we're heading to Portugal on Monday and guess what? I'm super excited. But before I can get ready for this trip, I have a lot of work to get done. This week has been intense, I spent most of the time at the office and the earliest we left the office this week was 8 pm. But I think today we will only stay until 6 pm because we definitely have done enough this week and deserve to finish work on time. But before that, I have to prepare a couple of posts for the upcoming week and do some boring stuff. Since we're in Portugal for my birthday, I'm trying to take as less work with me as possible. That's why every post until next Friday will be prepared; I hope you don't mind. As soon as we're back in Berlin, I will, of course, share all the pictures we took in Portugal and I can't wait to do this. 🙂 For now, you can have a closer look on this outfit I was wearing last Wednesday. It was such a nice day in Berlin, warm and sunny, and it really felt like spring.
Asian Silk Bomber Jacket
I got this Asian Silk Bomber Jacket last week when I visited the reopened Subdued store here in Berlin. It caught my eye right when I entered the store; I would say it was love at first sight. You know that I have a thing for bomber jackets, and I actually stopped counting them, but I have definitely more than ten bomber jackets in my closet. I have a lot of black bomber jackets but none of them with a print like this one. I had an Asian Silk Bomber Jacket in my closet before I got this one, it's from Zara, and it's a jacket I bought about three years ago. I barely wear it, because I don't like the style that much… but this Asian Silk Bomber Jacket is super nice! I love it.
I combined my new bomber jacket with a pair of black jeans, a white shirt and black shoes. The white shirt is my favourite shirt at the moment, because of its details. I first wasn't sure whether I should wear it underneath the bomber or not, I wasn't sure if it's a little bit too much with the ruffles. But I went for this combination and have to say, I like it a lot 🙂 I didn't want to combine the bomber jacket with a sweater again, or with just a t-shirt, that's why I opted for a white shirt like this one. It's the contrast I like best about it. To keep it simple I chose the pair of black jeans, and since it was such a nice day I opted for a pair of shoes, that's perfect for spring weather. The shoes I was wearing are pretty new in my closet, I received them a couple of weeks ago but couldn't wear them because of the cold temperatures. I actually thought I couldn't wear them before Portugal and wanted to take them with me, but as you can see, I could. I'm so happy about the spring-like weather, and I want more! 🙂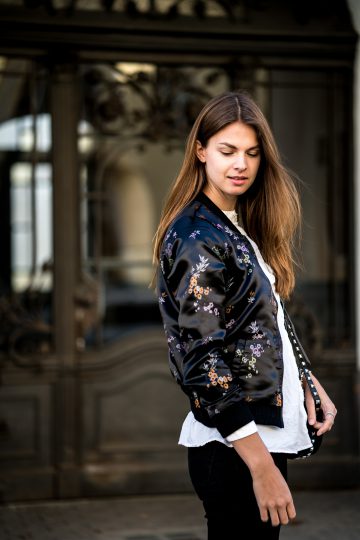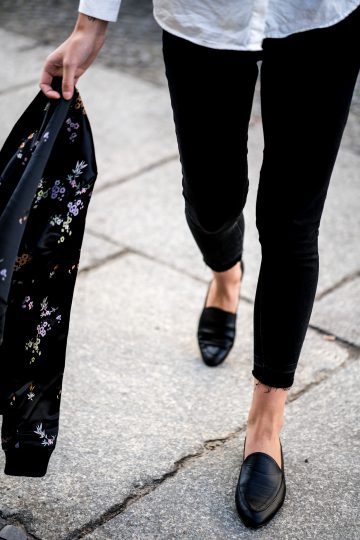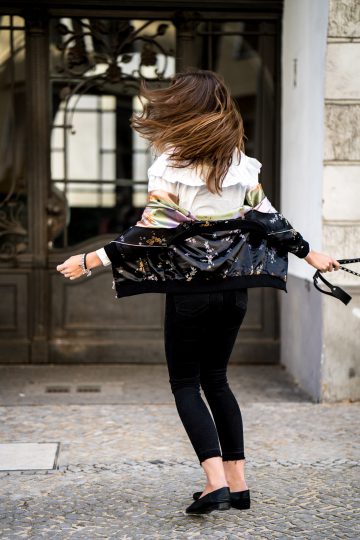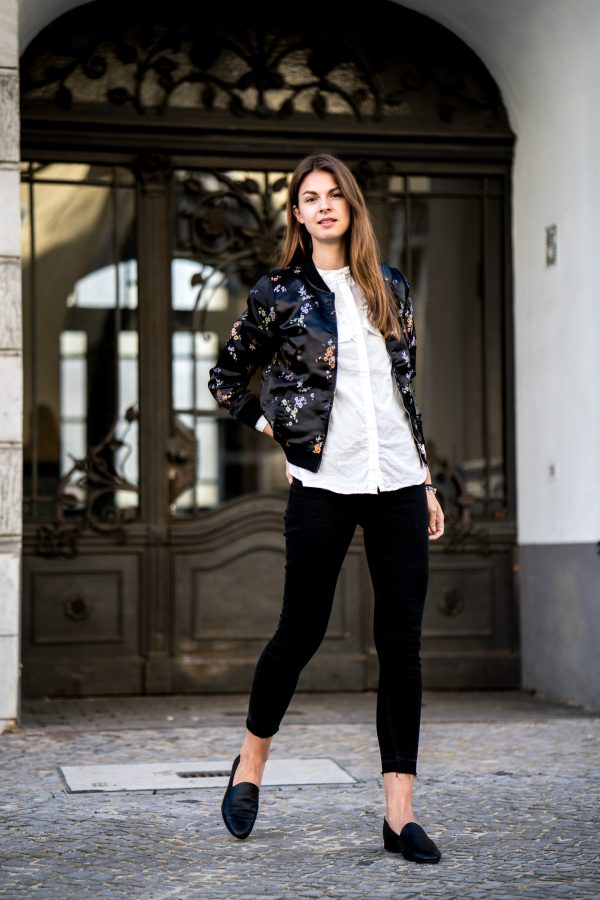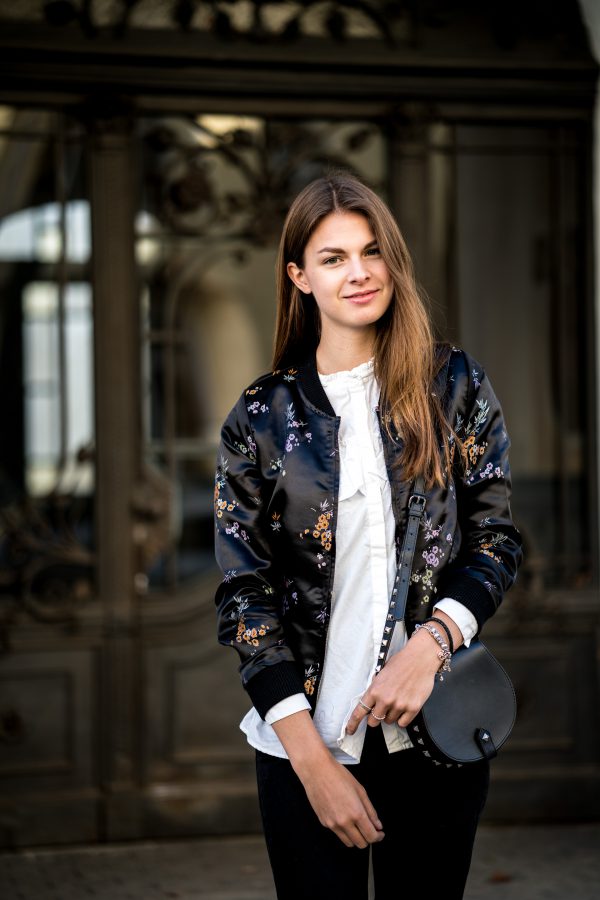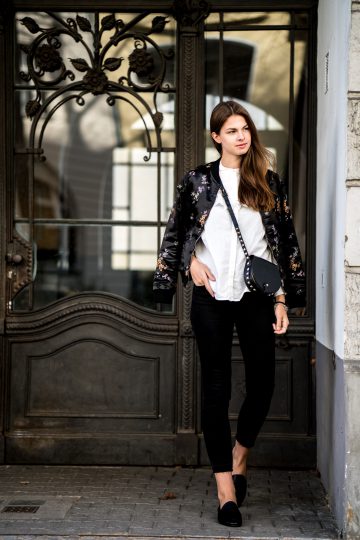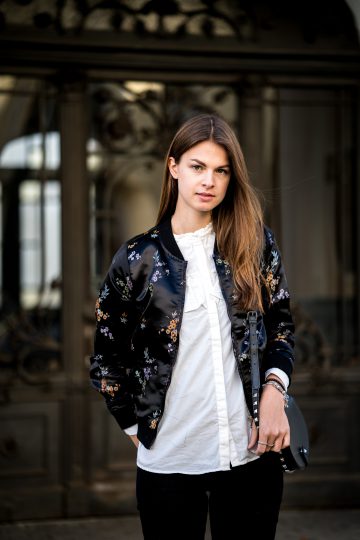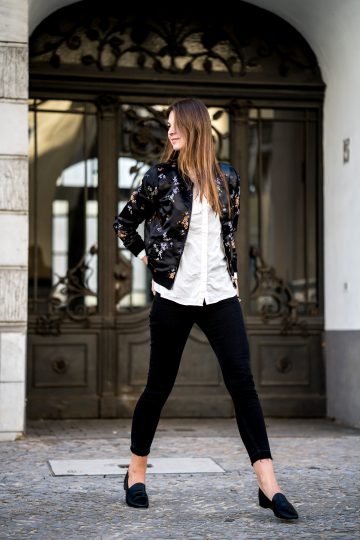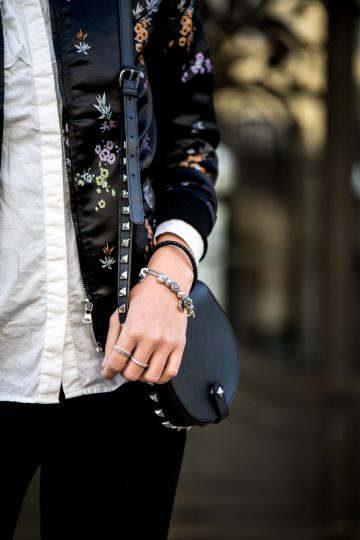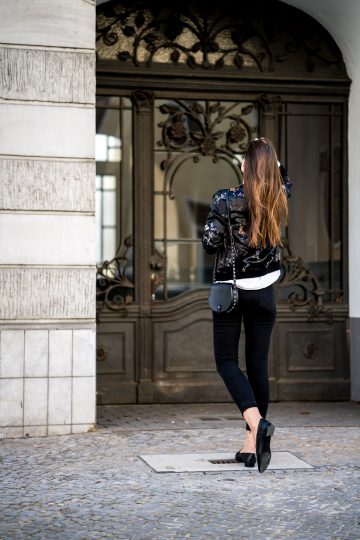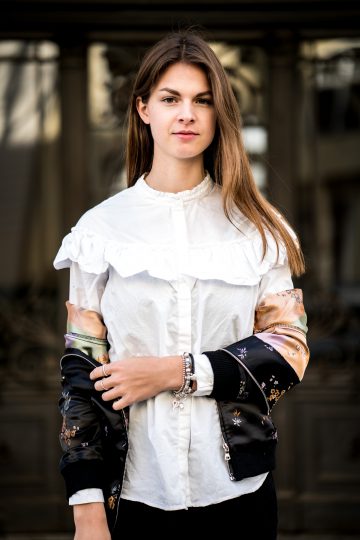 Thank you Subdued for the jacket and jeans, Vila for the shirt and Flattered for the shoes.