Good morning from Berlin! We landed in Berlin yesterday night, and as I promised last week, today I'm sharing the first pictures from Portugal. Since today's post is another "24 hours a day, 7 days a week"-post, I will also tell you a little bit more about what we were doing. So here you go:
Our flight to Portugal was on Monday, so we were still in Berlin the past weekend. Due to the upcoming travel, it was a very peaceful weekend, we had to work a little bit and prepare a couple of things, and I also had to pack my bags (my boyfriend always does it last minute, but I need some more time to plan the outfits). I also went for a run on Sunday and met up with Vanessa for coffee and a quick lunch afterwards. But amongst that, I didn't really leave our home. Monday started at the office because we had to head to the airport around noon and wanted to take advantage of the time to get even more work done. That's the thing with all the travels, we always have to prepare a lot of things, try to get as much work as possible done, and when we're back we have to catch up on work even though we tried to do as much as possible before the trip… but I don't mind, because it's always worth it.
In the early afternoon we finally took off, and we landed in Lisbon around 5 pm. Some of you might know, that we weren't staying in Lisbon.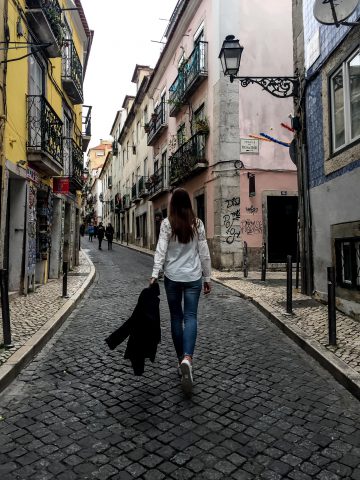 We had to pick up a car and drive to Cascais, a place that is about 30 minutes from Lisbon. Due to all the traffic, we arrived around 8 pm and couldn't wait to see the apartment we booked. That evening we just went grocery shopping, ate something at the apartment and fell asleep quite early. On Tuesday we wanted to explore Cascais. It was the most beautiful day; it was super sunny and warmer than it was the other days. We spent some time on the rooftop, where we had a pool all to ourself. Afterwards, we walked in the direction of the ocean to see Boca do Inferno. Afterwards, we went to the city centre, where we had burgers for lunch and just walked through the alleys. It was such a nice day!
It was my birthday on Wednesday, and we had planned to drive to Lisbon on that day. We wanted to have breakfast there but didn't know it would take so long to get to Lisbon. It is supposed to take 30 minutes, but it took us two hours… I was starving when we finally arrived and the first thing we did, was looking for a breakfast spot. After a super late breakfast, we started exploring the city. We walked through the streets and alleys, drove with the "famous" tram no. 28 and headed back to Cascais in the early afternoon. We wanted to eat something special for dinner, so we went to a place called Moules & Gin. IT WAS GREAT! We had moules, fries and gin and it was so delicious. I can't remember the last time I ate moules, and I didn't even know whether I like them or not, but the ones we had at this place were amazing! I highly recommend this place.
The next day we stayed in Cascais again. It was a super rainy and windy day, but the sun was shining in between the showers of rain. We spent the morning at the apartment to work a little bit, around noon we left the apartment and went to a café where we had coffee and pastel de nata – super delicious! We sat outside and enjoyed the sun until it started to rain again. We went to the car and decided to drive along the coast. I didn't know Portugal has such an amazing landscape – you can see parts of it in the pictures.
On Friday we headed to Lisbon again, but unfortunately, it was a super rainy day, and we couldn't really enjoy it. We went to LX Factory and had lunch at the Time Out Food Market. Afterwards, we went a little bit shopping, but since the rain got worse, we decided to drive back to our apartment in Cascais to take a hot shower and stay at home for the rest of the day. Nevertheless, we had a great time in Portugal. I will tell you next week what we were doing on our last day (aka a couple of hours) on Saturday. But for now, that's it. Have a lovely Sunday. xx