Home office ideas to make your time of lockdown easier
Can you still get to your office or are you like us and have moved your office home to the living room and work from home on your PC? Since the Corona pandemic, many of us have turned our office into a home office and work from home full time. However, many find it difficult to be as productive at home as they are at work, or some get totally lost in work and forget about other things, like eating or socializing. Balancing work and home life is sometimes easier said than done, and often the two get mixed up quickly. Finding the right boundary between these two aspects is all the more important in the home office anyway.
How you can survive the home office without losing sight of yourself and still work productively we show you in this blog post. We have picked out a few home office tips and tricks for working at home for you, which are easy to implement and make the time of working during the lockdown easier.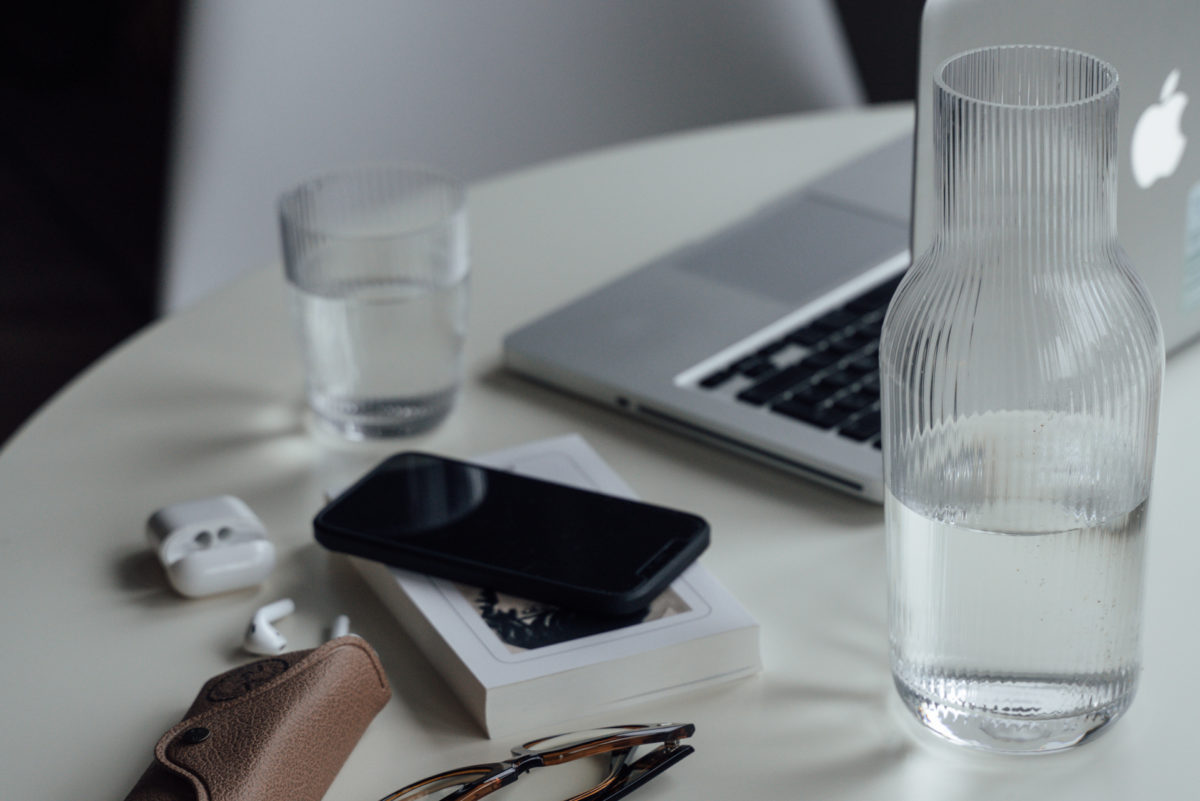 Home Office Furniture
It can be very helpful to set up a permanent home office workspace from which you can work well. Sure we all like to work from bed too, but are we really that productive and get in the mood to work? If you set up a fixed place in your home from which you always work, you will be in a much better mood to work and associate this place with work and productivity. If your workplace is integrated in the living room, make sure that you can separate it somehow, so that you don't always have to think about work. This works well with plants or a curtain. After work, when you leave your desk, you are really off work and can let your work rest. This is how you mentally and locally leave your workplace.
The right desk and the right home office furniture can also make your workday easier. For example, if you always sit at the dining table or coffee table, this can quickly lead to back pain, as they are not the right height. Since the visit to the furniture store and testing desks is not really possible at the moment, it is recommended to get an office desk height adjustable or a standing desk. Sitting and standing desks are very trendy and not without reason: sitting all day can be very strenuous for the body and at some point you often feel the urge to move. A standing desk can be a remedy, this can be used both in the sitting position, but also usually electrically in the height to be able to work in the standing position. This way you bring more variety into your workday. If you have tried a standing desk, please let us know, we are curious about your experiences!
Serious home office atmosphere
What do you look like when you work from home? Are you club sweatpants and sweaters? Would you go to the office like that? Sweatpants are totally trendy right now, it's true, but the right home office outfit can help you start the day motivated. So dress in the morning as if you were going to the office. Dress up nicely, do your hair and put on makeup, this way you'll feel a lot better right away and you'll be able to approach your work much more productively, because your appearance indirectly influences the way you work. Fortunately, sweatpants have a small style change behind them in recent months and they can also be combined super with blazer or blouse, so you are dressed chic but still do not have to give up the comfortable factor. At onweekends.de you can find cool sweatpants styles designed in Berlin and made in Europe. We wear them literally everyday!
Working from home – the right time management
Just as important as the right equipment and the right outfit is the right time management. Often we either get lost in our work at home and can't find an end to it, or we don't even manage to motivate ourselves and put off work until later. Set yourself fixed working hours including break times, as if you were really in the office. If you have a clear start of work, you start the day directly instead of lying around in bed. Then set clear break times that you keep, so that you don't forget your breakfast or lunch at home because of all the work. It is the same with the end of work. It's best to set a timer for breaks and the end of work so that you don't forget the time. At the end of the day, turn off your PC and leave your workspace to avoid the temptation to continue working. 
Tips for Home Office – Socialising
In the home office we often forget to socialize and talk to other people. We sit alone or maybe with our partner at home instead of being surrounded by our colleagues. You can often miss the social contacts if you work alone from home the whole week. I'm sure your colleagues feel the same way, so talk to them and find ways to share. Since working from home is online, why not move the after-work beer to a Zoom meeting from home. After work is done, everyone can lie down on their sofa and you can have a beer or glass of wine together via video conferencing. This is also a great way to talk about the home office, and maybe your colleagues will have a tip or two on how to manage this time. It's just as good to meet up with your colleagues for a morning walk before work or for a jog during your lunch break. On the one hand, this gives you fresh air and new energy, and on the other hand, you have someone to socialize with.
Work from home with the right nutrition
At home, the fridge is usually just a few steps away and you tend to distract yourself from work with food. Fixed break times for breakfast and lunch will at least help you to keep your meal times and not forget to eat. We love to start the day with a delicious porridge, especially in winter. Porridge is quick, so it fits perfectly into your break and fills you up until lunch. So that it is not too monotonous, you can also replace the oatmeal with alternatives such as quinoa or millet, so you will not be bored in the morning and you can hardly wait for the breakfast break. At onvacay.de you'll find a cookbook e-book filled with twelve porridge variations, ranging from Zucchini Quinoa Porridge to Speculoos Semolina, plus two additional recipes for homemade nut butter and oat-free granola. For cravings, you can prepare healthy snacks the night before or in the morning to put on your desk. Our favorites are vegetable sticks with hummus or energy balls and fruit with cinnamon. Not only is it super easy to prepare, but it's also healthy and gives you energy for the day. 
We hope our ideas for the home office helped you to get back to work in a productive way. Do you have any other tips and tricks and how do you arrange your home office in your living room? Let us know and share our experiences with each other!