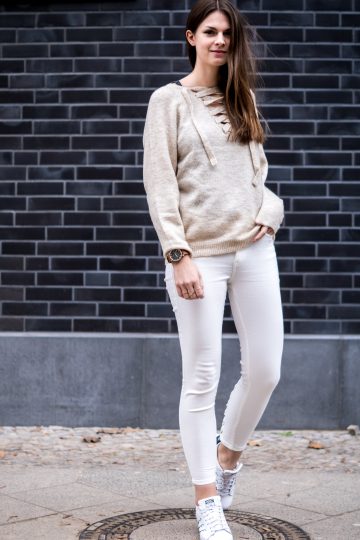 Happy Tuesday guys! It's so freaking cold in Berlin right now; the temperatures are below 5°C, and the forecast says, the first snow might come soon. I really don't want it to snow; I don't want it to be cold at all. We took these outfit pictures last week; it was already very cold, but I still was able to be outside for 10 to 15 minutes wearing this sweater only. Of course, I was wearing a jacket the rest of the day, but as I mentioned a couple of days ago, I don't want to wear jackets or coats that cover the actual outfit as long as possible. Well, as long as I don't want to focus on a jacket or coat 😉 Key piece of this outfit are definitely the sweater as well as the pants with their pretty nice lace up details.
Lace Up Details on my sweater and pants
You haven't seen both, the sweater and the pants, on the blog so far even though I received them already a couple of weeks ago. The pants were laying in my closet since the beginning of September, but I just didn't feel like wearing white pants for quite a long time. But when I got his lace-up sweater mid of October, I thought these two pieces would go perfectly together. It is one of those outfits I put together very quickly, no trying out, no "I have nothing to wear" crisis. 😉 Well, to be honest, I had to think about the right shoes to wear in combination with this outfit and first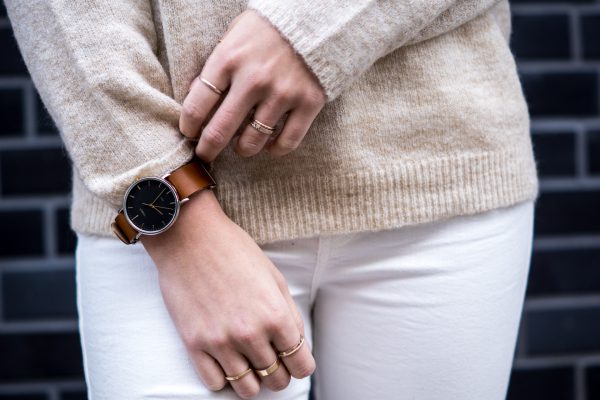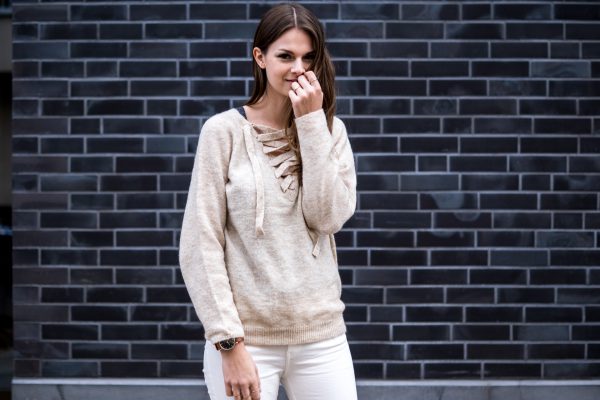 wasn't sure which ones to choose. But as always when I'm not sure about which shoes to wear, I went for a pair of white sneakers. They actually work with everything, and I mean EVERYTHING!
I like this outfit a lot, it reminds me a little bit of summer and is a nice contrast to the autumn weather. But I have to confess, that it's not the best outfit choice for autumn weather. You shouldn't wear white pants or white sneakers when it's rainy and muddy. Luckily it wasn't raining the day I was wearing this outfit, but it was a little bit muddy because it was raining all day the day before. The solution: avoiding all the muddy areas, the puddles and piles of leaves. Believe it or not, I made it through the day without getting my pants dirty.
What I like best about the pants as well as the sweater are the lace up details. They make them look much more interesting. Both pieces are very simple, but the lacing is an eye-catching detail that upgrades every outfit. You can combine both pieces with basics and the outfit still wouldn't look boring. No need to say that I absolutely love this kind of clothes, because I mentioned it often enough. 😉
What do you think about this outfit? Do you like the combination and the lace up details? Leave me a comment and let me know what you think. xx