DISCOUNT CODE: save 10 percent on your order on Urbanik Art with the code JACKYGIFT.
FINALLY FRIDAY! While you're reading this, I'm probably still in Rostock where I spent the evening yesterday, or I'm already sitting on the train back to Berlin. I won't tell you what I was doing in Rockstock today, but you can follow me on Instagram and check my Instagram Story if you want to know more. Today I want to share another outfit with you guys! It's an outfit I was wearing last weekend when it was super gloomy and cold in Berlin.
Urbanik Art FURY Sweatshirt
A key piece of this outfit is my new sweatshirt from Urbanik Art, the FURY sweatshirt. I combined it with a pair of black jeans, black boots and a black coat. Underneath my jeans I was wearing my fishnet tights, to add a little detail to the very casual outfit. I also think, that the fishnet tights kind of match the sweatshirt, doesn't they? It goes very well together 🙂 Maybe it's because of the print. The print has this Rock'n'Roll touch, and I always connect fishnet tights with Rock'n'Roll.
But today's post isn't about the fishnet trend; I talked about it before. Today's post is about my new Urbanik Art sweatshirt. You might haven't seen me wearing sweatshirts like this one very often, but I actually wear this kind of sweatshirt a lot. What I like about this one best is the print as well as the quality. It's super soft and comfortable, and the print makes it look way more fun. 🙂 The tongue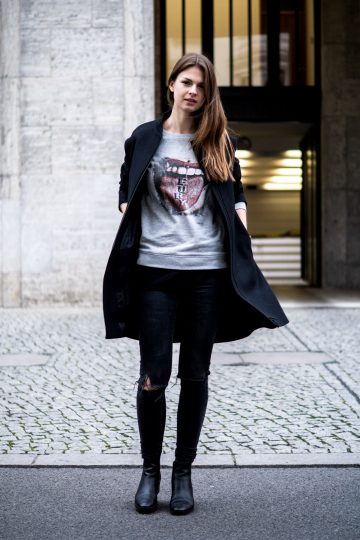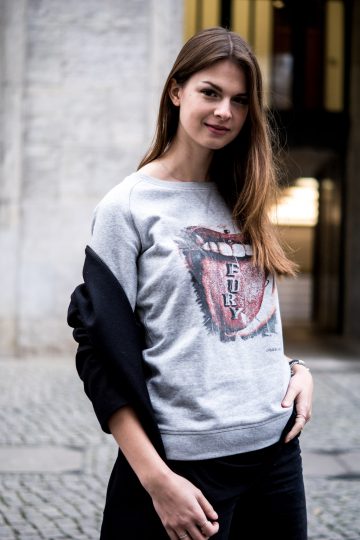 adds a pop of colour to every outfit; that's why I went for an all black outfit in combination with the grey sweater. What do you think about it?
About the brand: Urbanik Art
I also want to tell you a few words about the brand, because I really like the idea behind it. 🙂 Urbanik Art is a fashion art brand for men and women. All the prints you can see on the t-shirts or sweatshirts are street art; artists photographed all over the world. The graphic team of Urbanik Art edits these photographs so that they can be printed on the shirts. I mean, how nice is this concept? This way, the street art photographed by artists all over the world becomes immortal.
I hope you enjoy the pictures we took for you last weekend. And don't forget to leave me a comment and let me know what you think about the outfit, the brand and, of course, my new Urbanik Art sweatshirt. xx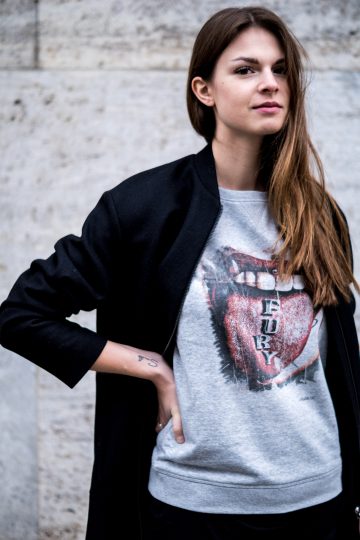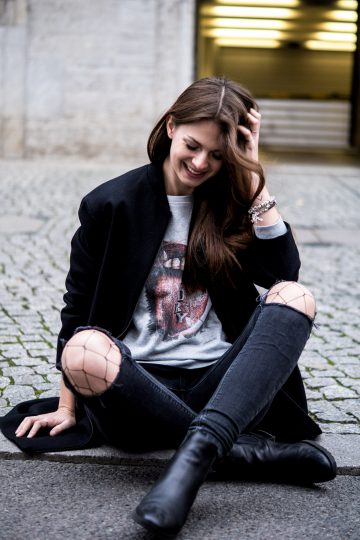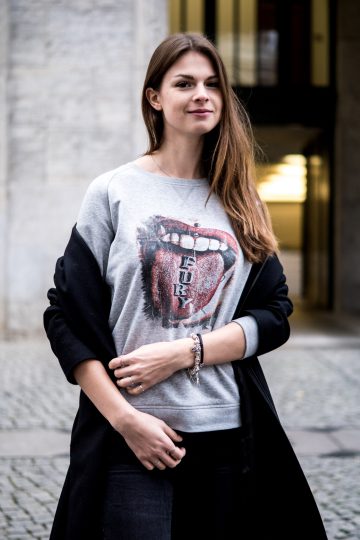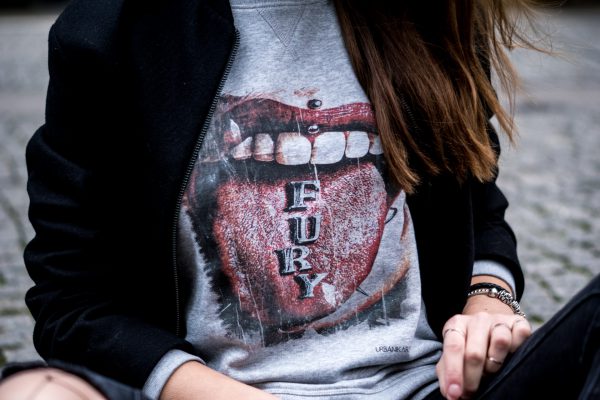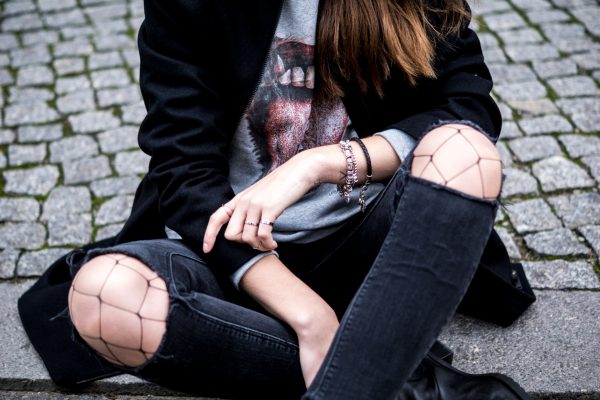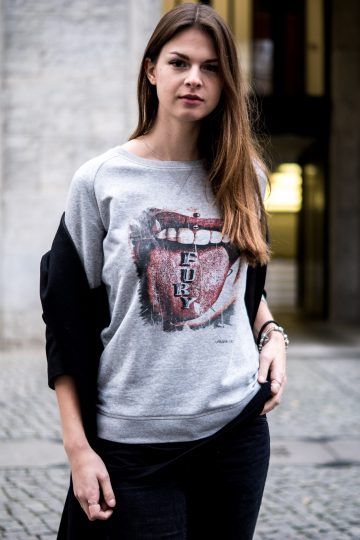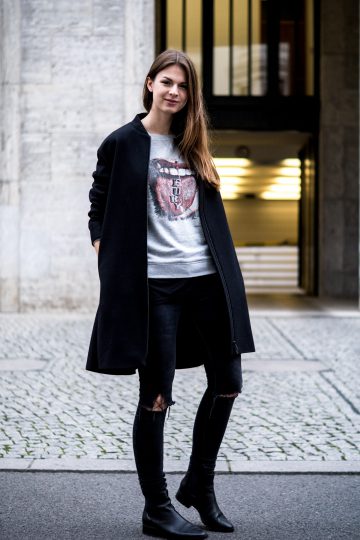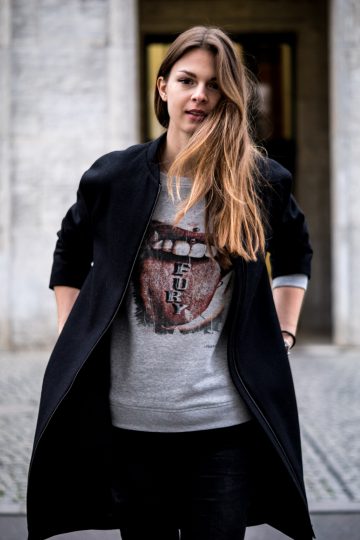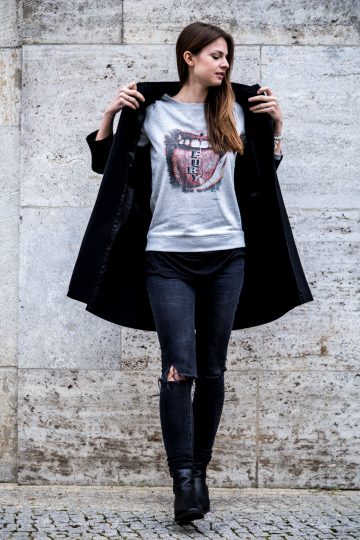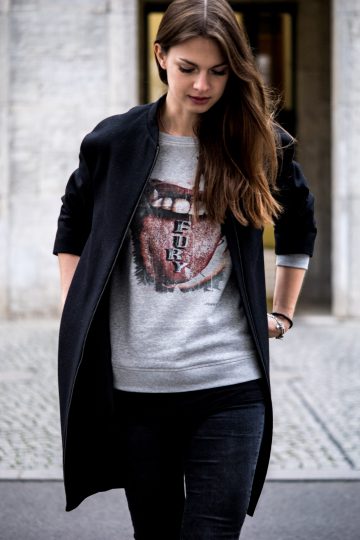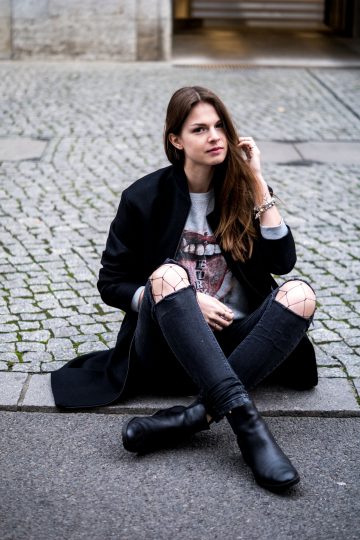 In friendly collaboration with Urbanik Art