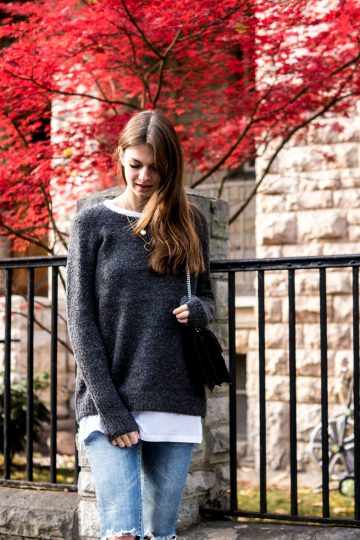 I started writing business posts again only two weeks ago, and it's time to pause again. Not because I don't know what to write about, but because I'm sharing two non-outfit posts at the end of the week and have a couple of looks left I want to share with you as well. Therefore I'll share outfit posts for the next three days; Thursday will be all about redecorating my home a little bit, and on Friday I'll tell you everything about the Supernova Launch Event I attended last Wednesday. I know, yesterday I told you, I want to share the Supernova Event post today, but I'm still waiting for the final pictures and the video. 🙂
Now that you know what is waiting for you this week, it's time to share the first outfit. It's a look I was wearing not this weekend but the weekend before, and it's actually one of my favourite outfits right now. It's super comfortable and simple; the jeans are one of my favourites right now, and I just can't get enough of sweater such as this one.
Casual Layering on a sunny autumn day
I mentioned before, that we didn't have a lot of sunny days in October but that most sunny days were on the weekends. The day we shot these outfits pictures was a Saturday and as you can see it was a beautiful sunny day. We took full advantage of this day and shot three different outfits.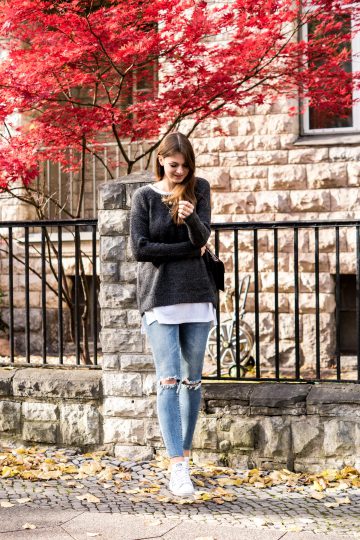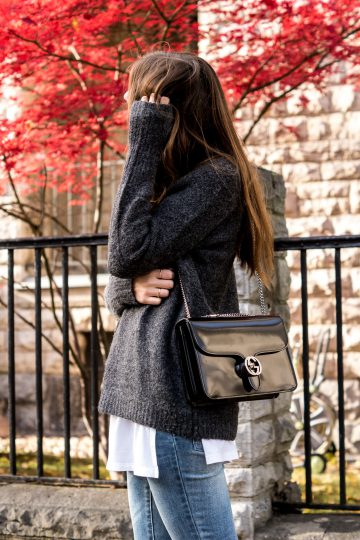 The one you can see in these pictures is the one I was actually wearing all day. To be honest, I was wearing a jacket as well, but I didn't want to take the outfit pictures wearing the jacket 😉 The thing is, we always put a jacket on, but don't care for it. The most important part of the outfit is what's underneath. Therefore I'm trying to shoot as often as possible without wearing a jacket unless I want to focus on the jacket or coat I'm wearing.
So the Saturday we took these pictures I was wearing VILA jeans and sweater, Adidas sneakers and a Subdued T-Shirt. The Bag is my all time favourite bag from Gucci and the necklaces are from Pilgrim. It's a very simple outfit but thanks to the accessories, and the layers it's not boring at all. It's the perfect casual weekend outfit I would say. But I would wear it on a day at the office or in the city as well. Well, I would wear it every day I feel like wearing a casual and comfortable outfit like this 😉
P.S.: How beautiful are the red leaves in the background? That's the part of autumn I like best. The colourful leaves look so beautiful when the sun is shining, don't they?