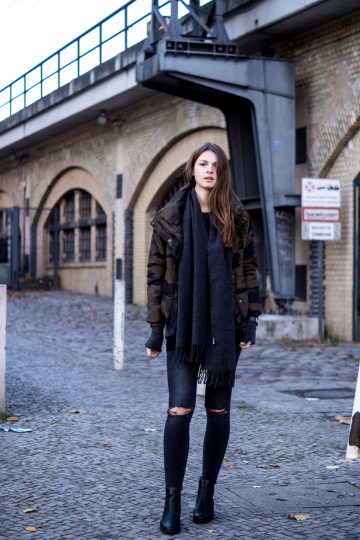 Happy Wednesday everyone! I'm still a little bit sick, but feeling much better today. I even made it to the gym today and did a little workout. Of course, I took it easy, because I'm still not 100 percent fit, but I really need to get in shape for our Sri Lanka trip in January. I only have four weeks left, and I didn't do much the last weeks.. I ate unhealthy stuff all the time and didn't do a lot of workouts. Last week I stopped eating sweets all day, I'm just eating my porridge in the morning, and I won't abstain anything over the Christmas holidays. But in between, it is no sweets and more healthy food. So much for that. I actually don't want to talk about my current diet and stuff like that. Today I want to share a new outfit post with you. Since we couldn't take any new outfit pictures since last Wednesday, this is an outfit I was wearing about a week ago.
Camouflage Bomber Jacket and all black outfit
I shared an outfit wearing this camouflage bomber jacket with the Whatever print on the back a couple of weeks ago, and I was wearing it very often since I got it. I mentioned before that I like it a lot, so there's no reason to do it again 😉 Let's talk about the outfit combination instead. Once again I chose a very simple outfit combination because I was wearing this outfit on a cold day in Berlin. I was spending all day at the office, working on several projects and getting work done before travelling to Rostock at the end of the week. The time before Christmas is always super busy, but when I don't have all five days at the office, it's getting even busier.

I combined my camouflage bomber with an almost all black outfit: black jeans, black boots, grey sweater and grey scarf. I say almost all black because the grey is so dark, it's almost black 😉 The outfit is not only super simple but also super comfortable. The camouflage jacket is the highlight of the outfit, it makes it look more interesting, don't you think?
As long as it's not getting too cold, I can wear the jacket with a big sweater underneath without freezing. But I think it'll get too cold soon, so I have to wear my winter coats all day every day. I'm actually already wearing them right now because I need to stay warm while I'm still a little bit sick. I'm so bored of the winter coats; I can't wait for spring and summer. I want winter to be over RIGHT NOW! Luckily we're flying to Sri Lanka in less than four weeks.