FIRYAY! The weekend is coming closer, and there are only a couple of hours of work left before it's time to relax and recharge. Who else can't wait for the weekend to begin? The weather forecast says that'll be mostly sunny in Berlin this weekend and I hope they're right. Autumn is so much more beautiful when the sun is shining through the coloured leaves. Additionally, it's so much easier to take new outfit pictures when it's sunny 😉 For now, I'm sharing this outfit we shot on a gloomy but luckily NOT rainy day in Berlin a couple of days ago.
Autumn time is parka time
Those who follow me on Instagram already know, that I have a lot of jackets in my closet! We recently bought a new closet for all the jackets and guess what? It's already full. But all these jackets are different. I have a couple of bomber jackets, leather jackets, winter jackets and parkas. The one you can see in these pictures is the newest member of my parka family. I received it a couple of weeks ago and first wasn't sure how to combine it. In the end, I went for an all black outfit once again. It's the outfit combination you can never go wrong with. Now that I see these pictures I'm thinking about combining it with blue jeans, a white shirt and white sneakers as well. But today we're talking about the all black outfit I combined my new green parka with.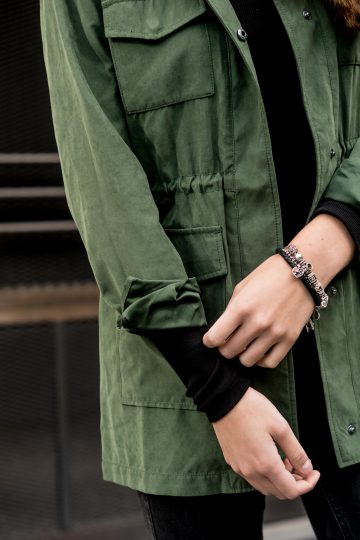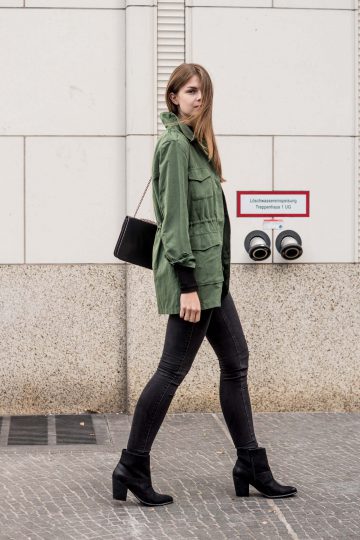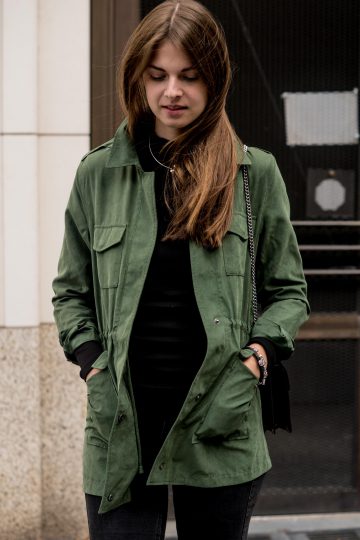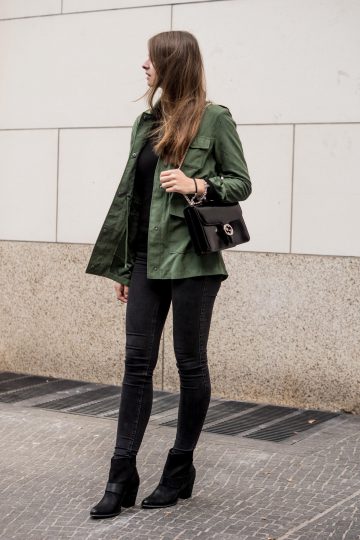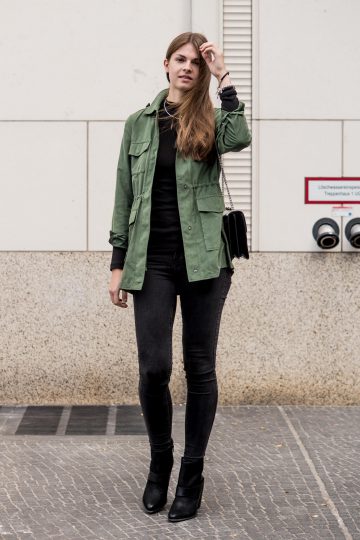 What I like best about the parka is the colour, because it is green and not green-brownish as most parkas. Well, as all the parkas I had in my closet before I received this one. I like that this one stands out in combination with the all black outfit, it actually adds a pop of colour! It's a colour you can not only wear in autumn, but also in spring. But we have to wait a little longer until it's spring again, so, for now, I'm wearing it in autumn and combining it with autumnal outfits. And most of my autumnal outfits will be all black outfits 😉 In this case, I was wearing a black turtleneck from Vila, dark grey jeans from Gina Tricot, new black boots from Aldo and my beloved black Gucci bag. It's a comfortable yet chic outfit, perfect for a day full of meetings as well as a lunch or dinner date.
And don't forget to get your parka out, it's autumn! Enjoy your day and leave me a comment to let me know what you think about this outfit. xx