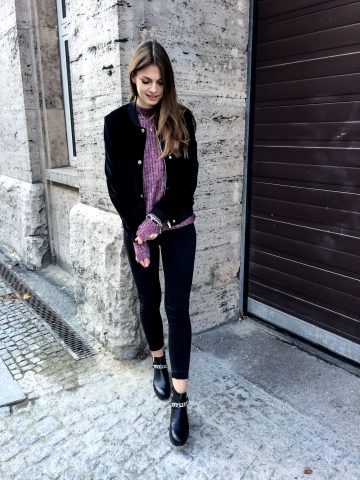 And it's Sunday again! Time to share a new "24 hours a day, 7 days a week"-post with you. And today I'm not only writing about what I was doing last week, but I'm also sharing a vlog! I want to share one vlog every Sunday from now on, and I was first thinking about sharing weekly vlogs. Weekly vlogs mean that I wanted to take you with me every day and film a little bit during the day. I tried it for the first time last week, and when I was done on Friday, I decided to overthink it. I realised that it is pretty hard to film interesting content, when I'm sitting at the office from morning to evening most of my days. It doesn't happen anything interesting when I'm at the office because I'm just working, having lunch and going walkies with Jimmy. That's basically it. Anyways, I gave it a try last week and you can now find the result on my Youtube channel. Or just continue reading, because I'll add the video in the following as well. I would appreciate it if you would watch it and let me know what you think. Do you want me to do more weekly vlogs? Or would you like to see other videos such as a Q&A or a lookbook or something like that?
So much about the video content, time to tell you a little bit more about my past week. Saturday was a beautiful sunny day in Berlin. It was cold, but I didn't mind because of the sunshine. We went for a stroll in the city, walked along the Spree and tried to catch as many sunbeams as possible. We
also took new outfit pictures but stayed at home for the rest of the day. We cuddled on the sofa, watched a new series (Start Up) and ate pasta for dinner. It was such a relaxing and calm day, exactly what I needed. Sunday was a quiet day as well, we started the day with breakfast and took outfit pictures right afterwards. My boyfriend had a soccer match at noon, and I stayed at home. I did nothing but laying on the sofa, watching Netflix, reading magazines and eating fruits as well as chocolate.
Monday started with a morning run and workout, and afterwards, we drove to the office. When we came home that evening, we just watched a couple of episodes of Start Up and then we fell asleep. Tuesday was quite the same: work, lunch, work. Nothing I could tell you about this day. Wednesday morning I went for a run again. We worked from home that day and had an event in the evening. It was a Belsazar Vermouth event at the new Tiger Bar in Berlin. It was such a great evening, with delicious food and delicious drinks. I also mixed one myself as you can see in the video 😉
Thursday was quite similar to Wednesday. We spent the day at the office, drove home to change our outfits and headed to the DKNY x Voo Store event. I got two pieces of the new collection the event was about and could wear them already. You can see parts of the look in the video, but I'll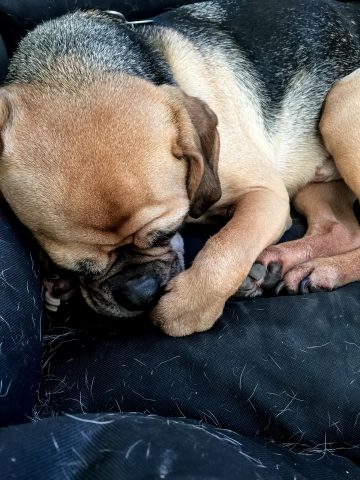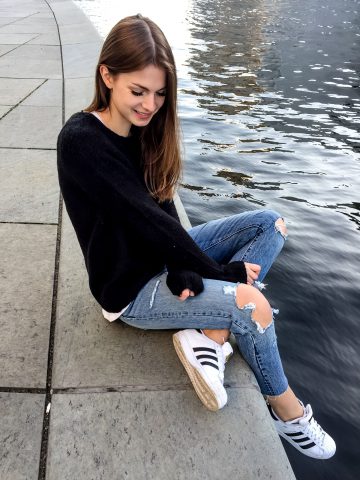 definitely take outfit pictures when the weather is better as well. 🙂 We were back home around 11 pm, and I was so tired, I immediately fall asleep. I woke up pretty late on Friday, went for a run and headed to the office afterwards. I worked a little bit, had a meeting in the afternoon and met up with my siblings for dinner afterwards. You might wonder, why I didn't film on Friday.. Well, I actually forgot the camera. But there wasn't actually much I could have filmed; I just wanted to add a few words about the week. Anyways, I already told you what I'm now thinking about the idea of doing weekly vlogs. Maybe I'll do them once a month, but I'll definitely not do a weekly vlog every week. What are your thoughts about it?
Favourite Song of the past week: The Weeknd – False Alarm
Material Craving of the past week: I'm so into the velvet trend right now. What do you think about these velvet pants in combination with the velvet blazer?