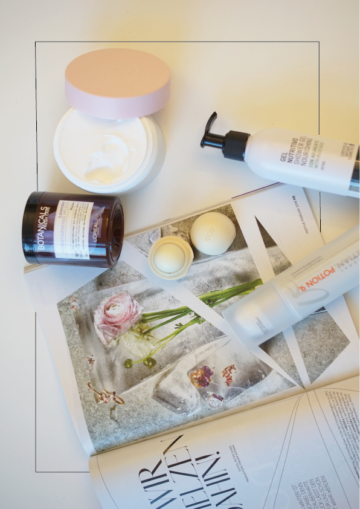 The short month of February is slowly coming to an end. In winter, I often have dry skin, dry hair tips, dry lips – anything that can dry in any way is cracked by the heated air. Some of you will feel the same way, others will not.
I wholeheartedly congratulate these people, after all, they do not have to cream their hands every 15 minutes. However, if it does hit you like me, be prepared for the products that can help you. I introduce you to my new darlings this month. Maybe they can also help you in everyday life.
I would like to start with the skin. I'm just saying that the skin gets most stressed in the winter, after all, there's a lot of it. A rich body lotion is a must for me after showering. I admit, I'm often negligent and just do not cream myself.
It should be considered after every shower as a kind of ritual to provide the skin with moisture. Recently I read an article, long story short: within three minutes after getting out of the shower, you should cream your skin. Leaving more time, the skin loses moisture and releases it to the air or evaporates. I can not confirm, whether this is so. But in my opinion that sounds plausible.
Since we are already talking about taking a shower: I love this process. I like to stand in the shower and switch off while boiled water falls down on me. And that's what I'm doing wrong. I am aware that this additionally dries up the skin, but let's leave that alone. If want to do it better: the shower water should be lukewarm.
To protect the hair from the cold, I regularly use a hair mask or cure. My hairdresser advised me some time ago to use hair treatments at most once a week, even better if I would massage my hair every two weeks. By that time, I've put a dash of conditioner into my hair every other day. After a while I can say: she was right. My "more is more" – principle is not very good for the hair and destroys its structure. Since I give up the excess of care, my hair is doing better.
As already mentioned, lips can also be cracked in winter. I find it very uncomfortable and also a bit ugly, when the lips are dry and somehow look sticky. I regularly smear some coconut oil on my lips – I have honestly say that this gives me the biggest care effect. In everyday life I renounce the 250 ml oil glass and reach for a lip balm, or this month, a lip ball.
I am a fan of these products and would like to share my enthusiasm with you. On the Instagram account of whaelse.com we have been making small contests for some time and have even named a story highlight afterwards. Many giveaway boxes are already packed and waiting for you. The products from this post will also be raffled there soon. Take a look and let yourself be surprised. 🙂
(This post is not sponsored. The products are PR samples that I have carefully tested and, because I love these products, they have been introduced to you.)