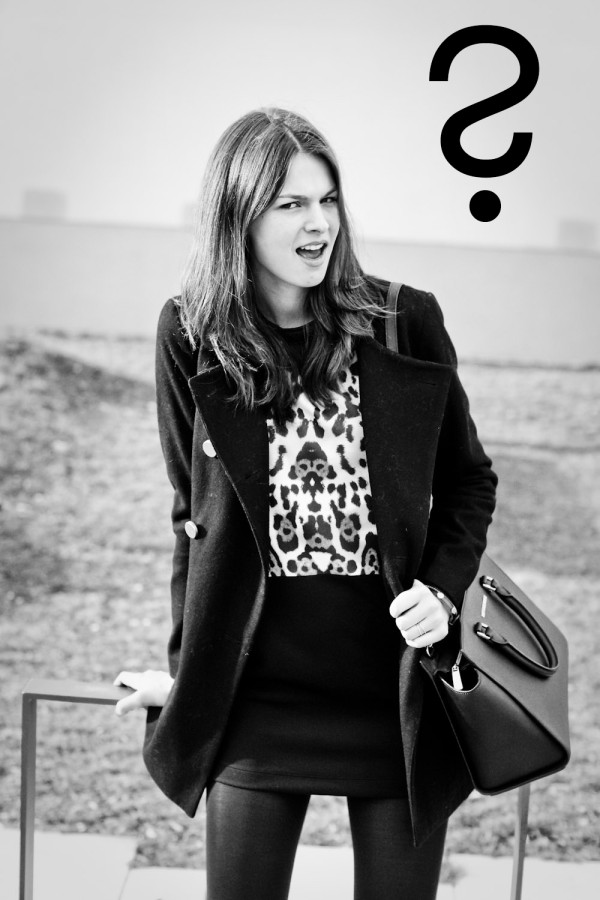 MBFWB is over, but I decided to express my opinion on streetstyle photography, especially during the Fashion Week Berlin.
Let's be completely honest: we have a lot fashionblogs in Berlin and this scene seems completely incalculable, because there are just too many. Where such a "mass" excists, it is important to stand out and to be seen. And that's where we come to the importance of streetstyle photography. During a Fashion Week there aren't only models, designers and fashionbloggers, there are a lot of streetstyle photographers too. Looking for the coolest and best outfits. But what is the coolest and best outfit?
If the streetstyle photographers take pictures of you, than you have good chances to see your picture in the magazines too. And that is a good way to gain more awareness and reach. So it's no surprise that at least every smaller fashionblogger want's to be seen and photographed by the streetstyle photographers. Before every Fashion Week I spend a lot of time thinking about the outfits I could wear. It should be cool and trendy, fit my own style and has to be attention-grabbing. Well, usually I'm quite happy with them, but this changes when I come home and no streetstyle photographer wanted to take a picture of my look..
I admit, it sounds pretty sad that I seem to put so much emphasis on it. And yes, it is somehow. But as a fashionblogger it's all about not going lost in the mass, you need tob e seen or you need contacts. And I'm pretty sure I'm not the only one thinking this way. 😉
But how will can we grab the streetstyle photographers' attention?
I was photographed by streetstyle photographers before, but I'm still waiting for the big breakthrough. I've often wondered why they took a picture of this look and not of the others. Maybe it was just luck or talking in a negative way: they didn't have better looks to photograph.. Does anyone of you know the secret to be photographed, than please let me know! 😀
One thing is certain: wear the trends and they will notice you. But if the current trends aren't yours, if you just don't like them, then you got a "problem". When a trend doesn't take your fancy, than you shouldn't wear this trend – it won't work! You'll feel uncomfortable and people will notice this.
But talking about Fashion Week Berlin it seems that you can wear whatever you want, the dumper the better. It's all about grabbing attention and this works best the stranger, more daring and less suitable for your daily use your outfit is. Berlin is different, especially when it comes to fashion. It seems like my style is just too boring for this city, but I won't change it just because of this fact. Fashion is a personal thing and it has to do with personality. You shouldn't try to be someone else or to wear the clothes others would wear.
In Berlin you seem to be able to wear everything you want, ugly will be individually and trendy, clear will be boring. The stranger your outfit is, the more streetstyle photographer will notice and photograph you. Unfortunately that's not my thing…
But there is another point: when we take a closer look at streetstyle photography worlwide, not matter which country or city, then it seems that they mostly focus on big brands just as Chanel. You can wear jeans and a simple shirt combined with the Chanel Boy bag or Louboutin heels and they'll photograph you. Doesn't seem this simple?
My summary: I have to wear strange or expensive clothes. Well, the first option absolutely isn't my thing. For the second one I need a lot more money, money I can't spend on more sensible and meaningful stuff. 😉 Of course a Chanel bag or Louboutin heels are on top of my wishlist, but those are things I have to save up for a while. Furthermore there is always this one question: do I prefer two or three travels or a Chanel bag? 😉
I am a positive person and I have goals, goals I'm working for. And my time will come! I don't want to complain about streetstyle photography with this post. Quite the contrary, I am a huge fan of streetstyle photography. All I want ist o start a discussion about Fashion (Week) in Berlin and streetstyle photography in Berlin. I want to hear what you think about it, so please leave me a comment. I am curious to read what you think about these topics! 🙂